About Tigerpaw
Tigerpaw One business management software provides everything you need to begin the automation process, increase collaboration, streamline project management, increase cash-flow, expand your sales pipeline through sales automation, minimize costs and improve customer service. Instead of using a variety of software solutions to track and manage day-to-day business operations, you'll log into a single, user-friendly portal.
Pricing starting from:
N/A
Key benefits of Tigerpaw
Tigerpaw Mobile: Reps can enter time logs and update service orders on site using their mobile devices.
Employee Web Portal: Technicians and sales reps can be given their own logins so they can access all data in Tigerpaw 24/7 from any internet-enabled device.
Customer Self-service Portal: Give your customers their own login so they can check the status of their tickets, open a new ticket and access service data.
Co-managed Direct: This feature gives limited access to subcontractors and co-managed technicians so they can open, work on and close tickets in Tigerpaw.
Remote Monitoring Management: This includes remote monitoring of HaaS, SaaS (Software as a Service), content filtering, remote offsite backup and warranty agreements
Accounting Integrations: Integrates with QuickBooks Pro 2009, 2010 and 2013, QuickBooks Premiere, Peachtree/Sage 50, Cougar Mountain, BusinessWorks Gold and Great Plain
Markets
United States, Canada, Australia
Supported Languages
English
Pricing starting from:
N/A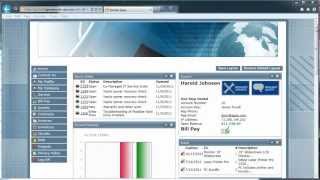 Total features of Tigerpaw: 34
ACH Payment Processing
API
Accounting Integration
Accounting Management
Alerts / Escalation
Automated Sales
Automated Scheduling
Automatic Notifications
Billing & Invoicing
Campaign Management
Communication Management
Contact Management
Contract Management
Document Management
Drag & Drop Interface
Email Integration
Employee Portal
Inventory Management
Invoice Management
Monitoring
Performance Management
Pipeline Management
Project Management
Projections
Proposal Generation
Purchase Order Management
Purchasing Management
Quote Management
Receipt Management
Remote Monitoring
Reporting & Statistics
Self Service Portal
Template Management
Work Order Management
ServiceWorks
#1 Alternative to Tigerpaw
ServiceWorks is a cloud-based field operations management solution which provides tools for scheduling, dispatch,...
Jobber
#2 Alternative to Tigerpaw
Jobber's award-winning software is perfect for home services businesses that want to keep jobs on track and provide a...
RazorSync
#3 Alternative to Tigerpaw
RazorSync is an incredibly powerful, simple business management software for your mobile phone, tablet & computer....
ConnectWise Manage
#4 Alternative to Tigerpaw
ConnectWise Manage is a business management platform designed to run your technology solution business, connecting...
---
Already have Tigerpaw?
Software buyers need your help! Product reviews help the rest of us make great decisions.
Write a Review!
Showing 5 reviews of 52
Company size: 11-50 Employees
Used

Daily

for

2+ years

Review Source
Overall rating
Value for Money

Ease of Use

Customer Support
Really flexible
Reviewed on 2018/06/28
Pros
I've used a lot of CRM's in the past and, as I'm learning more, TigerPaw is pretty slick. Most of the problems that we have stem from how it was implemented and not how it functions, so make sure you have someone to guide you. We're trying to go change many our of processes but it's slow and daunting. Thankfully, TigerPaw has been readily available and their support is responsive and thorough. I find their daily ask-the-experts invaluable.
Cons
Reporting. I can get customized reports created, but I would like to be able to design and create my own reports more easily.
Industry: Information Technology & Services
Company size: 11-50 Employees
Used

Daily

for

2+ years

Review Source
Overall rating
Value for Money

Ease of Use

Customer Support

Likelihood to recommend

8.0

/10
Great CRM Software
Reviewed on 2019/08/03
Pros
I love that this is an all in one solution for your business. It allows you to maintain inventory, create price-book items, quoting, input service orders, invoice clients, manage purchase orders along with a ton of other features. once of the best things is the service orders where technicians can login and add a service order. in here they can type up their notes, add in time logs, attach expense logs and items serviced. it allows you to basically keep track of client inventory and the age of client items. The reporting functionality along with the other functions are completely customization to each individual organization.
Cons
the only issue with this software that when you try to email a quote, invoice, service order or other document through the software, the client will sometimes receive it as a winmail.dat file instead of a PDF file. this is due to the PDF converter in the software not completing the conversion correctly even though it looks like it created the PDF successfully. but this does not happen all the time.
Industry: Telecommunications
Company size: 11-50 Employees
Used

Daily

for

2+ years

Review Source
Overall rating
Value for Money

Ease of Use

Customer Support

Likelihood to recommend

4.0

/10
Not good for Accounting
Reviewed on 2020/03/01
My experience with tigerpaw has been OK. I would not recommend it to other businesses because of...
My experience with tigerpaw has been OK. I would not recommend it to other businesses because of what they lack
Pros
I do like that the software is good for service orders and the operations team. It seems to track our profitability pretty well but I do not like that it lacks many reports needed to run a business. Any time we want to use a different report we are being charged to customize it
Cons
I do not like that this is that accounting friendly. You can integrate with other software such as quick books but it would be easier if there was more Accounting functionality so that we could only use one software instead of more than 1
Industry: Information Technology & Services
Company size: 11-50 Employees
Used

Daily

for

2+ years

Review Source
Overall rating
Value for Money

Ease of Use

Customer Support

Likelihood to recommend

10.0

/10
Tigerpaw success for 18 years
Reviewed on 2018/03/28
I've read some of the other reviews posted here about Tigerpaw. I certainly hope you will take my...
I've read some of the other reviews posted here about Tigerpaw. I certainly hope you will take my comments as factual coming from someone who has invested the proper time and energy into Tigerpaw for the last 18 years. Much of what I read and see regarding negative feelings comes from a place beyond the control of Tigerpaw. Tigerpaw is a line of business application; the most important one in our organization. The operational excellence we have achieved using it came from the marrying of Tigerpaw to well-established business processes. Period. No LOB software, including Tigerpaw will be successful without solid, clearly-defined business processes. If you learn the software and its capabilities, and allow yourself to refine your business processes to work with it, Tigerpaw becomes the sun in your service business universe. No gimmicks, no craziness, no runarounds. That is just not their style. And, if you don't know the answers or need assistance, the trail has been well tamped by a strong community full of ambassadors and experts that can show you the way.
In my career as an IT professional and owner, I have often observed the collusion and confusion of the words installation and implementation. Two very different things yet people see them as the same. Our current mobile culture leads people to believe an application can be installed on a Friday and go live on Monday. That is not the case with a product as sophisticated as Tigerpaw. Installation is first. Next comes thought, discussion, planning, programming, and implementation. At that point you can measure with accuracy and make decisions based on relevent information. That is the process.
Somewhere along the way, people forgot that software companies are...well...software companies. They develop products and offer setup instructions. Implementation is shaped by those instructions but not performed by them. People buy cars from a car dealership. And the process usually ends the same way. Here is how you start the car; the instructions are in the glove box or online; don't forget to give me 5-stars on the survey you receive next week. And then, you drive away. No one learns how to drive a car at the car dealer. They learn from a sibling, a parent or a professional driver. Line of business applications are exactly the same. In Tigerpaw's case (thankfully) there are a number of professional driving instructors out there to teach you how to drive...and drive well.
Pros
- All-encompassing product that touches every facet of our 20-year-old IT managed services/PrivateCloud/hosting firm
- The Matrix...perhaps the most powerful tool available in any PSA for easily assembling information in an actionable view (you can even export it to Excel). No SQL dev needed; no Crystal dev needed. Just all your info with cool calculations, drill-downs, and filters. Simply awesome
- Automatic synchronization with QuickBooks. No export/import files or juggling data around. It just synchronizes our Tigerpaw data right to QuickBooks
- Excellent workflow engine. Love this feature. Keeps our sales and technical teams in-the-know. If something is taking too long, getting too old, or amassing too much time, Tigerpaw tells us. It also alerts us about warranty expirations, software license renewals, carrier contracts, even sales tax certificates...long before they expire.
- Connect pretty much any way you want. Use your desktop, use the web interface, use the mobile interface...Tigerpaw is everywhere on every device all the time.
- Automatic contract and agreement invoicing. As an MSP, this is crucial for operation. Contracts and agreements automatically invoice and process credit cards for us. Huge time savings
- Time sheets. I've seen other systems and no one has anything quite like it. Check the availability, utilization, and billable time for techs in a single view. Great for finding gaps in billable times. Wonderful for techs to make sure they are hitting the mark.
- They listen. Perhaps the most important thing! Contacting Tigerpaw with suggestions or reaching to support is a positive experience handled by thoughtful people that actually use the software each and every day.
Cons
- Some things take a few more mouse clicks than we prefer.
- The interface needs a bit of love
- More partnerships and tie-ins would send help and would send the product into orbit.
Industry: Information Technology & Services
Company size: 51-200 Employees
Used

Daily

for

1+ year

Review Source
Overall rating
Value for Money

Ease of Use

Customer Support

Likelihood to recommend

10.0

/10
Creeping up on two years using this software platform.
Reviewed on 2019/04/17
I am very pleased that we have chosen Tigerpaw Software.
I am very pleased that we have chosen Tigerpaw Software.
Pros
The platform is what I call a full circle software for our business. CRM, ERP, Etc. All in One! Tigerpaw allows integration with Quickbooks and other programs which make it even more powerful. The structure of Tigerpaw allows a great deal of flexibility, allowing business's to tailor the Software to their business needs. Mobile Portals, Employee Portal and Customer Portals allow a diverse method of working with Tigerpaw while providing an ability to service our Customers at a much higher level. Allowing our com to mover from Service Contracting model to a SaaS, CaaS and MSP platform.
As we have discovered, companies looking to move to a new software system need documented existing SOP's and best business practices and then apply them to the software implementation. We have been using the product exclusively for two years come July and are still implementing and automating our process's. You can start very simple and then build the system to meeting your criteria in terms of operations.
The matrix in Tigerpaw is possibly the most extremely powerful tool in Tigerpaw, allowing management of data as well as nearly any process you can imagine. Workflows are also a very powerful tool within this system that we use extensively to automate operations.
It's easily the best and the most affordable platform we have used. (If you are a Salesforce user I feel for you!) We can do nearly everything we need from development to reporting without the need for a professional developer.
Cons
We are very mobile dependent and the Mobile Ap could use some updating. We have roughly 30 technicians that are very dependent upon the Mobile AP to perform their daily duties. At times they must toggle between our Tigerpaw Employee portal and the Mobile portal to perform their jobs. As with many Aps field length on phones can be a struggle. Longer field length for Account names and display of Opportunity and SO numbers would greatly enhance our mobile operation experience.
Tigerpaw FAQs
Below are some frequently asked questions for Tigerpaw.
Q. What type of pricing plans does Tigerpaw offer?
Tigerpaw offers the following pricing plans:
Pricing model: Subscription
Free Trial: Not Available
Contact Tigerpaw for pricing.
Q. What are the main features of Tigerpaw?
Tigerpaw offers the following features:
Create automated marketing programs
Create service order templates
Customer Self Service Portal
Customer relationship history
Drag and drop technician scheduling
Email analytics and reports
Email recurring invoices
Employee web portal
Generate customized quotes
Group customer email communication
Integrated technician performance dashboards
Integrations with top accounting
Inventory status across multiple locations
Manage purchase orders and inventory receipts
Minimum, maximum and re-order quantity alerts
Sales pipeline and forecast reports
Tigerpaw mobile app
Track quotes by customer, sales rep, status, and types
Track technician time
Work order, project and task notifications
Q. Who are the typical users of Tigerpaw?
Tigerpaw has the following typical customers:
Small Business, Mid Size Business
Q. What languages does Tigerpaw support?
Tigerpaw supports the following languages:
English
Q. Does Tigerpaw support mobile devices?
We do not have any information about what devices Tigerpaw supports
Q. What other apps does Tigerpaw integrate with?
Tigerpaw integrates with the following applications:
Avalara, ConnectWise Automate, ESET Endpoint Security, Esticom, IT Glue, Kaseya VSA, Kaseya VSA, Sage 50cloud, ShoreTel, SolarWinds Network Performance Monitor
Q. What level of support does Tigerpaw offer?
Tigerpaw offers the following support options:
Knowledge Base, Online Support, Phone Support
Related categories
See all software categories found for Tigerpaw.