About Opcenter APS
Preactor is a family of products that provides Advanced Planning & Scheduling (APS) solutions for small, medium and large companies.
Preactor is used by companies in discrete, process and mixed mode type of environments. It is equally at home in modelling plants that involve machines, packing lines, tanks, assembly lines and so on in make to order, make to stock, engineer to order, repetitive and continuous processes. Preactor can be installed straight out of the box but can also be customised and configured where necessary and without disturbing the core Preactor code, an important issue when it comes to future releases and technical support.
Preactor is also designed for integration with other software such as ERP, MES, Data collection, Forecasting, Demand Planning and OEE applications.
The basic difference between planning software and scheduling software is that planning systems are 'bucketed' (monthly, weekly, daily) and cannot preserve operation sequences within the time bucket. True scheduling systems are bucketless, preserving sequencing, and capable of generating work-to or dispatch lists. Assignment of operation to resource is a key function to achieve operational efficiency and optimizing performance.
Detailed Scheduling software is an important tool for many companies where it can have a major impact on the productivity. Detailed scheduling uses a shorter time horizon and a much more detailed process route than a planning system. Typically the input would be manufacturing orders which have a process route associated with each defining the operation steps to make the product. The user then can load the orders onto individual resources using scheduling rules and interact with the schedule using the Gantt charts and plots that are generated. A typical output would be a dispatch list for each resource.

Preactor takes a breakthrough approach to the planning process. Whereas most planning systems use a spreadsheet type grid to calculate the production load with some simple load levelling to push overloads from one week to the next, Preactor's uses its detailed scheduling roots to search for available capacity.
When used in a long term planning system Preactor is set up with a high level model of the process. The forecast demand is usually planned at SKU (finished product) level and the process capacity is typically represented as weekly or daily 'buckets of capacity', with the resources representing departments, cells, plants or entire factories. The inputs to the planning system are the forecast demand, initial stock and the target stock level required at the end of each day or week. The target stock levels can either be entered as a number of items, e.g. 10,000 cases, or in Days of Cover (DoC), e.g. 14 DoC, in which case Preactor analyses the forecast and real demand over the next DoC period to determine the required stock level.
The available capacity is also entered through a calendar system set up in either daily or weekly mode for each resource, where resources may be departments, cells, plants or entire factories.
Typically the production load is backward scheduled, so Preactor will start by trying to load the demand onto the available resources into the week or day it is ideally required. Preactor also includes the concept of a 'Make Window'. The Make Window defines how early you are prepared to make the product because there may be shelf life issues to take into account. If capacity cannot be found within the Make Window, then alternative resources will be considered.
The planner can then use the system to change planning parameters and capacity in each period to see the impact on deliveries, stock levels, and capacity utilization over the planning horizon.
Pricing starting from:
US$0,01/one-time
Free Trial
One Time License
Free Version
Key benefits of Opcenter APS
FAST ROI
Case studies and references are available in almost every manufacturing sector as well as services and logistics applications. Some of the measurable benefits include:-
15-20% Improvement in productivity – get more from what you already have.
40-50% Reduction in raw materials inventory – synchronize purchasing with an achievable schedule.
40-50% Reduction in make-span time – reduce WIP that slows down production flow.
50-90% Improvement in customer service – increase on-time deliveries.

These benefits can provide a return in investment (ROI) measured in weeks or just a few months.
Preactor takes a breakthrough approach to the planning process and uses its detailed scheduling roots to search for available capacity.
An important feature of any scheduling tool is the ability to customise it to meet the unique needs of each application. Templates can help to get the user to 80% of the requirements but to get the last 20% it's important to be able to tailor the tool to fit.
ERP is good at costing, inventory control and transaction control for key business processes. Preactor is good at drilling down to the shop floor to manage individual orders or individual resources in real time. It generates achievable production schedules that take into account all potential or existing constraints on the shop floor. It can increase throughput, reduce work in process and raw material inventory. It provides a 'crystal ball' for the planner to use at shop floor level.
EASY INTEGRATION
Some APS solutions have functionality that overlaps ERP particularly in the area of Bill of Materials (BoM), order generation and stock control. This may lead to synchronization issues. Preactor takes a different approach. It adds functionality, enables ERP and does not overlap so avoiding synchronization of data.
Preactor is designed for integration with ERP and data can be passed easily between them without affecting the others performance. Scheduling systems need 'in memory' data to aid scheduling speed whereas ERP systems are more transactional based. It is unacceptable for the performance of the scheduling system to be compromised by a 'report run' on the ERP system. Separate programs are essential.
MATERIALS CONSTRAINTS
Preactor 400 APS and higher versions have features to connect orders together so it can take into account the real constraints and unexpected delays automatically. SMC or 'Standard Material Control' is a function that creates links between orders (pegging of materials). These links can then be used by Preactor to ensure that only when materials are available from one or more producing orders can the consuming orders connected to them by SMC start. Rules can be applied by the user to control the selection of which producing orders to link to a consuming.
INCREASED VISIBILITY
The user interface provided by Preactor can show order status in a variety of ways. This provides the planner with a complete picture of demand, capacity, resource usage and operation sequence, as well as the expected completion time for each operation in a Gantt chart.
OPTIMIZED SEQUENCING
When ERP systems use capacity to restrict the loading of operations into 'buckets' of time it will not take into account the sequence of loading within them.
ON-DEMAND CTP
The ability to make ad-hoc enquiries to establish when an order can be shipped is often a critical requirement. So called 'Available To Promise', ATP, (usually defined as a calculation based on the availability of current stock, work in process or fixed lead times) does not necessarily meet the needs of many companies.
Capable to Promise, CTP, (generally defined as taking into account the current status of production and the finite capacity of resources) is often what is really required. This is a more complex calculation based on data that most ERP systems do not have, so many offer instead, a simpler calculation based on finite capacity at a bucketed level e.g. da
Pricing starting from:
US$0,01/one-time
Free Trial
One Time License
Free Version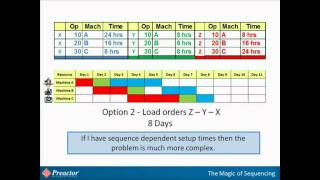 Total features of Opcenter APS: 18
API
Bills of Material
Charting
Demand Forecasting
Distribution Management
Gantt/Timeline View
Inventory Management
Order Fulfillment
Order Management
Project Management
Purchase Order Management
Reporting/Analytics
Sales & Operations Planning
Shipping Management
Supplier Management
Supply Chain Management
Transportation Management
Warehouse Management
NetSuite
#1 Alternative to Opcenter APS
NetSuite is the world's #1 cloud ERP solution trusted by more than 24,000 high-growth customers worldwide to run all of...
Odoo
#2 Alternative to Opcenter APS
Odoo is a fully-integrated, customizable, and open-source suite of business applications. A majority of the business...
SAP Business ByDesign
#3 Alternative to Opcenter APS
SAP Business ByDesign is an integrated business management solution delivered on a subscription basis through the...
SyteLine
#4 Alternative to Opcenter APS
Infor CloudSuite Industrial (SyteLine) is an end-to-end ERP (enterprise resource planning) solution which provides...
---
Already have Opcenter APS?
Software buyers need your help! Product reviews help the rest of us make great decisions.
Write a Review!
Showing 1 review
Industry: Hospital & Health Care
Company size: 501-1 000 Employees
Used

Daily

for

2+ years

Review Source
Overall rating
Ease of Use

Likelihood to recommend

8.0

/10
use for CT scans every day
Reviewed on 2018/12/29
Pros
Easy to use and understand, use it every day
Cons
I've never had any problems with this software
Opcenter APS FAQs
Below are some frequently asked questions for Opcenter APS.
Q. What type of pricing plans does Opcenter APS offer?
Opcenter APS offers the following pricing plans:
Starting from: US$0,01/one-time
Pricing model: One Time License, Free
Free Trial: Not Available
The cost of a Preactor system license will depend on the Preactor product you choose and the services required to customise it. Preactor Express is our new Free entry level version of the product family. There is also the opportunity to purchase PreactorCover with the license. This annual maintenance fee will entitle you to free telephone/email/forum support and also free upgrade to new versions of Preactor as they are released.
Q. What are the main features of Opcenter APS?
We do not have any information about Opcenter APS features
Q. Who are the typical users of Opcenter APS?
Opcenter APS has the following typical customers:
Self Employed, 2-10, 11-50, 51-200, 201-500, 501-1 000, 1 001+
Q. What languages does Opcenter APS support?
We do not have any information about what languages Opcenter APS supports
Q. Does Opcenter APS support mobile devices?
Opcenter APS supports the following devices:
Q. What other apps does Opcenter APS integrate with?
We do not have any information about what integrations Opcenter APS has
Q. What level of support does Opcenter APS offer?
Opcenter APS offers the following support options:
Email/Help Desk, FAQs/Forum, Knowledge Base, Phone Support, Chat
Related categories
See all software categories found for Opcenter APS.