About RapidMiner
RapidMiner offers a suite of products that allow data analysts to build new data mining processes, set up predictive analysis, and more. The list of products include: RapidMiner Studio, RapidMiner Server, RapidMiner Radoop, and RapidMiner Streams. The RapidMiner Studio uses a drag & drop graphical interface to design analysis processes. The open APIs let you integrate your current, specialized algorithms. The Studio offers a library of templates, batch processing, multiple data visualizations and automated charts letting you run more than 1500 operations on all major platforms, sources and systems.
RapidMiner Server lest you run process on enterprise hardware from any device, without limitations. The server can be used to schedule and run analysis and get real-time results. The Server integrates with all your data sources and lets you add your own algorithms for complete, comprehensive data mining. The interactive dashboards provided on the RapidMiner Server shared repositories lets you access, monitor and share information as well as assign tasks.
RapidMiner Radoop provides a platform for Big Data processing, including analysis and predictions. Radoop offers a visual interface for Big Data ETL, analytics, ad-hoc reporting, predictive modeling and visualization. Radoop offers doxens of operators for Big Data import-export, data transformations, data cleansing, aggregations, joins and predictive modeling. RapidMiner Streams lets you design stream processing applications without code. You can deploy streaming analytics onto distributed Apache Storm clusters for data blending and model scoring on streaming data.
Pricing starting from:
N/A
Free Trial
Free Version
Subscription
Open Source
Key benefits of RapidMiner
Multiple data management methods: data loading, data transformation, data modeling, and data visualization methods
Works with multiple data sources: Excel, Access, Oracle, IBM DB2, Microsoft SQL, Sybase, Ingres, MySQL, Postgres, SPSS, dBase, Text files, and more
Brand-new templates: Including churn reduction, sentiment analysis, predictive maintenance and direct marketing
Runs on every major platform and operating system
Run more than 1500 operations. From data partitioning, to market-based analysis, to attribute generation.
RapidMiner Radoop can connect to many different Hadoop clusters: Cloudera Distribution including Apache Hadoop (CDH), the Hortonworks Data Platform (HDP), Apache Hadoop with Hive, Amazon Elastic MapReduce, MapR Hadoop, and DataStax Enterprise
Data Storage: Store streaming data and the results of your analytics to numerous databases including Cassandra, MongoDB, Redis, Apache Solr and others.
Markets
United Arab Emirates, Afghanistan, Antigua & Barbuda, Albania, Armenia
and 164 others
, Angola, Argentina, Austria, Australia, Azerbaijan, Bosnia & Herzegovina, Barbados, Bangladesh, Belgium, Burkina Faso, Bulgaria, Burundi, Benin, Bolivia, Brazil, Bahamas, Bhutan, Botswana, Belarus, Belize, Canada, Congo - Kinshasa, Central African Republic, Congo - Brazzaville, Switzerland, Côte d'Ivoire, Chile, Cameroon, China, Colombia, Costa Rica, Cuba, Cyprus, Czechia, Germany, Djibouti, Denmark, Dominica, Dominican Republic, Algeria, Ecuador, Estonia, Egypt, Western Sahara, Eritrea, Spain, Ethiopia, Finland, France, Gabon, United Kingdom, Grenada, Georgia, Ghana, Guinea, Equatorial Guinea, Greece, Guatemala, Guinea-Bissau, Guyana, Hong Kong SAR China, Honduras, Croatia, Haiti, Hungary, Indonesia, Ireland, Israel, India, Iraq, Iran, Iceland, Italy, Jamaica, Jordan, Japan, Kenya, Kyrgyzstan, Cambodia, Comoros, St. Kitts & Nevis, North Korea, South Korea, Kuwait, Kazakhstan, Laos, Lebanon, St. Lucia, Sri Lanka, Liberia, Lesotho, Lithuania, Latvia, Libya, Morocco, Moldova, Montenegro, Madagascar, North Macedonia, Mali, Myanmar (Burma), Mongolia, Mauritania, Malta, Malawi, Mexico, Malaysia, Mozambique, Namibia, Niger, Nigeria, Nicaragua, Netherlands, Norway, Nepal, New Zealand, Oman, Panama, Peru, Philippines, Pakistan, Poland, Portugal, Paraguay, Qatar, Romania, Serbia, Russia, Rwanda, Saudi Arabia, Seychelles, Sudan, Sweden, Slovenia, Slovakia, Sierra Leone, Senegal, Somalia, Suriname, South Sudan, El Salvador, Syria, Eswatini, Chad, Togo, Thailand, Tajikistan, Turkmenistan, Tunisia, Turkey, Trinidad & Tobago, Taiwan, Tanzania, Ukraine, Uganda, United States, Uzbekistan, St. Vincent & Grenadines, Venezuela, Vietnam, Yemen, South Africa, Zambia, Zimbabwe
Supported Languages
English
Pricing starting from:
N/A
Free Trial
Free Version
Subscription
Open Source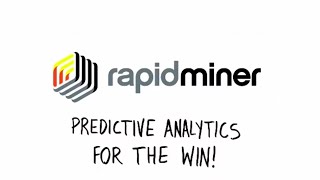 Total features of RapidMiner: 23
API
Access Controls/Permissions
Alerts/Notifications
Collaboration Tools
Data Extraction
Data Transformation
Data Visualization
Fraud Detection
Linked Data Management
Machine Learning
Multiple Data Sources
No-Code
Predictive Modeling
Process Change Tracking
Process Modeling & Designing
Reporting/Analytics
Sentiment Analysis
Statistical Analysis
Templates
Text Analysis
Text Mining
Topic Classification
Visual Workflow Management
Centralpoint
#1 Alternative to RapidMiner
Centralpoint by Oxcyon is a digital experience platform & content management solution for enterprises. The cloud-based...
Alteryx Designer
#2 Alternative to RapidMiner
Alteryx enables the preparation, blending and analysis of data using repeatable workflows, facilitating a faster...
Looker
#3 Alternative to RapidMiner
Looker, a data platform, makes it simple for anyone to find, navigate and understand their data. Looker platform has an...
Workato
#4 Alternative to RapidMiner
Enterprise-grade cloud integration platform that helps you automate your business. Easily create powerful workflows...
---
Already have RapidMiner?
Software buyers need your help! Product reviews help the rest of us make great decisions.
Write a Review!
Showing 5 reviews of 20
Used

Daily

for

2+ years

Review Source
Overall rating
Value for Money

Ease of Use

Customer Support

Likelihood to recommend

7.0

/10
Great tool for data analytics!
Reviewed on 2018/08/01
Great data analytic and visualization tool!
Great data analytic and visualization tool!
Pros
No coding skills needed! Rapidminer is a GUI tool that you can connect boxes on a canvas to conduct data anlysis, this serves as a great introduction to data analytics.
Free for students! You can get a provisional liscence with a dot edu account. This is a great perk of the software.
Data analytics and data visualization tools are available within the software with a plethora of other features!
Cons
Very buggy! The software tends to crash often, this is especially more common with things such as neural networks etc.
Limitations of some versions! Even with the student version there is a limit of 10,000 rows of output, so if you are trying to do analysis on a 12,000 point data set , 2000 points will randomly be omitted.
Industry: Research
Company size: Self Employed
Used

Other

for

6-12 months

Review Source
Overall rating
Ease of Use

Likelihood to recommend

8.0

/10
The data scientist's swiss knife: Fast and Easy Machine Learning through RapidMiner Studio
Reviewed on 2019/06/11
Overall my experience with using RapidMiner was great. It allowed me to rapidly try out different...
Overall my experience with using RapidMiner was great. It allowed me to rapidly try out different machine learning models and compare each result with one another. It also allowed me to conveniently address my workflow without having to write code. It is a great tool for students and people without a strong programming background. Its well documented functions and strong community addresses what ever questions I had with the processes.
Pros
One of the daunting requirements for data scientists and data storytellers is learning a programming language such as matlab and python and writing code for their tasks. This is on top of having to analyze and learn complex algorithms needed for the task. This can be a time consuming problem, especially for those who are not adept at programming. However, this is now a thing of the past because of RapidMiner Studio.
This is because RapidMiner features are drag and drop visual interface which makes all the difference. Data preparation to the final output and visualization is as simple as dragging blocks of your workflow into a canvas and connecting them altogether.

RapidMiner Studio also has most of the machine learning models used in the academe and the industry. One of the difficulties when dealing with code is tweaking the parameters of these models but because of the visual interface, you could simply click on the process and update this.
RapidMiner is also well documented. Each of the processes has their description, input, output, and parameters well described. Tutorial videos as well as blogs are available on their website. And finally, RapidMiner Studio has a community of data scientists that can help you when you have a question.
Cons
What I found to be very inconvenient is that the application crashes at times. This may be a problem limited to my own machine.
Aside from this I found that the application seems to hog my computers memory and cpu resources. This may be because the application is running on Java (VM). This may not be a problem for people with a higher spec machine.
I also found that the application lacks collaboration features which may be something that they could improve on in the future.
Industry: Computer Software
Company size: 201-500 Employees
Used

Daily

for

6-12 months

Review Source
Overall rating
Ease of Use

Likelihood to recommend

4.0

/10
Userfriendly Interface for ETL
Reviewed on 2019/03/17
It's a good platform while applying predictive analytics on any dataset with a user friendly...
It's a good platform while applying predictive analytics on any dataset with a user friendly interface to have the true picture of the future.
Pros
Visual workflow designer is the best part for predictive analytics.
I really like drag n drop interface for generating models.
Prebuilt templates are quite useful.
Cons
It's not always free. You need to purchase it if you wana work with more than 10000 rows.
Its processing becomes too slow (almost hangs) while working with terabyte or petabyte of data.
Sometimes, it becomes difficult to handle hundreds of models available.
Industry: Telecommunications
Company size: 2-10 Employees
Used

Weekly

for

1+ year

Review Source
Overall rating
Value for Money

Ease of Use

Customer Support

Likelihood to recommend

10.0

/10
I never had guessed that Data Science software was so easy
Reviewed on 2020/02/27
As being an old time user of data mining project using open programming languages, I found...
As being an old time user of data mining project using open programming languages, I found extremely useful all the features of Rapid Miner. Form preparing the data, creating predictive models and potting them in a visualized presentation.
Pros
The easiness of use, the support team, the video tutorials of the company, the career certification program, the visualization module has been upgraded, the integration capabilities to R, Python and Hadoop.
Cons
Actually the only complaint I have is that the sw didnt make it in the "LEADERS" quadrant of Gardner.
Industry: Higher Education
Company size: Self Employed
Used

Daily

for

6-12 months

Review Source
Overall rating
Ease of Use

Likelihood to recommend

10.0

/10
Excellent tool for Data Mining
Reviewed on 2018/11/20
Pros
Started using this software a few months ago, and its shear power is amazing. The number of things the user can do with this software are amazing
Cons
Sometimes, while handling big data, like having large number of examples and attributes, it takes a lot of time. The cumulative time increase, when the user is optimizing manually different attributes based on the results
RapidMiner FAQs
Below are some frequently asked questions for RapidMiner.
Q. What type of pricing plans does RapidMiner offer?
RapidMiner offers the following pricing plans:
Pricing model: Free, Subscription, Open Source
Free Trial: Available
RapidMiner for Enterprises Let's create a plan for your team's specific needs. Request pricing for your enterprise here: https://rapidminer.com/pricing/ RapidMiner for Individuals RapidMiner Studio (Free Version): Comprehensive data science experience from data prep to model deployment. New users start with a 30-day trial of RapidMiner Studio Enterprise, which includes unlimited data rows, optimized performance & full automation with Turbo Prep, Auto Model, and Model Ops. RapidMiner Go ($10 per month): All you need is a data set (like an Excel sheet) and something you want to predict. The automated and guided experience helps you create and select the best model for your business. Use that model to uncover insights and inform decisions – it's that simple.
Q. What are the main features of RapidMiner?
We do not have any information about RapidMiner features
Q. Who are the typical users of RapidMiner?
RapidMiner has the following typical customers:
2-10, 11-50, 51-200, 201-500, 501-1 000, 1 001+
Q. What languages does RapidMiner support?
RapidMiner supports the following languages:
English
Q. Does RapidMiner support mobile devices?
RapidMiner supports the following devices:
Q. What other apps does RapidMiner integrate with?
We do not have any information about what integrations RapidMiner has
Q. What level of support does RapidMiner offer?
RapidMiner offers the following support options:
Email/Help Desk, FAQs/Forum, Knowledge Base, Phone Support, Chat
Related categories
See all software categories found for RapidMiner.