Quire
A visual collaborative platform for your great projects
About Quire
Breaking projects into smaller, bite-sized tasks is critical for successful project management. Quire is built for this key activity and arguably the best solution for businesses that struggle with taking big goals and both making them smaller and managing all these little tasks.
Quire assists project management in a number of ways. First, it makes it easy for users to put down thoughts and then structure them into tasks, similar to mind-mapping software but both easier and more intuitive. It also allows for infinitely nested lists, which makes it easier for big projects or tasks to be broken into smaller parts. 
Quire hierarchical task list lets you brainstorm and plan ahead for your projects. On the other hand, Kanban board is for execution and progress tracking in a visual workflow form. Timeline view helps team spot roadblocks and manage the project schedules so that no task will ever get fallen behind. The best thing with Quire is, you can switch between different views and still stay in the same task list.
Sublist is a unique approach that makes Quire stand out among thousands of work management app. For one task list, you can create as many sub-lists as you wish to focus on which matters the most to you. The newly created sublists can mirror the main list and Quire Sublist is a huge advanced step for your work management.
One of the key features that make a  task management software be in a different class from a simple task management software is the collaboration tool. Your team will always stay in sync with Quire real-time collaboration feature. You can access your projects using your mobile phones and web browsers at any time. 
Quire also integrates with Google Drive, Google Calendar, Outlook Calendar, Slack,  Zapier, Microsoft Teams, etc. A REST API is also available for anyone that wants to customize Quire better for their business' needs.
Currently, Quire is completely free of charge.
Pricing starting from:
US$10,95/month
Free Version

Free Trial

Subscription
Top 5 alternatives to Quire
Key benefits of Quire
Quire is a web-based project management software for small businesses that provides basic task management features such as task delegation, task monitoring along with instant messaging.
Managers can monitor project progress in real-time that prevents project delays by taking timely corrective action.
Quire also enables users to fix recurring tasks to prevent overhead activities.
Group task feature enables managers to share updates with team in one go.
Managers can share tasks publicly online and outsource tasks with external teams and third-parties
Typical Customers
Freelancers

Small Businesses

(2-50)

Mid-size Companies

(51-500)

Large enterprises

(500 and more)
Markets
Argentina, Australia, Austria, Belgium, Brazil and 29 others
Supported Languages
English, French, German, Italian, Japanese and 3 others
Pricing starting from:
US$10,95/month
Free Version

Free Trial

Subscription
Top 5 alternatives to Quire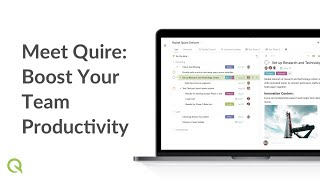 Total features of Quire: 82
@mentions
API
Access Controls/Permissions
Activity Dashboard
Activity Tracking
Agile Methodologies
Alerts/Notifications
Assignment Management
Bar Chart
Brainstorming
Calendar Management
Charting
Chat/Messaging
Collaboration Tools
Color Codes/Icons
Commenting/Notes
Communication Management
Content Management
Create Subtasks
Customizable Fields
Customizable Reports
Customizable Templates
Deadline Management
Discussions/Forums
Document Management
Document Storage
Drag & Drop
Email Management
Email-to-Task Conversion
File Sharing
Gantt/Timeline View
Idea Management
Import Tasks
Issue Management
Kanban Board
Milestone Tracking
Mobile Access
Multi-Channel Communication
Multi-Department/Project
Multiple Projects
Parent Task
Percent-Complete Tracking
Planning Tools
Prioritization
Progress Tracking
Project Management
Project Planning
Project Planning/Scheduling
Project Scheduling
Project Templates
Project Time Tracking
Project Tracking
Projections
Real Time Editing
Real Time Notifications
Real-time Updates
Recurring Tasks
Reminders
Reporting & Statistics
Reporting/Analytics
Reporting/Project Tracking
Resource Management
Role-Based Permissions
SSL Security
Search/Filter
Secure Data Storage
Status Tracking
Tagging
Task Board View
Task Editing/Updating
Task Management
Task Planning
Task Progress Tracking
Task Scheduling
Task Tagging
Third Party Integrations
Time & Expense Tracking
Timeline Management
To-Do List
Traditional Methodologies
Visualization
Workflow Management
monday.com
#1 Alternative to Quire
monday.com is a cloud-based Work OS, where teams create workflow apps in minutes to run their processes, projects, and...
Asana
#2 Alternative to Quire
Asana is the leading work management platform for cross-team work that aligns employees around company goals and...
MeisterTask
#3 Alternative to Quire
MeisterTask is the most intuitive project and task management tool on the web.
Notion
#4 Alternative to Quire
Notion is a project and workflow management solution that helps businesses streamline operations related to goal...
---
Already have Quire?
Software buyers need your help! Product reviews help the rest of us make great decisions.
Showing 5 reviews of 117
Company size: 51–200 Employees
Used

Daily

for

6-12 months

Review Source
Overall rating
Value for Money

Ease of Use

Customer Support

Likelihood to recommend

10.0

/10
This product is realy easy to use.
Reviewed on 2018/03/15
It helps me a lot to manage my tasks
It helps me a lot to manage my tasks
Pros
1. It is very easy to use
2. You can do almost everything in a single page
3. They have mobile solution
4. Login with you e-mail
5. Don't have limit for the size of the team
6. Integration with slack
Cons
1. The graphics are not the bests
2. They just have two themes (Light and Dark)
3. There is nothing more I can tell about it
Industry: Motion Pictures & Film
Company size: 51–200 Employees
Used

Daily

for

1+ year

Review Source
Overall rating
Value for Money

Ease of Use

Customer Support

Likelihood to recommend

9.0

/10
Great Tool For Keeping A Team Up To Date With The Latest Information
Reviewed on 2019/05/01
We work in a business where we have to be on top of things, we can't make any mistakes, and quick /...
We work in a business where we have to be on top of things, we can't make any mistakes, and quick / accurate delivery of elements to our clients is paramount. By using a project management system like Quire, we can have a visual status of our various projects, with up-to-date information, contacts and specifications, so we can move at a quicker pace with significantly fewer questions.
The support for Quire has been great, with quick responses and excitement over adding new / different features that we have requested. They also "dog food" their software and use the actual Quire service for their FAQ and some support questions, so they know what works and doesn't work.
Pros
My team and I work in a high speed environment where keeping track of the latest information via emails, texts, calls and more is extremely hard. Quire has been a great tool for keeping the entire team up to date with all of the latest and greatest information. We don't want anyone to have to refer back to emails to see what is correct, so we make sure that we immediately update the project information in Quire and then everyone is on the same page.
We set up a tagging system, so that our various clients and the various facilities we do work at each have a tag with a particular color. As we open up a new project, we will apply the correct tags, so we know at a quick glance who the important players are. This is especially useful as everyone on the team bounces around from project to project, so knowing who is involved and what job # to bill to is very important. Quire handles this all very well.
Quire also allows you to attach small files, which is one the main features we use, and possibly the most important. We know that the latest spec sheet is in the project on Quire, so we don't have to search around for it. It keeps our artists on track and asking way fewer questions.
Quire's sync is very good and updates very quickly when others make changes / updates. We use the web and iOS versions all day every day.
Cons
I feel like the searching functionality could be improved, so when you search for a particular name or client or job name, it only shows you the tasks that match your search. Right now, it only highlights matching tasks in a long list. It makes it too difficult to find a specific old job, so for instance you can copy information from the old job task to a new job task.
Industry: Publishing
Company size: 2–10 Employees
Used

Daily

for

1-5 months

Review Source
Overall rating
Ease of Use

Likelihood to recommend

7.0

/10
Quire: Another Team Management Software
Reviewed on 2018/10/09
Pretty basic, but pretty good.
Pretty basic, but pretty good.
Pros
I like how Quire is easy to set up, use and explain to colleagues. Several of my coworkers are new to the whole technology thing and have trouble working products like this, so it was nice to be able to give a quick tutorial on this one.
Cons
It doesn't do much to stand out from other task management or team-collaborative software. Slack and Samepage do essentially the same thing.
Industry: Animation
Company size: Self Employed
Used

Weekly

for

6-12 months

Review Source
Overall rating
Value for Money

Ease of Use

Customer Support

Likelihood to recommend

10.0

/10
Simple, brilliant and beautiful!
Reviewed on 2017/08/30
Quire's biggest strength is its simplicity, and that has been a boon for me, which is why I've...
Quire's biggest strength is its simplicity, and that has been a boon for me, which is why I've stuck to it. It allows me to plan-out my projects extensively and manage them at a glance, saving me plenty of time and effort in order to get things done.
Pros
I've used many task management applications before for their various strengths and functionality in conjunction such as Trello, Keep, Workflowy, etc. at the same time but Quire is an interesting middle-ground. While it doesn't consist of the strengths of the other tools, it sits comfortably in between them and is pretty consistent with one's desired workflow.
It's simple enough to quickly manage and navigate through, and has enough complex features for someone like me to keep track of larger projects, whether in a team or simply working solo. Its tag-search system is also fantastic! It allows the tool to get out of your way so that you can put more time and energy on your actual work.
Another brilliant idea that Quire has had recently is to have an app-less access to your project via browser shortcut on smartphones. What it does is that it saves a shortcut your phone's desktop so you can access your tasks even if offline just like an app without having to install anything! I love that!
Cons
While the desktop navigation is fantastic via short-cuts, Quire seems to be pretty clunky on smartphones. I can still drag around tasks no problem (except for my chubby finger not letting me see where I'm even dropping it), it's really hard to use it to create and manage tasks or plan-out projects on-the-go. This is partly what keeps me from using it on Android, and instead I still rely on Google Keep.
Other things may be considered a "con" for some, even though it wasn't for me, but thought I'd mention either way:
For one, Quire's strength is in its simplicity, so there may not be features that high-end project-management tools are expected to have, such as the Timeline feature. Personally I did not require it, because Quire's Progress Stats is fine enough for me.
Secondly, part of Quire's simplicity aspect goes into how the tasks are managed; when you finish a task, it is removed from sight, therefore out of mind so you can now focus on something else. While it makes you more efficient and productive (provided you've planned things out ahead of time), in certain projects there are times when I'd like to keep track of completed tasks, and it's not really easy to do that quickly in Quire unless you decide before-hand how you intend to use it. But that's just a minor nitpick, so it doesn't bother me that much.
Though I do mind lack of Google Calendar integration.
Industry: Computer Software
Company size: 11–50 Employees
Used

Daily

for

6-12 months

Review Source
Overall rating
Value for Money

Ease of Use

Customer Support

Likelihood to recommend

10.0

/10
If you're getting started - don't look elsewhere
Reviewed on 2018/08/16
I'm mostly occupied with multiple projects and Quire has given me a way to simply put it across and...
I'm mostly occupied with multiple projects and Quire has given me a way to simply put it across and visualize and switch between them. This simplicity is why I am a fan. Also - I trust the team is up for great work and I'd like to stick around and be a part of their success.
Pros
I've used quite a few project management tools but nothing come close to Quire when it comes to simplicity and beauty. But don't be mistaken, it is simple yet very powerful.
They have got amazing features to keep a track of your tasks with a detailed history under every project. There is also a convenient shortcut instructions reminding you of the keys to get things done quickly, and in the process, making you use to the entire Quire experience.
I rely on collaboration a lot in my projects, and Quire has a beautiful way of messaging and allocating tasks and keeping track of them.
Also - love the night mode!
The team is also very eager to learn from your feedbacks. Crystal have reached out to me multiple times checking on my feedbacks and also updating on when I can expect certain features I find missing - that is really impressive for a company bound to grow.
Cons
When I initially started using it, I found the important piece missing was to visualize my tasks, they have now added that as well with Kanban coming in! But what I'd even more appreciate about is perhaps a few important integrations like Google Calendar.
Also, not sure if they have plans to release a web-app tool for MacOS.
Quire FAQs
Below are some frequently asked questions for Quire.
Q. What type of pricing plans does Quire offer?
Quire offers the following pricing plans:
Starting from: US$10,95/month
Pricing model: Free Version, Subscription
Free Trial: Available
Whether you are a small team or an enterprise-grade organization, we have all the resources available to you. Starting from $0/user/month and a free 30-day trial period, you are in charge of your productivity.
Q. Who are the typical users of Quire?
Quire has the following typical customers:
Self Employed, 2–10, 11–50, 51–200, 201–500, 501–1 000, 1 001–5 000
Q. What languages does Quire support?
Quire supports the following languages:
English, French, German, Italian, Japanese, Portuguese, Russian, Spanish
Q. Does Quire support mobile devices?
Quire supports the following devices:
Android (Mobile), iPhone (Mobile), iPad (Mobile)
Q. What other apps does Quire integrate with?
Quire integrates with the following applications:
GitHub, Google Calendar, Google Drive, Slack, Zapier
Q. What level of support does Quire offer?
Quire offers the following support options:
Email/Help Desk, FAQs/Forum, Knowledge Base, Chat
Related categories
See all software categories found for Quire.