DentiMax
Online & On-Premise Dental software & digital sensors
About DentiMax
DentiMax provides practice management dental software and digital X-ray sensors for the dental industry, offering a web-based or on-premises Windows system. DentiMax Online offers broadest access to practice information with secure connectivity from any location, along with advanced feature synonymous with each price plan. Schedule patient bookings with the appointment book, while producing detailed treatment plans and using the lab tracker tool to ensure crown, bridge and other work is ready to go. Record unique clinical notes with a collection of templates and use the built-in time clock to track staff attendance and print payroll summaries.
Advanced features include clinical charting and periodontal charting via a Perio Exam Screen that makes entering, graphing and comparing periodontal measurements more intuitive. Ledger tools enable payment collection from patients and insurers, while a credit card module allows cards to be entered or swiped just once. Security settings can be customized to reflect appropriate user levels and DentiMax also supports the ability to create custom patient release forms with tablet registration capabilities. Full technical support with online training is also given, alongside automatic software upgrades and online data backups.
Pricing starting from:
US$49,00/month
Key benefits of DentiMax
Cloud-based DentiMax Online delivers practice management software features with secure 24/7 access to practice data from any location with an Internet connection.
Unlimited technical support with training provided, along with automatic system updates and online data backups.
Schedule patient appointments, produce detailed treatment payment plans and use the Recall System to find patients who require a recall appointment.
Create a full range of unique reports and custom patient release forms with electronic capture of signatures for consent waivers and treatment plans.
Automatically log late charges using the ledger module to collect payments, accepting single-swipe credit card transactions and verifying insurance eligibility.
Markets
Canada, United States
Supported Languages
English
Pricing starting from:
US$49,00/month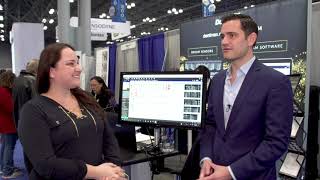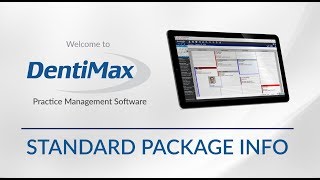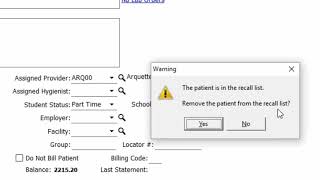 Total features of DentiMax: 20
Access Controls/Permissions
Appointment Management
Authentication
Automatic Backup
Charting
Claims Management
Client Management
Confirmation/Reminders
Credit Card Processing
Document Templates
E-Prescribing
General Ledger
Imaging and X-rays
Medical Billing
Patient Records Management
Registration Management
Summary Reports
Time Clock
Treatment Planning
Web Forms
Curve Dental
#1 Alternative to DentiMax
Curve Dental is the leading provider of cloud-based practice management software for modern dentists.
ABELDent
#2 Alternative to DentiMax
ABELDent is a dental practice management software that helps dentistry professionals manage appointments, claims, and...
Teledentix
#3 Alternative to DentiMax
Teledentix is a cloud-based telemedicine software, which helps dental organizations communicate and provide...
MNprogram
#4 Alternative to DentiMax
MNprogram is a cloud-based system designed to help businesses in legal, medical, healthcare, and other industries...
---
Already have DentiMax?
Software buyers need your help! Product reviews help the rest of us make great decisions.
Write a Review!
Showing 5 reviews of 105
Industry: Health, Wellness & Fitness
Company size: 2-10 Employees
Used

Daily

for

1+ year

Review Source
Overall rating
Value for Money

Ease of Use

Customer Support

Likelihood to recommend

9.0

/10
CTG review
Reviewed on 2018/07/31
The ability to track treatment plans has given us the potential to fill open or cancelled...
The ability to track treatment plans has given us the potential to fill open or cancelled appointments.
Pros
I appreciate the ability that Dentimax offers in customizing the software to our office's unique requirements.
Cons
We have intermittent times when the labtop does not sync with the main computer. I hope
that we don't need to upgrade to a server.
Response from DentiMax Dental Software
Hi Dr. Marlow,

Thank you for taking the time to write us a wonderful review!
I will have our support team give you a call about your laptop. We do not support hardware, but can look at a few things and give you a few pointers to look at. One thing you can check almost immediately is whether or not the laptop is on wifi. If it is, you may want to look into a hard wired connection to the internet, otherwise the wifi signal floating through the air can get disrupted at times for various reasons.

Thanks for the opportunity to serve you!
Sincerely,
Alicia
Industry: Medical Practice
Company size: 2-10 Employees
Used

Daily

for

1-5 months

Review Source
Overall rating
Value for Money

Ease of Use

Customer Support

Likelihood to recommend

10.0

/10
My staff and I have used DentiMax for over ten years now and I have only good things to say...
Reviewed on 2016/10/29
I can't say enough about the training and support that I have received from DentiMax! Their...
I can't say enough about the training and support that I have received from DentiMax! Their trainers are amazing (yes Alicia that's you ) and their support is amazing too! I have used various software programs over the years, including Softdent and Dentrix , and can say without hesitation that DentiMax is by far and away the best system that I have ever used.
One of the things that I like so much about DentiMax is its reporting and billing capability. The software provides dead on accurate numbers that enable us to collect the patient's portion before we ever bill the insurance. This is so nice. Another thing that I love about the software is its integration with digital imaging. My DentiMax's imaging software totally integrates with the practice management side and the x-ray images are beautiful. In fact, my DentiMax digital sensors produce a better quality, crisper x-ray image than my associate's far more expensive digital x-ray sensors (I tried to tell him).
If you are looking for a complete system that is easy to use, you should go with DentiMax. Don't be chintzy and skip out on getting training and support. It's not very expensive and they are very good.
Pros
• I love the appointment book! I wish my iPhone appointment book was as easy to use. From my patient's appointment, I can flow to their chart, ledger, patient and perio screens and access any information I want on the patient. It's easy to move appointments around, view the scheduled production, revenue and cash flow by day and month … I can't say enough about the appointment book.
• I like the charting screen a lot too. I can even see my patients x-rays while I am treatment planning. Also, the clicks to treatment plan a patient are about ½ the clicks of the other systems I have used. It's just nice to be able to quickly treatment plan and present it to the patient without taking a lot of time.
• The ledger is really good. Right on the ledger, I can easily see what the patient owes and what the insurance owes. It also shows if the deductible has been met and what is left on the max benefit.
• Clinical notes. It took me a while to give up my paper note and go electronic. All I can say is what a HUGE TIME SAVER!!! DentiMax has to have the best clinical notes on the market!
• Reports and Statements. They're good and easy to use. There are several statements but the one I like the most is the anticipated family statement. It tell the patient what they owe and what their insurance owes in detail. When my patient's get a statement, they just pay it; the info is all right there. The statements are really good.
Cons
I wish I had gone straight to DentiMax when I first started my office. I guess that's not a con but that's how I really feel.
Industry: Medical Practice
Company size: 2-10 Employees
Used

Daily

for

1+ year

Review Source
Overall rating
Value for Money

Ease of Use

Customer Support

Likelihood to recommend

4.0

/10
Dentimax is not very user friendly but if you are working on a budget it might be one to...
Reviewed on 2018/12/17
Pros
The Home page has multiple icons which allows you to navigate the system with ease. There is a help icon on the pages that allows you to get instructions on how to do a task which is helpful. Compared to other softwares , the price is affordable and reasonable. The kiosk is a great feature but it never worked properly.
Cons
The software constantly freezes, customer service does not know why and they blame it on Windows updates. The kiosk never worked so I cancelled it. The treatment planning page and dental charting page has too many out of dated terminology and needs updating while the whole system could be more simple and has too many steps to complete. If you need to resubmit a claim you have to start over from scratch which it time consuming when you should be able to revise the original and resend it. Adding patients information is not user friendly either when having to input but from the kiosk, when it was working, it was a breeze. When ever you need customer service there is always a long wait, plus they want you to pay extra money for help.
Response from Alicia
Hi Monique,
Thank you, I understand support had worked with you at length and found that your internet was needing to be upgraded. Wifi, while convenient, does not always provide a stable connection for data transfer, and the internet specs you had at the time of your call did not meet our required specs.
1) Terminology: updated annually with the latest CDT codes, and is also customizable by the user. Our system offers 2 click charting, making it incredibly fast. Here is a training video for reference: https://youtu.be/E_3fzNG5z9Q?t=1591
2) Claim resubmission: all you need to do is open the claim you had previously submitted that says "billed" and change the status back to "ready to bill".
3) New Patients: you must enter the same basic info such as name/address/dob, etc, any software would require.
4) Support: we do not require you to have a separate support contract for assistance on that item. We have high call volumes at different times of day, just as any company doing phone support, but Customer Support is available via phone, email, and web chat as well.
Please let us know if you would like additional assistance in training.

Thank you kindly,
Alicia Dieujuste
Industry: Medical Practice
Review Source
Overall rating
Ease of Use

Customer Support

Likelihood to recommend

10.0

/10
Great Dental Software - Reasonable Cost
Reviewed on 2015/01/09
Pros
DentiMax is easy to use and reasonably priced. The tech support is extremely helpful and even cheerful. They are available without a long wait like other, better-known dental software companies. I've always spoken to a representative who is located in the USA and who answered questions quickly. After the initial DentiMax training, the software follows a logical order, making finding your own answers to questions easy. I paid for an extra hour of training, which I used after I had a few questions and now feel very confident in using all of the functions and customizing fields to my own preferences. I am not highly computer savvy, but Dentimax follows a distinct pattern of thinking that even I can negotiate through the different pages, such as setting up perio and dental charting, ledgers, etc. If you are looking for excellent dental software and have been talking to reps from the 'big' companies, I'd suggest looking at DentiMax. The differences are about nil, but the cost difference will be huge. I work in two dental offices, besides my own alternative practice business, using the two big company software packages in my private practice jobs. Knowing these other two dental software systems allows me to compare directly. DentiMax offers everything the others do, as far as I can tell. So why pay more?
Cons
The only one thing I don't like about this software is that probe readings for bleeding points have to be noted before the actual pocket reading or after you finish with pocket numbers. If you chart '5mm' , then bleeding, it advances to the next surface and the red bleeding point will be in the wrong spot. In reality, I won't know if a pocket is going to bleed until I have measured the pocket, so I want to chart the millimeter number and then the bleeding rather than the reverse. You can just go back to the sextant, quadrant, or arch to click on each bleeding point, but this makes charting slower. This is the same problem with Eaglesoft. Dentrix has this one right with charting the millimeter number, then pressing the 'B' key to note a red bleeding point as it actually occurs. For example, press '5B' and you get a 5 mm pocket with bleeding by just clicking on 2 keys. I can't imagine why the bleeding point needs to be noted first.
Industry: Medical Practice
Company size: 2-10 Employees
Used

Daily

for

6-12 months

Review Source
Overall rating
Ease of Use

Likelihood to recommend

10.0

/10
ABSOLUTE LIFESAVER!!!
Reviewed on 2017/09/15
Long story short,they have thought of EVERYTHING. You can tell the people that have built the...
Long story short,they have thought of EVERYTHING. You can tell the people that have built the program have a Dental background. Same is true for the training, sales and support staff, they can talk the talk!
Pros
I have used Dentrix, Curve and Windent, and I can tell you this has been the easiest program to learn. Dentimax is very intuitive and user friendly. The ledger is probably my favorite part of the program because it truly stands out from the others. Unlike other programs, Dentimax is REAL ACCOUNTING! This means when you want to know why a patient still has a balance you can easily look down the ledger and see exactly which item the money is owing from- and ledger notes makes it easy to indicate why money is still owed (ins denied, maxed out, ins lapsed). The ledger also keeps track of insurance history. So the next time a patient comes in and they owe a different amount for their perio maint. you can quickly reference the old plan and explain the difference in coverage. Dentimax also offers a home page which allows me to keep website links, reports and shortcuts to areas of the program all in one place, and accessible with one click. The Document center is very thought out; it's not just scan items in. You can create documents and even have patients sign electronically- on top of being able to scan and store. I also love that i can get to any part of the program without having to move in any particular order. As long as I have the patient selected, I can jump to either their chart, ledger, Rx, perio exam, etc. Plus, with all the fun extras, you can be TRULY PAPERLESS
DentiMax FAQs
Below are some frequently asked questions for DentiMax.
Q. What type of pricing plans does DentiMax offer?
DentiMax offers the following pricing plans:
Starting from: US$49,00/month
Pricing model: Subscription
Free Trial: Available
MONTHLY PLANS: Starter: $49 / month* Standard: $99 / month* Complete: $199 / month* *Also requires $199 setup fee. For cloud versions, more than one provider requires an additional fee. TRADITIONAL ONE-OFF PRICING: DentiMax: $499 single computer, $1799 for networks DentiMax Advanced: $998 single computer, $2499 for networks DentiMax Bundle: $2349 single computer, $4249 for networks
Q. What are the main features of DentiMax?
We do not have any information about DentiMax features
Q. Who are the typical users of DentiMax?
DentiMax has the following typical customers:
2-10, 11-50, 51-200, 201-500
Q. What languages does DentiMax support?
DentiMax supports the following languages:
English
Q. Does DentiMax support mobile devices?
DentiMax supports the following devices:
Q. What other apps does DentiMax integrate with?
We do not have any information about what integrations DentiMax has
Q. What level of support does DentiMax offer?
DentiMax offers the following support options:
Email/Help Desk, FAQs/Forum, Knowledge Base, Phone Support, Chat
Related categories
See all software categories found for DentiMax.