DentiMax
Online & On-Premise Dental software & digital sensors
About DentiMax
DentiMax provides practice management dental software and digital X-ray sensors for the dental industry, offering a cloud based or on-premises Windows system. DentiMax Online offers broadest access to practice information with secure connectivity from any location, along with advanced feature synonymous with each price plan. Schedule patient bookings with the appointment book, while producing detailed treatment plans and using the lab tracker tool to ensure crown, bridge and other work is ready to go. Record unique clinical notes with a collection of templates and use the built-in time clock to track staff attendance and print payroll summaries.
Advanced features include clinical charting and periodontal charting via a Perio Exam Screen that makes entering, graphing and comparing periodontal measurements more intuitive. Ledger tools enable payment collection from patients and insurers, while a credit card module allows cards to be entered or swiped just once. Security settings can be customized to reflect appropriate user levels and DentiMax also supports the ability to create custom patient release forms with tablet registration capabilities. Full technical support with online training is also given, alongside automatic software upgrades and online data backups.
Pricing starting from:
US$139,00/month
Free Version

Free Trial

Subscription
Top 5 alternatives to DentiMax
Key benefits of DentiMax
Cloud-based DentiMax Online delivers practice management software features with secure 24/7 access to practice data from any location with an Internet connection.
Unlimited technical support with training provided, along with automatic system updates and online data backups.
Schedule patient appointments, produce detailed treatment payment plans and use the Recall System to find patients who require a recall appointment.
Create a full range of unique reports and custom patient release forms with electronic capture of signatures for consent waivers and treatment plans.
Automatically log late charges using the ledger module to collect payments, accepting single-swipe credit card transactions and verifying insurance eligibility.
Typical Customers
Freelancers

Small Businesses

(2-50)

Mid-size Companies

(51-500)

Large enterprises

(500 and more)
Markets
Canada, United States
Supported Languages
English
Pricing starting from:
US$139,00/month
Free Version

Free Trial

Subscription
Top 5 alternatives to DentiMax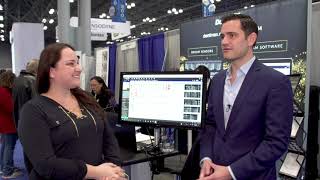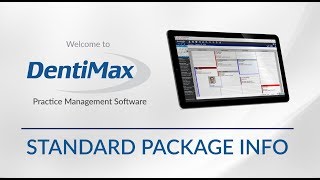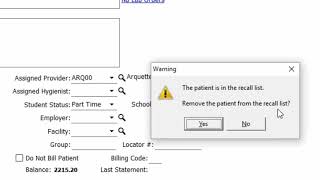 Total features of DentiMax: 15
Access Controls/Permissions
Appointment Management
Automatic Backup
Charting
Claims Management
Client Management
Confirmation/Reminders
Document Templates
E-Prescribing
Imaging and X-rays
Medical Billing
Patient Records Management
Registration Management
Treatment Planning
Web Forms
Dentrix
#1 Alternative to DentiMax
Dentrix is a comprehensive practice management solution that equips dental practices with robust clinical, business,...
Curve Dental
#2 Alternative to DentiMax
Curve Dental is the leading provider of cloud-based practice management software for modern dentists.
Denticon
#3 Alternative to DentiMax
Centralized data with secure access anywhere, anytime. Grow and scale with an all-in-one, cloud-based practice...
ABELDent
#4 Alternative to DentiMax
ABELDent is a dental practice management software that helps dentistry professionals manage appointments, claims, and...
---
Already have DentiMax?
Software buyers need your help! Product reviews help the rest of us make great decisions.
Showing 5 reviews of 102
Industry: Medical Practice
Company size: 2–10 Employees
Used

Daily

for

2+ years

Review Source
Overall rating
Value for Money

Ease of Use

Customer Support

Likelihood to recommend

10.0

/10
Thanks a million!!!
Reviewed on 2020/10/30
I called late on a Friday afternoon with a problem that I had no clue how to resolve with our...
I called late on a Friday afternoon with a problem that I had no clue how to resolve with our DentiMax software and a technician named [SENSITIVE CONTENT HIDDEN] had it resolved in just a few minutes! I am running an older version of the program and he was still able to get things fixed! Thank a million [SENSITIVE CONTENT HIDDEN]!
Pros
Meets the needs of our dental office, especially in regards to claims and billing.
Cons
Nothing really. Again, it meets our office needs. If anything, I would say that there are a lot of things that the software can do that I am totally unaware of and wish I had the time ti learn all of it because i know that it can do a lot.
Industry: Medical Practice
Company size: Self Employed
Used

Daily

for

2+ years

Review Source
Overall rating
Value for Money

Ease of Use

Customer Support

Likelihood to recommend

10.0

/10
Awesome
Reviewed on 2017/09/12
I had some very difficult issues in setting up Denti-Max and making sure it was communicating...
I had some very difficult issues in setting up Denti-Max and making sure it was communicating properly with APEX EDI. The support staff was so patient in trying to sort it out. Kudos to him
Pros
I like the technical support. I just got a new computer and Denti-Max wasn't saved so Customer support representative was so patient as he helped me set it up and work out all of the bugs. He was personable and very professional. I feel confident if I have an issue that he will be able to fix it for me.
Cons
I wish the pages would scroll up and down. Sometimes I want to see in the middle so it would be easier if it scrolled.
Industry: Medical Practice
Company size: 2–10 Employees
Used

Daily

for

1-5 months

Review Source
Overall rating
Value for Money

Ease of Use

Customer Support

Likelihood to recommend

4.0

/10
THE PROGRAMMERS NEED TO WORK IN A DENTAL OFFICE FOR AWHILE!!!! MAYBE THEN CHANGES WOULD BE...
Reviewed on 2016/10/27
We are a small Family Dental practice- one Dentist, 1 Assistant,1 hygienist and 2 front desk...
We are a small Family Dental practice- one Dentist, 1 Assistant,1 hygienist and 2 front desk ladies. Have been using this program for 3 years. Previously had Datateam. Although there are decent features with this Program, there are so many that shouldn't even be an issue. I am not the type of person who needs Support for how to work the Dentimax Program. However, there are so many issues with the Program that I deal with because I refuse to pay for Support to fix their programming problems. An example, there is a 1 cent rounding problem. The program tells you what the patient's balance is, then they pay it in full. When you put payment in and print out a receipt, a lot of the time it says they owe a cent or overpaid by 1 cent.
If I had to do it again I would pay a little more just to get a program that has the Standard features you would expect with a Dental Program.
Pros
We like the email appointment reminders. We recently signed up with ZipWhip (awesome product) so we can text patients using our office landline. $20 unlimited texts. Rumor has it Dentemax is finally coming into the texting age and they will be charging $30 a month for 500 texts. Since we text way over that we will probably stick with ZipWhip since it is so easy to use, unlimited texts and cheaper.
Other Pros......I guess right now I am so frustrated because I know all the issues we have to deal with on a daily basis should not be a problem and it is overshadowing the good of the program.
Cons
1.) HUGE, HUGE, HUGE PROBLEM!!!!!...... a dental program that does not allow you to choose prophy frequencies of 2/12 consecutive months. They only allow you to pick 1/___ months. This does not help at all with the people having the 2/12 consecutive months. I decided to write this review after getting another rejection from an insurance company rejecting a cleaning and exam due to frequencies on a patient having the 2/12 months frequency plan. The prophy was done 6 months from the last cleaning but not 12 months from the prophy before the previous one. This makes patients angry having to pay for a check up! They hold us responsible for when their insurance will pay for their cleanings. So either charge the patient and lose them, or write off and lose money. When I called Dentemax about this problem I was told "most people have the 1/6 mos" and the gentleman from Dentemax had never heard of cleanings 2 in12 months. Seriously!!! This should be a STANDARD FEATURE in any Dental Program. You should not manually have to check this manually for every patient!!!!
2) Cores - It is general dental office knowledge that cores are Class III for 99.9% of patients with Insurance. Dentemax has Cores defaulted to Class II. So if you want the program to calculate the core copay correctly, you have to figure it out manually and adjust insurance estimate w on each and every core you ever key in. Or, you can go into every insurance plan and manually classify the code as Class III. (Right now just for Delta Dental we have 200 insurance plans in the computer. So that would mean making that adjustment 200 times for Delta, not including every other Insurance plan we have)
3. Unable to print out an envelope to a Patient or an Insurance Company unless we have a special printer. Come on!!! So we manually write out addresses. Lots of fun!! Plus the Statements aren't aligned to put into a window envelope. You have to do oragami so the address on the Statement shows in the envelope window.
4. Walk out Statements are confusing and hard to understand for Patients. Be ready to try and explain the bill.
5. For some reason when you are in the patient ledger and tell a patient what their balance is, then they give you payment, you go into "Add Patient Payment", the balance is different a lot of the time for no rhyme or reason.
6. When services are keyed in, a lot of the time Dentemax does not take into account the insurance and charges everything to the patient. Then we need to pull out our calculators and manually figure out the copay and then adjust the insurance adjustment for each procedure. this happens about 75 percent of the time.
7. The Scheduler, could we possibly make the Calendar a little smaller!!!!!!! Take a look at their Scheduler Screen, see that little box in the top left hand corner, see the little arrows...... you have to hit those little arrows to get from month to month. Hopefully you didn't have too much caffeine that morning and your hands aren't shaky. There is a lot of empty space on the lower left of the Scheduler Screen. How hard would it be just to have the months listed so you can easily click on the month you want to get to?!?!?!?!
I could go on and on.
Response from DentiMax
Hi Lisa,

I certainly appreciate your feedback and the opportunity to help you with the concerns you have voiced. I can understand why you would be frustrated if the below were accurate for the performance of our system and what we represent. Several of these items noted can be resolved by having a short training session or changing a couple settings that made it into your program, without the need for involving programming/development. Our training department would love to reach out and help you with them!

In the meantime, to specifically address the items listed, I first wanted to address the .01 cent rounding issue. That had been brought to our attention previously and resolved in an updated service pack release. Our tech support team will call you to make sure you have the most up to date release at no charge to you.

Also, you are correct, we are actually announcing our very own texting module. Like most software companies do, we have previously worked with a third party service for texting for years. Unlike other companies, the texting we are releasing is our very own texting that we created in house, with complete integration capabilities, since we built it for us. Not all texting products work the same or have all the same features, which is why you will find such a variance in price on the market (ranging up to $200 a month). We do want to offer the best product for the best price to our customers, which will deliver automated messages and integration with virtually no effort on the user end.

1) Cleaning frequencies 2/12 months: I actually did work in dental offices for 12 years, and can verify that there are serveral plans with this frequency. I can also verify that many software solutions do not have the option to indicate this frequency. This is an item on our enhancement list for our next version, and I appreciate your support of adding that feature.
2) Cores: Core build-up's can certainly get paid out under class III for major services along with crowns. Depending on the insurance plans you are taking and the demographic you are seeing, that may be the case for you more often than not, but I have seen it the other way too (at class II). What's important is that the system does have the flexibility for you as the user, to alter the default coverage table on the practice level instead of the plan level, so that you are not changing this per insurance plan, but only when it is called for. We can certainly edit that with you in a few minutes with the training department's help for your plans going forward. We can also set that as the deafult for your older plans as well if the need is still there to do so.
3) We do actually have envelopes or labels in our system that do not require special printers to function. Of course your printer must be able to accept an envelope as something to print on (given the size), but most printers in the last 5 years or so have this capability. We can certainly resolve this with you.
4) Our statements are designed to work just like an EOB does. So when your patient gets a statement from you, and their EOB copy, they can easily follow the two and ensure matching details. We have 3 different options for statements depending on how the office likes to handle billing, and training can run through this with you as well and set the one you like as the default.
5) The payment entry screen is line item accounting, again to follow the flow of an EOB. When you see the patient balance on the ledger, there are several other things you may be seeing, such as the family account versus just the patient account. You have the same options to toggle to in the payment entry screen to make it easy to pay the whole family's account or just the portion due for one patient. Training can also assist with this item.
6) DentiMax actually will calculate the estimated patient portion for you based on the coverage table on the insurance and the fee schedule associated with that plan. The only reason the total amount should show as the patient portion is if somehow the items are marked as being paid at zero percent on the coverage table of the insurance plan, the items are listed as non-billable to insurance (such as a missed appointment fee), or the claim has been closed already. This is also something the training team can look at in your system and see which item is causing that to be the patient portion and easily resolved.
7) Great minds think alike! For the calendar, you can actually click the month in the top in order to select and jump to a specific month (or year) with an easy drop down menu. You can also change the sreen resolution on your computer if you want to increase the overall size too.

We would really appreciate an opportunity to have a live training session with you to run through these items and anything else on your list!
Thank you kindly.
Industry: Medical Practice
Company size: 11–50 Employees
Used

Daily

for

2+ years

Review Source
Overall rating
Value for Money

Ease of Use

Customer Support

Likelihood to recommend

10.0

/10
Love it!
Reviewed on 2017/02/22
We've been using DentiMax in our office for just over four years. Previous to using DentiMax, we...
We've been using DentiMax in our office for just over four years. Previous to using DentiMax, we used Eaglesoft, Dentrix, and Computer Age software and there's absolutely no comparison in the ease of use in DentiMax. The online training was amazing and the software is so intuitive, we felt like pros within a few days. DentiMax is comprehensive, robust, and meets the needs of our practice. When we've had a question or problem, the tech support and training departments have been extremely easy to work with and are quick to find resolutions for us. We'll be lifetime users of DentiMax.
Pros
Ease of use, great training, good technical support, comprehensive
Cons
Have to call in for updates, they aren't automatically sent out
Industry: Medical Practice
Company size: 2–10 Employees
Used

Daily

for

2+ years

Review Source
Overall rating
Value for Money

Ease of Use

Customer Support

Likelihood to recommend

10.0

/10
Would use any other software!
Reviewed on 2017/09/21
Pros
I love the simplicity of the software very user friendly. I've used this software for over eight years and have had the best experience with the Dentimax software and team, from sales to training. We specialize in oral surgery and needed a software that would be used for both dental and medical and they nailed it! We recently purchased the EHR upgrade and the team made sure our transition went smooth and using the new system is simplistic. I greatly recommend this software and team to everyone. Great system, great price and great people!
DentiMax FAQs
Below are some frequently asked questions for DentiMax.
Q. What type of pricing plans does DentiMax offer?
DentiMax offers the following pricing plans:
Starting from: US$139,00/month
Pricing model: Subscription
Free Trial: Available
MONTHLY PLANS: On-Premise: In-Office: $139 / month* Ultimate: $298 / month* Cloud: Core: $229 / month* Executive: $479 / month* *For cloud versions, more than one provider requires an additional fee. TRADITIONAL ONE-OFF PRICING: DentiMax: $799 single computer, $2799 for networks DentiMax Advanced: $1747 single computer, $3298 for networks
Q. Who are the typical users of DentiMax?
DentiMax has the following typical customers:
2–10, 11–50, 51–200, 201–500
Q. What languages does DentiMax support?
DentiMax supports the following languages:
English
Q. Does DentiMax support mobile devices?
DentiMax supports the following devices:
Q. What other apps does DentiMax integrate with?
We do not have any information about what integrations DentiMax has
Q. What level of support does DentiMax offer?
DentiMax offers the following support options:
Email/Help Desk, FAQs/Forum, Knowledge Base, Phone Support, Chat
Related categories
See all software categories found for DentiMax.