About Elation
Elation is a cloud-based EHR solution designed primarily for doctors and medical professionals to manage their daily activities. The solution is suitable for small & midsized hospitals, primary care units and independent practice centers that are in control of their own EMR decisions. In addition to its core EHR capabilities, the solution offers billing and practice management features. The web-based solution helps medical professionals to schedule appointments, record patients' medical histories, organize calendars, set reminders and manage billing & insurance reimbursement.
With Elation, clinics can manage the entire appointment organization and patient communication process, from pre-visit communication; during-visit coordination, and post-visit follow-up. The chart layout feature displays the keynotes of patients scheduled for the day. D​octors can prepare a clinical profile for each patient and complete this with information such their medical history, upcoming appointments, last prescription and more. The integrated solution also allows patients to book appointments online, check-in at the clinic, communicate with doctors securely, receive bills and make payments.
ElationHealth's comprehensive search feature enables doctors to quickly view patient medical data (regular symptoms, vitals, cholesterol values, etc.). Doctors can generate prescriptions by automatically refilling existing scripts and sharing these electronically with either in-house or external pharmacy stores depending on patient preference. With inbuilt messaging capabilities, medical professionals can securely communicate patient clinical data with both colleagues and patients themselves.
Elation is HIPAA compliant and Drummond and ICD-10 certified. As a web-based application, the software can be accessed from multiple devices including laptops, smartphones and tablets.
Pricing starting from:
US$349,00/month
Key benefits of Elation
• Elation offers inbuilt tools for doctors and patients to quickly book online appointments, set automatic reminders and generate bills using a single integrated solution.
• With rich communication features such as secure emailing and personalized messaging tools, Elation helps clinics to increase patient satisfaction.
• Medical professionals and clinics can create customized clinical forms according to their medical specializations and requirements.
• With Elation's integrated analytics features, doctors can evaluate their ROIs and manage financial reporting tasks.
• The solution integrates with in-house fax and printer facilities to handle all incoming as well as outgoing documents from the solution.
Supported Languages
English
Pricing starting from:
US$349,00/month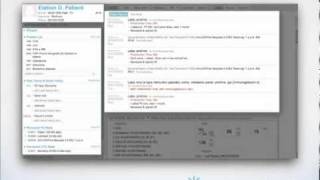 Total features of Elation: 76
API
Action Item Tracking
Action Management
Activity Dashboard
Alerts/Notifications
Appointment Management
Appointment Scheduling
Assessment Management
Calendar Management
Charting
Client Portal
Clinic Interoperability
Coding Assistance
Collaboration Tools
Communication Management
Compliance Tracking
Configurable Workflow
Confirmation/Reminders
Customizable Forms
Customizable Templates
Data Import/Export
Data Verification
Data Visualization
Decision Support Software
Demographic Data
Document Generation
Document Management
Document Storage
Document Templates
E-Prescribing
Email Distribution
Email Management
Fax Management
File Sharing
For Medical Purposes
HIPAA Compliant
Labeling
Meaningful Use Certified
Medical Billing
Multi-Channel Communication
Multi-Provider Practice
ONC-ATCB Certified
One-to-One Messaging
Online Forms
Order Entry
Order Management
Payment Processing
Personalization
Practice Management
Prioritization
Queue Management
Real Time Analytics
Real Time Notifications
Real Time Reporting
Records Management
Reminders
Remote Treatment Plans
Reporting & Statistics
SMS Messaging
SOAP notes
Scheduling
Search/Filter
Self Service Portal
Softphone Software
Summary Reports
Surveys & Feedback
Tagging
Task Management
Task Planning
Template Management
Time & Expense Tracking
Trend Analysis
Video Conferencing
Virtual Waiting Room
Visitor Tracking
Workflow Management
eRecord
#1 Alternative to Elation
ONC-Certified & HIPAA compliant cloud-based EHR and practice management platform with telehealth. Accept e-referrals,...
InSync Healthcare Solutions
#2 Alternative to Elation
Enhance patient care with InSync's fully integrated, easy-to-use, cloud-based healthcare IT solutions configured...
SimplePractice
#3 Alternative to Elation
Practice Management Software with HIPAA-compliant EHR, mobile Telehealth, autopay and more for therapists,...
TheraNest
#4 Alternative to Elation
TheraNest Mental Health is a practice management and therapy notes tool that allows users to keep track of health...
---
Already have Elation?
Software buyers need your help! Product reviews help the rest of us make great decisions.
Write a Review!
Showing 5 reviews of 32
Industry: Health, Wellness & Fitness
Company size: 2-10 Employees
Used

Daily

for

6-12 months

Review Source
Overall rating
Value for Money

Ease of Use

Customer Support

Likelihood to recommend

9.0

/10
Great software, poor customer service
Reviewed on 2018/12/18
It's a great software, initially had issues and were not very responsive but since then has been...
It's a great software, initially had issues and were not very responsive but since then has been quite smooth and overall satisfied- and I'm hard to please.
Unhappy only with mostly provider service when ongoing issues and cannot speak to live person. And lack of follow through on options such as online booking they had explicitly stated upon signing up.
Overall cost justifies the ease of use and time saved for physician.
Pros
Ease of use, easily accessible Pt info on one screen, few bugs/glitches, user friendly- very good compared to multiple other EHR I've used
Cons
Have to pay for billing software in addition to elation fee, ZERO discount for mid level prescribing practitioners, Absolutely no way to co tact them except via email re: issues which is very frustrating and have maybe 1 times out of 10 actually gotten back to me within their designated timeframe to rectify an issue/problem. When signed up 4/2017 salesman told me would be rolling out online booking for established patients over the summer. 12/17 still haven't heard anything about offering that option
Industry: Medical Practice
Company size: 2-10 Employees
Used

Daily

for

2+ years

Review Source
Overall rating
Value for Money

Ease of Use

Customer Support

Likelihood to recommend

10.0

/10
A Physician review
Reviewed on 2020/05/05
It's been a wonderful experience. The people are amazing and have always been helpful and caring. ...
It's been a wonderful experience. The people are amazing and have always been helpful and caring. The software is excellent, I love it, lots of features that help me get my work done. Just fix the app!
Pros
What I like most about my Elation software is that it's quite intuitive to use. It feels like it's built for a doctor. It works how it's supposed to! It has everything laid out exactly how I want it. This software clearly was made with a lot of input from a practicing physician. Having used several EHR's over the years, and hated all of them, I truly & absolutely love Elation. It's fast and it thinks like my brain does.
Cons
The smart phone app. No good. It doesn't have enough features to really be useful. I can't send prescriptions, which is terrible. I can't see my schedule, I can't make appointments. All it does is text message and often times that doesn't work at all. I get very frustrated with it. This is something I really want and need. It's been 2 years and I have zero improvements in the app. I'm not happy with that. Everything else is awesome!
Industry: Medical Practice
Company size: 2-10 Employees
Used

Daily

for

1+ year

Review Source
Overall rating
Value for Money

Ease of Use

Customer Support

Likelihood to recommend

4.0

/10
Easy and simple but not very powerful or robust
Reviewed on 2021/04/01
Underwhelmed, overcharged. Switching to Cerbo or maybe AtlasMD or Akute Health
Underwhelmed, overcharged. Switching to Cerbo or maybe AtlasMD or Akute Health
Pros
It's true you can figure it out in an hour or less. Very simple.
Cons
It's very simple. You can't customize anything at all about the look or layout of the information. Don't like the order in which information is displayed on the left side of the screen? Get used to it.
Want to send a fax? You can, you just have to call it a referral, no matter what. So you if you want to fax something that isn't about a particular patient, you have to a create a fake patient called Mister Fax or whatever you like and then go into that chart and refer Mister Fax to whatever fax number you wanted, upload the file you wanted to fax into Mister Fax's chart, and attach that to the referral. Just as an example. So yeah, you can "fax out" as they say in their marketing.
Also missing some obvious functionality. For example, when you're in the patients chart it says when any upcoming appointments are, in blue like it's a link. If they don't have an upcoming appointment, it says no upcoming appointment, and it's still in blue like it's a link. But it isn't! Wouldn't be obvious to make it so that you can click on that and schedule an appointment? So you tell support your brilliant/obvious idea and they say they'll put in a queue of upgrades to consider and it never happens.
I also don't like that the price went up from $275 to $350 a month with absolutely zero improvements in the product. Then they got a bunch of Series C financing and guess what? Still, nothing is improved.
Industry: Health, Wellness & Fitness
Company size: 2-10 Employees
Used

Daily

for

6-12 months

Review Source
Overall rating
Value for Money

Ease of Use

Likelihood to recommend

10.0

/10
Amazon of EMRs!
Reviewed on 2018/10/27
I would pick this over any other software with multiple offices. There is a very common software...
I would pick this over any other software with multiple offices. There is a very common software that is very costly and very popular and also very aggressive but I did not like it. This software has a very cumbersome way to do things.
I want to elaborate Elation in more detail.
Great advantages:
One screen has all features.
Summary on l side- a must
Note on r side.
History in middle and all the tabs on the top.
Passport function works great for patient communication.
L top- has passport , Name, age etc.
Pharmacy selection is great- easy. All ready to pick.
ERx function is fast.
It shows you date of next visit.
All summary available to see at visit.
Best and unique feature: All MIPs needs are at the begining of each visit particular to the age and sex. You click and satisfy from the same screen. Clicking is one click only and very fast. There are softwares that will do this but will take you to many screens.
It is great for diagnostics that you work from same screen. More screens makes you forget when you are very busy.
Interface with hospital and Quest work great and they are free!
Even all hospital radiology reports are here as soon as they are signed off by radiologist. This interface was custom made for me at no cost.
I can tell you- Elation staff is super smart.
Customer service is not needed much as everything works great!
Reports look great. Bulk refills are a breeze.
Very pleasant and professional colors.
Pros
It has been a 8 months since I have started using this software. I used to have Soapware EMR for 18 years. Soapware had to shut down as the owner was getting to that age and older softwares are not easy to upgrade. I looked at 15 softwares before I picked Elation. I knew what I need as a busy primary care Internist. My staff and I are extremely happy that we ended up with Elationhealth. Everyone loves Amazon as the website is very robust and user friendly. I now can say that Elation is of that category. I am not getting paid to update my review. Some of the most popular EMRs are very cumbersome and so at the end of the day it is exhausting to finish the work. Elation is so easy that you can see your full load of patients and complete every note, even the most complicated patient's notes within 2 minutes. This includes visit note, all 10 rx local and mail, 3 referral with faxing all records to each, all orders for 5 different problems with ICD codes and all MIPs requirements. No software does all these. The best thing I see is that there are not any glitches. There are softwares that will do all these but at the end of the visit you will feel exhausted. This software works from one screen and with just one hour of use and not even much training you feel comfortable.
There are softwares that will make you work a ton for every new visit. I have saved all rx I use and all Orders I give so I can reuse them forever now for all future patients. Very fast now!
Cons
There is not much to dislike. I was little nervous about interface with billing software but it has worked great. I picked MD connection for billing and that is another robust software. As soon as patient leaves and I send the bill to MD connection- it reaches real-time. Most complete softwares have many glitches or may have one side powerful and other side weak. This combination is great and my billing staff loves billing software also.
Industry: Medical Practice
Company size: 2-10 Employees
Used

Other

for

1-5 months

Review Source
Overall rating
Value for Money

Ease of Use

Customer Support

Likelihood to recommend

10.0

/10
I am glad!
Reviewed on 2018/01/28
Pros
I have used Soapware for 20 years. I really liked Soapware for its speed and ease. Soapware unfortunately is going out of business. I watched demonstrations of about 15 software companies. I am writing this review to help others in my shoes. Most software companies are about 20-25 years old and have similar technology as Soapware. Older technology is somewhat rigid. I am glad the sales person from Elation was insistent and honest. Elation is a pleasure to use. I have not heard many doctors saying this. Certain features are great. I am able to work from one screen. I am able to save all thousand rx an internist or family practice doctor will write in the format I want very quickly- 90 days with one refill. I am able to have my staff save the initial rx in this format with one click and so when it is time to bulk refill, it is very easy without errors. One feature that most softwares don't provide is your order sets. Most softwares have a cumbersome way to recall what you commonly order for common complaints. With elation I am able to save my order-sets for many complaints one time and reuse them again and again with two clicks. This is a huge advantage. Many softwares will tell you, they can do it but it is not always easy. With elation you can keep one common template or you can use specific template or you can use many templates together. Once you pick medicines or order set, it immediately becomes part of your note. It is a new generation and smart software. Lab interfaces are free of cost and work great. Abnormal results are colored different. I love the trending feature that is great. It shows last 3 labs on the results without you clicking more. You can mark the abnormal results and they come to the current note automatically. Now this is unique and amazing! It is a true cloud based system and so it is a lot faster than Soapware. I would avoid remote desktop based software. It has directory of local doctors so you don't to manually store all your consultants. The best function will be MIPS. According to patient's age and gender, Elation prompts MIPs requirements right in your note and with one click you will satisfy it. This is very smart! These are the few reasons I selected Elation and I am glad. There is no learning curve. Any one who can use an e mail account can use Elation. It has a very soothing color combination and all windows on the top are labelled also unlike a very crowded software with lot of confusion on the screen. I love it so far. We doctors work very hard and so we need a very easy and robust software like Elation.
Cons
Elation is an EMR alone and that made me nervous. Interface between Elation and MDconnection one of the billing software recommended by Elation works great according to doctors I talked to who are using both. This is a minor issue compared to the fun of working with ELation EMR.
Elation FAQs
Below are some frequently asked questions for Elation.
Q. What type of pricing plans does Elation offer?
Elation offers the following pricing plans:
Starting from: US$349,00/month
Pricing model: Subscription
Free Trial: Not Available
$349/month/provider
Q. What are the main features of Elation?
We do not have any information about Elation features
Q. Who are the typical users of Elation?
Elation has the following typical customers:
Self Employed, 2-10, 11-50, 51-200, 201-500, 501-1 000, 1 001+
Q. What languages does Elation support?
Elation supports the following languages:
English
Q. Does Elation support mobile devices?
Elation supports the following devices:
iPhone (Mobile), iPad (Mobile)
Q. What other apps does Elation integrate with?
Elation integrates with the following applications:
AdvancedMD for Mental Health, Kareo Billing, PracticeSuite
Q. What level of support does Elation offer?
Elation offers the following support options:
Email/Help Desk, FAQs/Forum, Phone Support, 24/7 (Live rep), Chat
Related categories
See all software categories found for Elation.