Event Essentials
Cloud-based management tools for event & festival organizers
About Event Essentials
Event Essentials is a cloud-based software solution built specifically for the online management of festivals, fairs and events. With the deployment of a series of modular apps, organizers can leverage a range of tools for promoting events, selling tickets, holding auctions, accepting donations and processing registration data. A fully integrated system, Event Essentials can be seamlessly integrated with an existing event website, while organizers can also create a new one from a template or request the build of a wholly customized, bespoke presence. Users can then configure all content and settings, requiring no specialist programming skills and all accessible via an intuitive password-protected dashboard.
Available features modules include Ticketing and 24/7 online box office support, inventory and price capping, confirmation email creation plus barcoding/QR code tools. Users can integrate real-time discount codes, promote sponsors on tickets, offer bundle price offers and get instant overviews on ticketing revenue. A Vendor/Exhibitor module adds real-time signups, digital forms with digital signature support, contact database export and more. Sponsorships, Volunteer and Silent Auction modules add similar tools again for specific scenarios, before News/Press features enable real-time image, video and text uploads for publishing online event news stories.
Compare with Popular Alternatives
Key benefits of Event Essentials
Event Essentials provides organizers of Festivals, Fairs and Events a web-based set of tools that streamline tasks, promote their events, organize data and provide online sales for the event tickets, donations, auctions and products. This is a completely integrated event organizing and management system borne and refined through actual use with significant customers. If you have a Website, great, you can use any of our modules that you need, and we'll match your site's design. If you don't have a Website or need an update, perfect, with Event Essentials is great for both. You can choose from a template or we'll build you a customized event Website.
Ticket, Table, Seats VIP Sales Online Sales with Print-at-Home Ticketing plus mobile QR features makes it will draw large crowds to your Event. But large crowds can be a bigger challenge to manage. Event Essential's online ticketing not only lowers your ticketing costs as your Event grows and makes "gate management" easier! Coupons, Discounts, Comp Tickets, Offers and On-Site sales are no problem, we've got you covered.
Vendors and Exhibitors always weigh the benefits versus the cost of any Event they attend. How will their Brand be presented at your Event? What type of marketing opportunities will attract them to exhibit at your Event? These are only a handful of important questions an Event Planner needs to answer to attract a vendor or exhibitor but also give them a reason to attend year after year. Event Essential's Online Vendor Registration Features makes managing them easier! Spaces, Extras, Permits, Waivers, Load-In and Out Communication and more, we help you corral those Vendors in.
Registering Attendees and Speakers for an Event is very different than just selling Tickets and it can be simple or extremely complex. Event Essentials' Registration Module is feature rich and data strong. Whether your goal is to quickly sign them up or collect and manage mounds of data and scheduling we have it all. Choose your needs from our functions, Breakouts to Sessions, Room management, Badges, Presenters and Speakers, Meals, Buyers, Sellers, Lead Generation, Scheduling and more. If we don't currently have it, we'll make it. Ask about our tailored Module for Bands, Artists, Parades and Cars too.
Silent Auctions are hard work! They require time, manpower and management when many event planners lack the time or resources. Event Essentials' module will help you with Auction item descriptions, pricing, collection, numbering, bidding, payments and delivery.
Support an integrated event website with a News/Press module, adding CMS features including real-time content uploads and the embedding of photos, files or hyperlinks into news story postings.
Supported Languages
English
Compare with Popular Alternatives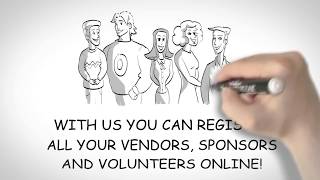 Total features of Event Essentials: 100
Abstract Management
Activity Dashboard
Alerts/Notifications
Artist Management
Attendance Management
Attendance Tracking
Attendee Management
Attendee Tracking
Audit Trail
Badge Management
Barcode / Ticket Scanning
Barcode Recognition
Budgeting/Forecasting
CRM
Calendar Management
Catering Management
Class Registration
Client Management
Collaboration Tools
Collections Management
Compliance Management
Concessions Management
Conferences/Conventions
Contact Management
Content Management
Contract/License Management
Credential Management
Customer Data Management
Customizable Forms
Customizable Templates
Data Import/Export
Digital Signature
Discount Management
Electronic Signature
Email Marketing
Employee Management
Event Calendar
Event Management
Event Registration
Event Scheduling
Event Ticketing
Exhibit/Vendor Management
Film Planning
For Film Festivals
For Music Festivals
Gamification
Group Registration
Guest Accreditation
Guest List Management
Inventory Tracking
Kiosk Ticketing
Marketing Automation
Mobile Ticketing
Offboarding
Onboarding
Online Registration
Online Ticketing
Onsite Registration
Onsite Ticketing
Opportunity Management
Order Processing
Payment Processing
Performance Metrics
Personalization
Point of Sale (POS)
Print-at-Home
Project Management
Promotions Management
Real Time Data
Real-time Updates
Refund Management
Registration Management
Reminders
Reporting/Analytics
Reserved Seating
Room Block Management
Room Booking
Scheduling
Season Tickets
Seating Map
Self Service Portal
Social Promotion
Sourcing Management
Space Management
Speaker Management
Sponsorship Management
Staff Scheduling
Surveys & Feedback
Ticket Reservations
Ticketing
Transaction History
Transportation Management
Vendor Management
Vendor Master Data Management
Vendor Payment
Visitor Registration
Volunteer Management
Website Integration
Website Management
Weddings/Parties
Eventzilla
#1 Alternative to Event Essentials
Eventzilla provides the same top shelf features as industry leading solutions but still remains the most affordable...
Aventri
#2 Alternative to Event Essentials
Aventri's platform has the tools you need to manage all of your in-person, virtual, and hybrid event needs. The...
Accelevents
#3 Alternative to Event Essentials
Join thousands of events using the only platform built by event hosts to help you sell more tickets and fundraise more...
Raklet
#4 Alternative to Event Essentials
Raklet is a community management platform which offers tools like unlimited contacts, automated messages, online...
---
Already have Event Essentials?
Software buyers need your help! Product reviews help the rest of us make great decisions.
Write a Review!
Showing 5 reviews of 66
Industry: Events Services
Company size: 2-10 Employees
Used

Daily

for

1+ year

Review Source
Overall rating
Value for Money

Ease of Use

Customer Support

Likelihood to recommend

10.0

/10
Event Essentials is great for small businesses
Reviewed on 2018/10/22
I have really enjoyed working with Event Essentials. They have taken the time to get to know our...
I have really enjoyed working with Event Essentials. They have taken the time to get to know our needs and modified their based products to develop a custom solution that meets our needs. They are
Pros
The main thing I love about this product is how it can be, and has been, customized to meet our needs.
I love the ability to automatically have vendor bios (business name, contact information, description of services and products, and a photo) to be automatically posted to a web page once we approve the vendor.
I really like the easy to use interface to view and manage vendors. I can quickly find vendors, view their status, make changes and approve or reject them.
Our vendors love the "Returning Exhibitor" feature that allows the vendor to submit an application using most of the data they entered on their prior application. This saves them a lot of time.
Cons
The system does not (currently) allow vendors to make changes to content. This requires us to make changes on their behalf. Fortunately, this is not difficult to do.
Industry: Events Services
Company size: 2-10 Employees
Used

Daily

for

6-12 months

Review Source
Overall rating
Value for Money

Ease of Use

Customer Support

Likelihood to recommend

10.0

/10
Customizing a flexible event management platform
Reviewed on 2020/11/20
Our experience has been very good. Custom configuring a management system like ours is not for the...
Our experience has been very good. Custom configuring a management system like ours is not for the feint of heart. Nor does it happen overnight. I think the EE team underestimated the complexity of our business process. We worked through that. I think a stronger guiding hand from EE's project manager would have helped us better organize ourselves. However, I commend their dedication and follow through because in the end, we have what we envisioned.
Pros
Event Essentials enabled us to take an existing event management platform and configure it to our specific and quite unique needs. The flexibility of their platform is amazing. The EE team configured the system to accommodate our workflow. No more work-arounds. And that is a huge plus. The other farmers market management platforms were not able to be as responsive to customization. Interface is important to me and Event Essentials is quite good. Search and filtering are robust and snappy making it easy to view data as desired. Organizing content under a tab system is very helpful and essentially provides pre-filtered data sets. They have a robust Portal allowing our market vendors to access their accounts, view their applications, their registrations, email history and soon, invoices and payments. Vendors may initiate changes through their portal. And, the system has customized email notification that are associated with specific actions confirming status to vendors and notifying our staff action is required. We develop and manages about 15 seasonal farmers markets. We needed to integrate our management system tying together the two primary functional areas of our company -- Vendor sales & management and Market Operations management. We deal with a large amount of data and lots of moving parts. We needed to integrate a robust daily market reporting system. We needed a robust reporting system with great filters. Event Essentials is doing this for us
Cons
There a couple of things that could be better. We do a fair amount of data entry in the field and the display on smaller screens, i.e. iPad Mini's needs some attention. I suspect the EE team will work this out at some point. It is important to us to be able to self manage some back end features. Currently they are giving us that ability incrementally which is probably a good thing. It would be helpful to be able to create report templates, update more text areas, ourselves. That too, I think come in time.
Used

Monthly

for

1+ year

Review Source
Overall rating
Value for Money

Ease of Use

Customer Support

Likelihood to recommend

8.0

/10
The platform is easy to use. It has a lot more features than one at first realizes.
Reviewed on 2017/11/16
Pros
the customer service is very professional and kind; Customer rep was super helpful at a moment of crisis in our organization.
the customizable forms are great. The interface the public sees resembles our website graphics.
Cons
have to wait for centralized staff to do changes --takes more days sometimes than we needed
once you are in a doc reviewing an application there is no easy way to proceed to the next one -have to go back to the full menu
Industry: Events Services
Company size: 2-10 Employees
Used

Daily

for

2+ years

Review Source
Overall rating
Value for Money

Ease of Use

Customer Support

Likelihood to recommend

9.0

/10
Event Essentials is THE multi-purpose tool you never knew you needed to have in your event...
Reviewed on 2020/07/16
EE is extremely user friendly and intuitive. Without any training whatsoever, I got thrown into EE...
EE is extremely user friendly and intuitive. Without any training whatsoever, I got thrown into EE and surprisingly, navigation was easy and adding information, exporting data, reports, etc. was straightforward and uncomplicated. Considering the sheer size of data over a multitude of areas, it is amazing how simple their program is to use.
Besides all that EE has to offer and how they truly work with clients as a team, I have been impressed with their ability to pivot during Covid-19. In the event industry, social distancing is an obvious issue (among many) so we have been continually changing policies, adding new information, etc. and EE has not only responded swiftly in implementing our changes but were crucial in our decision making as well. They were also able to offer extremely helpful advice as well as create new opportunities when the world went on lock down.
Overall, EE has been a game changer by creating our different types of computer programs designed to perform specific tasks in a variety of areas. Each with different principle goals that we required our programs to achieve. We are continually impressed with EE's quality and professionalism and are very happy with their product and customer service. Give them a try and add them as a supplement to your team. You'll be surprised how much your efficiency will soar while reducing stress. And you will not be disappointed.
Pros
We use EE as our platform for our festival (two-day event w/200,000 + attendees) and it manages three important yet completely different areas for us: volunteers, vendors and our parade.
With over 564 shifts in 120 different positions, we rely on EE to manage the 350+ volunteers for our event with additional management of other smaller events associated with our festival offsite and/or before the festival (i.e. Golf Tournament, stages, etc.).
In our vendor program, we handle roughly 577 vendors of various types such as Arts & Crafts, food, sponsors, non-profits, etc. EE works with us in creating and implementing all 7 of our vendor applications as well as manages all the information as a result.
As for our parade, we average around 75 different entrants ranging from bands and floats to horses and VIPs. It is a varied yet entertaining parade and having EE keep track of each participant is effortless.
Cons
As is the case with anything, sometimes things come up and there isn't a feature or option to capture it on EE. That said, whenever it has happened to us, we let EE know and they immediately come up with a solution(s) and tweak our program. I don't consider this a complete con, though, since events are fluid and as such, the software must be as well and EE definitely works well for this.
Industry: Philanthropy
Company size: 51-200 Employees
Used

Other

for

6-12 months

Review Source
Overall rating
Value for Money

Ease of Use

Customer Support

Likelihood to recommend

10.0

/10
Transformative Experience
Reviewed on 2019/05/01
Event essentials has been great for allowing us to fully automate our online ticketing, while...
Event essentials has been great for allowing us to fully automate our online ticketing, while giving us fully flexible ticketing options as well as a way to manage the sign up and tracking of a variety of different vendors and competition groups at our event. Going from a manual method to online database management also allows us to retain customer information for future events, and get an accurate assessment of our advertising campaigns and the value of our ticket options.
Pros
In my third year in running this event, we brought on Event Essentials. The amount of volunteer hours their software has freed up has given flexibility back to our organization, and made efficiencies possible that we once only dreamed of. Automating portions of our event that have been done by hand for over four decades, has created a sea change in how we are getting the job done. I am so grateful we partnered with the Event Essentials team.
Cons
My biggest disappointment was that we didn't get started sooner. I am already looking forward to next year's event knowing we have these tools at our disposal from day one.
Event Essentials FAQs
Below are some frequently asked questions for Event Essentials.
Q. What type of pricing plans does Event Essentials offer?
Event Essentials offers the following pricing plans:
Starting from:
Pricing model: Subscription
Free Trial: Not Available
Call or contact Event Essentials via their web form to receive a full pricing quote.
Q. What are the main features of Event Essentials?
We do not have any information about Event Essentials features
Q. Who are the typical users of Event Essentials?
Event Essentials has the following typical customers:
Self Employed, 2-10, 11-50, 51-200, 201-500, 501-1 000, 1 001+
Q. What languages does Event Essentials support?
Event Essentials supports the following languages:
English
Q. Does Event Essentials support mobile devices?
Event Essentials supports the following devices:
Q. What other apps does Event Essentials integrate with?
We do not have any information about what integrations Event Essentials has
Q. What level of support does Event Essentials offer?
Event Essentials offers the following support options:
Email/Help Desk, Phone Support, 24/7 (Live rep), Chat
Related categories
See all software categories found for Event Essentials.