Nexvia Overview
What is Nexvia?
Nexvia is a cloud-based project management system, designed specifically for businesses within the interior, manufacturing and construction sectors. The software was developed by industry leaders includes tools for estimating and tendering, factory management, customer relationship management (CRM), financial forecasting, and much more.
Nexvia allows users to generate estimates and budgets for projects, formulate scope of works, send and track invitations to tender, build quotes using various costing centers, compare quotes, and control estimate approvals. Templates can be customized for pre-generated contractor responses, and historical fixture and service data is stored in a built-in library. Project management tools include budget tracking, electronic signature capture, and accountability controls. Shared portals allow access by staff, contractors, site managers, and clients.
Nexvia's contractor and client portal enables real-time project tracking from any device. Detailed project reports can be generated with images and updates, and users can also identify and complete defects, generate, approve, and implement variation requests, and track and record RFIs automatically at every stage of the project. Nexvia also offers a CRM system, resource management tools, sales reporting dashboard, and a range of factory management features, including stock management, factory scheduling, quality assurance, job hours recording, extent of works tracking, and more.
Nexvia Overview
Pricing
Pricing options
Contact us for pricing information
---
Nexvia Features
Supported Languages
English
Media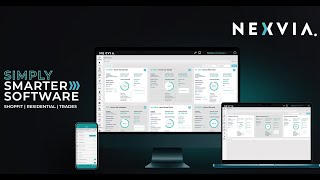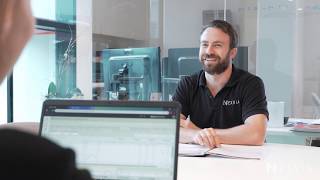 Nexvia Reviews
Nexvia Reviews
100%
recommended this app
Its been an excellent experience to date. I highly recommend their product.
---
Orbis allows you to move through the monotony of administrative tasks at a breeze. Creating a tender is a simple data entry task. A scope of works is generated and automatically generated templates mean easy and simple tender submission document preparation.
This is seamlessly shifted to a project staging area, following a reassuring, easy point and click approval process. From the project management area you can check and agree negotiated budgets that have come from tender, raise your purchase orders with ease, attach quotations received to each tender budget allowance and track live job costs. There are other management features including a platform to produce a program of works, a document control center where you can upload all project related documents, as well as automatically generating a drawing register as you upload plans. Variations and Request for information can be generated online and issued to your clients or contractors as simply as ordering a fast food take away from your tablet.
Site records can be directly inputted, from site register, health and safety audits, photos and videos of site progress and site induction register records. Arm your site foreman with a smart phone and you can get these uploaded daily and on file, accessible anywhere so long as you have a Wifi connection or some data to log on to Orbis.
You can also give your client access (at your discretion) to the contract program, variations, RFIs and there is a tool to enable you to produce client reports. This gives your client the satisfaction of being able to login and monitor the progress of his project.
You can track and sign off defects using simple data entry techniques. Again, because its online, those contractors responsible for attending to defects have access to photos and reports that you can easily upload.
You can genuinely manage a project from inquiry to sign off of defects from this one online platform. It streamlines the administrative day to day tasks of project management into an easy to use web browser format.
It also essential to highlight that the customer support staff are friendly and proactive. Even willing to incorporate/modify features up on request.
Orbis is definitely worth the investment of time and money to incorporate into your operations. It will save time and effort in the long run and help to keep you in control.
---
Our experience with Orbis Pro has been extremely positive. Previously we had very little process for Collectivus and with numerous spreadsheets & communication outlets things were getting missed or translated incorrectly. Now with Orbis Pro implemented, we can centralise all parts of the business in the once place to ensure consistency across our design works.
---
Compare overall rating with alternatives
Compare with alternatives
Compare user recommendation rating with alternatives
Compare with alternatives
Nexvia Pricing
Nexvia Pricing
Contact us for pricing information
Contact us for pricing information
Compare value for money rating with alternatives
Compare with alternatives
Nexvia Features
Compare features rating with alternatives
Compare with alternatives
Categories
Additional information for Nexvia
Additional information for Nexvia
Benefits
The self-service portal allows contractors and clients to track projects in real-time, view detailed project reports, generate variation requests, and more.
With Nexvia's estimating and tendering capabilities, users can generate estimates and budgets, control estimate approvals, select rated & local contractors, send and track invitations to tender, and compare quotes.
Factory management features include job hours recording, stock management, quality assurance, job progress tracking, factory floor portals, timesheets and payroll data export, and occupational health and safety (OH&S) tools.
Nexvia includes a built-in customer relationship management (CRM) system.
Nexvia FAQs
Nexvia FAQs
Below are some frequently asked questions for Nexvia.
Q. What type of pricing plans does Nexvia offer?
Nexvia offers the following pricing plans:
Pricing model: Subscription
Free Trial: Available
Contact us for pricing information
Q. What are the main features of Nexvia?
We do not have any information about Nexvia features
Q. Who are the typical users of Nexvia?
Nexvia has the following typical customers:
Small Business, Large Enterprises, Mid Size Business
Q. What languages does Nexvia support?
Nexvia supports the following languages:
English
Q. Does Nexvia support mobile devices?
Nexvia supports the following devices:
Android, iPhone, iPad
Q. What other apps does Nexvia integrate with?
Nexvia integrates with the following applications:
MYOB Essentials, NetSuite, PlanGrid, Xero
Q. What level of support does Nexvia offer?
Nexvia offers the following support options:
Phone Support, Online Support, Knowledge Base, FAQs, Video Tutorials