WellnessLiving
Business management for the health & fitness industry
About WellnessLiving
WellnessLiving is an all-in-one online booking, resource scheduling, lead generation, and reporting solution for health and wellness focused businesses. Designed for wellness establishments including yoga studios, spas, salons, personal training, fitness gyms, pilates studios, and dance clubs, WellnessLiving provides the tools users need to manage day-to-day business tasks, employees, memberships, sales, marketing, and more.
The frontend customer experience allows clients to book classes or treatments online via the Android and iOS native mobile apps, Facebook, or directly through the automatically generated WellnessLiving.com directory listing. Customers can use the WellnessLiving mobile app to book appointments, pay for services, and write reviews, as well as share their experiences on Facebook. Once bookings are made, notifications and confirmations are automatically sent to customers and staff through SMS or email, and post-booking communication is facilitated with the SMS feature.
From the WellnessLiving backend, employees and management can manage class or event schedules by synchronizing data across all platforms so that schedules are always up-to-date. Users can build their online store using the WellnessLiving wizard and start selling online instantly with a POS feature which facilitates credit card processing, recurring payments, and automatic membership withdrawals. Employers can also use staff management tools to schedule shifts, manage payrolls, track staff performance, calculate pay, and more.
Pricing starting from:
US$89,00/month
Free Version

Free Trial

Subscription
Top 5 alternatives to WellnessLiving
Key benefits of WellnessLiving
WellnessLiving helps attract and maintain customers using gamification features such as loyalty programs and incentive based rewards. Customers can gain points for actions such as booking online, referring a friend, and sharing reviews, and those with the highest scores are displayed on a leaderboard.
Automate workflows for simple day-to-day business tasks including automatic membership renewals, recurring payments, email and SMS notifications, and marketing. All automations can be customized and turned on or off when required.
The incentivized customer reviews program helps encourage customers to provide feedback which is automatically published across the web. Positive reviews get showcased on the organization's WellnessLiving listing.
Advanced reporting with 'quickstats' allows users to gain insight into their business at the click of a button. Generate reports on sales, tax, first visits, recurring visits, and more to understand overall business performance.
Spread the word with WellnessLiving's marketing tool which allows users to generate, deploy, and track automated mobile, email, and SMS campaigns. WellnessLiving provides a custom website for organizations which is automatically optimized for search engines, to increase Google ranking and visibility to new local customers.
Typical Customers
Freelancers

Small Businesses

(2-50)

Mid-size Companies

(51-500)

Large enterprises

(500 and more)
Markets
Australia, Canada, United Kingdom, United States
Supported Languages
English
Pricing starting from:
US$89,00/month
Free Version

Free Trial

Subscription
Top 5 alternatives to WellnessLiving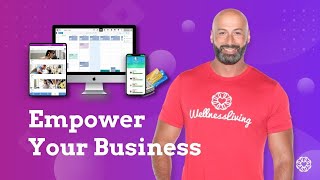 Total features of WellnessLiving: 185
ACH Payment Processing
API
Access Controls/Permissions
Accounting
Activities Booking
Activity Dashboard
Activity Tracking
Alerts/Notifications
Application Management
Appointment Management
Appointment Scheduling
Assessment Management
Attendance Management
Attendance Tracking
Automated Responses
Automated Scheduling
Availability Management
Barcode/Ticket Scanning
Belt Ranking Classification
Billing & Invoicing
Booking Management
Booking Notes
Booth Rental Management
CRM
Calendar Management
Calendar Sync
Calendar/Reminder System
Call Reminders
Capacity Management
Certification Tracking
Claims Management
Class Management
Class Scheduling
Client Database
Client Management
Client Portal
Client Profiles
Collaboration Tools
Commission Management
Committee Management
Communication Management
Confirmation/Reminders
Contact Database
Contact Management
Contract/License Management
Costume Management
Credit Card Management
Credit Card Processing
Customer Accounts
Customer Database
Customer History
Customer Mobile App
Customer Support
Customer Surveys
Customizable Branding
Customizable Fields
Customizable Forms
Customizable Reports
Customizable Templates
Data Import/Export
Debit/Credit Card Processing
Discount Management
Document Management
Document Storage
Document Templates
Drag & Drop
Dues Management
Electronic Payments
Email Management
Email Marketing
Email Reminders
Email Templates
Employee Management
Employee Scheduling
Enrollments/Onboarding
Event Calendar
Event Management
Event Scheduling
Exercise Library
Facility Scheduling
Faculty/Staff Management
File Sharing
Financial Management
Fitness Assessments
For Dance Studios
For Gyms
For Martial Arts
For Salons and Spas
For Yoga/Pilates Studios
Gift Card Management
Group Reservations
Group Scheduling
HIPAA Compliant
Hybrid Trainer
In-Person Payments
In-person Trainer
Instructor Management
Inventory Management
Inventory Tracking
Loyalty Program
Marketing Automation
Member Accounts
Member Communication
Member Database
Member Directory
Member Portal
Member Types
Membership Management
Membership Renewals
Mobile Access
Mobile Alerts
Mobile App
Multi-Location
Multiple User Accounts
Online Booking
Online Payments
Online Registration
Online Trainer
Order Management
Parent/Student Portal
Patient Portal
Payment Processing
Payment Reminders
Payroll & Commissions
Payroll Management
Performance Metrics
Point of Sale (POS)
Practice Log
Practice Management
Progress Notes
Progress Tracking
Promotions Management
Purchase Order Management
Purchasing & Receiving
Rate Management
Ratings/Reviews
Real Time Data
Real Time Notifications
Real Time Reporting
Real-time Scheduling
Real-time Updates
Records Management
Recurring Appointments
Recurring/Subscription Billing
Referral Tracking
Registration Management
Reminders
Repertoire Management
Reporting & Statistics
Reporting/Analytics
Reputation Management
Rescheduling
Reservations Management
Resource Scheduling
Rewards Program
Room Booking
SMS Marketing
SMS Messaging
SMS Reminders
SOAP notes
Sales Reports
Scheduling
Secure Login
Self Check-in/Check-out
Self Service Portal
Social Media Integration
Staff Management
Student Management
Surveys & Feedback
Task Management
Task Scheduling
Team Management
Template Management
Third Party Integrations
Time & Expense Tracking
Timesheet Management
Training Management
Transaction History
Two-Way Communication
Vendor Management
Visitor Management
Wait List Management
Website Integration
Website Management
ClubWorx
#1 Alternative to WellnessLiving
Clubworx is a scalable club management solution - and professional website provider - for gyms, fitness studios, golf...
Acuity Scheduling
#2 Alternative to WellnessLiving
Squarespace is your 24/7 online appointment scheduling software that allows clients to self-schedule appointments or...
Square Virtual Terminal
#3 Alternative to WellnessLiving
Square Virtual Terminal is a cloud-based software that helps businesses process and accept payments from multiple...
Exercise.com
#4 Alternative to WellnessLiving
Exercise.com is an all-in-one platform powering the next generation of fitness businesses. The Exercise.com platform...
---
Already have WellnessLiving?
Software buyers need your help! Product reviews help the rest of us make great decisions.
Showing 5 reviews of 379
Used

Daily

for

2+ years

Review Source
Overall rating
Value for Money

Ease of Use

Customer Support

Likelihood to recommend

10.0

/10
Fantastic software that is totally customizable to my business. Great service too.
Reviewed on 2017/10/30
Simple, customizable, and easy to use with great support. From my experience there is no service...
Simple, customizable, and easy to use with great support. From my experience there is no service that even compares. Between the adaptable technology, amazing support, and ease of use I couldn't be happier. I hope every gym uses them, except my competitors.
Thank you, Wellness Living for making the success of my gym much easier, and for all your support.
Pros
I've been with Wellness Living for about 2 ½ years now. I've used multiple softwares at my gym in the past including EZ Facility, Zen Planner, and Mindbody. I've definitely had experience with other options. I must tell you, I have no intention of ever going back. Wellness Living has outperformed every other service I've ever used on every level.
Every other service expected me to change my business to accommodate their software! That seemed crazy to me. Wellness Living adapted their software to my business's needs. That was huge for my business. On top of that, the app is fantastic, it works seamlessly and my clients love the ease of use for booking an appointment and purchasing additional services and products. Their support is second to none if I have a question or an issue it's never difficult to find someone and get it resolved quickly. The reporting is completely customizable which I love. The rewards program is easy to implement and has been fantastic for incentivizing the behaviors that grow our gym. The SEO boost I received from starting with Wellness Living has been great and made my job MUCH easier. Along the digital lines, I also have to say that their data migration was the easiest I've ever experienced. They handled everything. If you've ever experienced the typical nightmare of data migration you know how huge a benefit that is.
Response from WellnessLiving Systems
Hi Justin!
Thanks for your support and for taking the time to leave us a review. We at WellnessLiving know that software that you choose should work for your business, not against you, and we work hard to provide you with everything you could ever need. Our team is obsessed with making things work just the way you want, so we are so happy to hear that you¿ve had such an awesome experience with us over these past two-and-a-half years. Cheers to another!
Industry: Sports
Company size: 2–10 Employees
Used

Daily

for

2+ years

Review Source
Overall rating
Value for Money

Ease of Use

Customer Support

Likelihood to recommend

9.0

/10
Growing Pains, but Excellent for Management of Traditional Martial Arts Schools
Reviewed on 2022/06/02
Today, we contacted TS because we were trying to determine how to view a hold we had placed on a...
Today, we contacted TS because we were trying to determine how to view a hold we had placed on a student's membership. Tech Advisor [SENSITIVE CONTENT] quickly showed us how to do so. Then, unprompted, she showed us how to view past payments from the same page. So, we got a bonus benefit from one support call! Thereafter, another question occurred to us, and we asked [SENSITIVE CONTENT] to show us how to generate a report that would show us members who have two or more enrollments. After researching the issue, [SENSITIVE CONTENT] was able to answer this final question. My overall impression of [SENSITIVE CONTENT] assistance is that she is extremely knowledgeable about the software, emphasizes its strengths, and is most personable. For example, during our call she said: "let me show you something really cool about Wellness Living: Power Searches..." [SENSITIVE CONTENT], then, explained the many benefits of Power Searches. This excellent guidance and enthusiasm is refreshing and much appreciated. Kudos to [SENSITIVE CONTENT]
Pros
We have been with Wellness Living for more than 2 years and have been satisfied with the platform for its stability, features and Tech Support, which was superb as they would pick up our calls right away and provide excellent guidance. Their TS staff is highly intelligent, well-trained, professional and polite.
Cons
However, in recent months, TS has been over-burdened because they are normally unavailable when we call, which slows down our work flow. If this trend continues, we might have to look for a new management platform. This is not a reflection on the TS staff. Rather, it is likely a function of Wellness Living's growing popularity.
Reasons for Choosing WellnessLiving
Zen Planner had excellent features and Tech Support, but it was not possible to integrate live and recorded online classes in the paid platform. During the Pandemic, this was critical. So, we switched to Wellness Living.
Reasons for Switching to WellnessLiving
Before Zen Planner we used Mind Body. However, we left MB because in the 5 years we were with them, they made no enhancements to the software for traditional martial arts schools, it was wildly overpriced, extremely difficult to use and it was almost impossible to get tech support on the phone. Then, after we decided to move from Zen Planner, we took another look at MB because they offered streaming of live and recorded classes. However, MB was 4 times the price of Wellness Living!
Response from WellnessLiving Systems
Hey Richard,
Thanks for sharing your amazing review. At the onset of COVID we saw the writing on the wall and we made a strong push to add live streaming, on-demand video, and many other features to make it extremely simple to run your martial arts school online (in many cases it actually helped our customers add new revenue streams onto their business!). As a company, we strive to achieve an edge by delivering far better support for your business compared to many of our larger competitors, and at an extremely affordable price too. It's also why we set the bar so high for our technical support staff: We want to help you grow your business with the confidence of a software expert at your side and for you to end every call having learned something new. We apologize for the recent delays in response times, we are growing our support staff exponentially and we're also working hard to train them thoroughly to Galia's level! ;)
Sarah M. (Customer Advocate)
Industry: Alternative Medicine
Company size: 2–10 Employees
Used

Daily

for

1+ year

Review Source
Overall rating
Value for Money

Ease of Use

Customer Support

Likelihood to recommend

2.0

/10
Wellness Living: A good idea, with poor execution
Reviewed on 2020/04/19
Implementation required numerous "workaround" to get the system functioning for our business model....
Implementation required numerous "workaround" to get the system functioning for our business model. I never like workaround because they require extra attention to maintain and they often fail, which several have since implementation. To ensure readers that I am not simply a disgruntled, malcontent.
In the almost 2 years that we have been using this tool, I have personally submitted 16 engineering level changes to WellnessLiving. This means that the issues I have had with the tool were serious enough to warrant software engineer level attention AND planned changes to the softwares operational or process flows. I was told this tool has been in development for 10 years but it truly feels as if I was beta testing and sub par product. The way their email system works is arcane WYSIWIG editor with VERY limited image and file management. A BIG ISSUE IS: The products in the store can NOT be placed in the same cart as our services so we are forced to run multiple transaction with a client credit card if they want to book a workshop and buy something from our store. I have had the second transaction be rejected because the bank card assumed it to be an error. Why would they do that? WellnessLiving charges a small fee for every transaction so, in my considered opinion, these additional transactions add a lot to their profit margins but are a significant inconvenience for my clients. There are many other solutions out there, make sure you check them out too.
Pros
We were looking for an all in one solutions to manage our business model which includes a training center, wellness clinic, space rental, a store and memberships. WellnessLiving seemed to fit the bill and they seemed to have the xperience to pull it off.
Cons
Coming from a database development and management background, I was stunned at how poorly organized the process flow was within the tool. From client registration to product sales, the logic to get from point Å to point B is very cumbersome for admin and client alike.
Response from WellnessLiving Systems
Hi Chris,
Thank you for your feedback. I'm sorry to hear that our software wasn't fit for the unique requirements of your business model. We always appreciate hearing about the new features each business owner would like to see in the software to make it work more in sync with their own processes and we wish we could implement them all! We use our Community Forum to track these requests and it also gives our other business owners an opportunity to vote for their favorite features - this way we can make sure to prioritize the most highly requested features. Feel free to add any additional feature requests you may have straight to our forum and we very much look forward to continuing to build the software with your help, as we have done with our customers for years.
- Jenny P. (WellnessLiving Customer Advocate)
Industry: Recreational Facilities & Services
Company size: Self Employed
Used

Daily

for

2+ years

Review Source
Overall rating
Value for Money

Ease of Use

Customer Support

Likelihood to recommend

10.0

/10
Easy and Feature-Packed System
Reviewed on 2022/05/30
It's been really positive over the past 6 years. I'm always on the lookout for new software but I...
It's been really positive over the past 6 years. I'm always on the lookout for new software but I turn down everyone else because Wellness Living can't be beat for price and features.
Pros
You can make your site simple or more complex, depending on how many of the tools you choose to integrate. I've been with Wellness Living since 2016, mainly because it's easy to use and the technology support is first rate. I wasn't using the email feature but it was pointed out to me that I could use reports to find clients who hadn't been visiting in the last 2-6 months, then email them directly from the software with a win-back campaign. I appreciate all that this company does to keep its clients updated and informed.
Cons
It can be pricey for small business owners, but there are ways to reduce your costs.
Reasons for Choosing WellnessLiving
Did not feel tech support was available enough
Reasons for Switching to WellnessLiving
More features in Wellness Living
Response from WellnessLiving Systems
Hey Pauline,
Thank you for the great review. WellnessLiving is all about you, our customer, and that means having the customization to really tailor your online presence the way you want it. Our software is built around customization so you have the freedom to focus on the areas and features that you want to use. The ability to segment your clients into groups by things like purchases or attendance history is so valuable because research has shown targeted campaigns are up to 50% more effective than your run of the mill marketing blast, and that means you're recouping a higher percentage of your time and money on marketing spend. Because we offer an integrated all-in-one solution, there's also no need to pay for costly add-ons like some of our competitors like to charge for tools we include like emails, automations, and segmented client lists. We've really enjoyed working with you since 2016 and we're looking forward to the years to come!
Susan A. (Customer Advocate)
Industry: Health, Wellness & Fitness
Company size: 2–10 Employees
Used

Daily

for

1+ year

Review Source
Overall rating
Value for Money

Ease of Use

Customer Support

Likelihood to recommend

10.0

/10
WellnessLiving for the Win!
Reviewed on 2022/05/19
Pros
Software is simple to navigate and Integration was easy. Transition was seamless and so much more visually appealing for both staff and clients.
Cons
Setting up my teacher training is always a bit time consuming because of the amount of different days/times.
Reasons for Choosing WellnessLiving
Became way too expensive and customer service went downhill.
Reasons for Switching to WellnessLiving
The demo was fantastic.[SENSITIVE CONTENT] was my demo specialist and she was informative, knowledgeable, and personable. WellnessLiving specifically matched me with a specialist who knew the ins and outs of my industry to ensure I was comfortable and confident with their software.
Response from WellnessLiving Systems
Hey Hilary,
Thank you for the amazing review! We're delighted that you have found success with our software and that it has delivered a great visual experience to your staff and clients. At first, switching software companies seems like huge ordeal for any business owner, but our onboarding specialists are experts at what they do; they make the entire process a breeze, and you quickly start seeing the benefits of making the switch! Our co-founders Len and Sasha had previously used Mindbody and other software providers to run their own business, but it was clear from the start that the customer wasn't the focus, which manifested itself in issues with software usability, customer support, and the constant price increases. At WellnessLiving, we strive to put the whole focus on you - our customer - and you can always count on us to fully support you! We'll pass on the good word to Jackie, and we're working on sharing her knowledge with our other team members!
Jack T. (Customer Advocate)
WellnessLiving FAQs
Below are some frequently asked questions for WellnessLiving.
Q. What type of pricing plans does WellnessLiving offer?
WellnessLiving offers the following pricing plans:
Starting from: US$89,00/month
Pricing model: Subscription
Free Trial: Not Available
Starter: $89.00/mo. Basic: $129.00/mo. Business: $159.00/mo. Enterprise: Contact WellnessLiving for pricing.
Q. Who are the typical users of WellnessLiving?
WellnessLiving has the following typical customers:
Self Employed, 2–10, 11–50, 51–200, 201–500, 501–1 000, 1 001–5 000
Q. What languages does WellnessLiving support?
WellnessLiving supports the following languages:
English
Q. Does WellnessLiving support mobile devices?
WellnessLiving supports the following devices:
Android (Mobile), iPhone (Mobile), iPad (Mobile)
Q. What other apps does WellnessLiving integrate with?
WellnessLiving integrates with the following applications:
Constant Contact, Google Calendar, Google Maps, Mailchimp, Meta for Business, Quickbooks Online, WordPress
Q. What level of support does WellnessLiving offer?
WellnessLiving offers the following support options:
Email/Help Desk, FAQs/Forum, Knowledge Base, Phone Support, 24/7 (Live rep), Chat
Related categories
See all software categories found for WellnessLiving.