Pacejet
Fully connected shipping with Pacejet shipping software
About Pacejet
Pacejet enterprise shipping software enables freight, parcel, and 3PL shipping together using a single user interface and workflow. Users get a 360 degree view of shipping with reporting for all carriers, shipments, and modes. Key features include freight quoting, packing and load management, automation for labels and paperwork, EDI and WMS support, financial management, and more.
With built-for-cloud technology, Pacejet provides simplified provisioning for multiple locations, continuous upgrades, and elastic capacity. The rate shopping feature searches all carrier services and prices online and in real time to help find the best value for every shipment, and sees through complicated carrier contracts to present all options in order to make the best choice.
Users are able to pack shipments with improved accuracy and scan verify products as they are packed in boxes or pallets to reduce errors. Pacejet enables organizations to electronically capture package weight, dimensions, freight class, and more for accurate shipment billing. Users can quote prices, print paperwork and labels, capture tracking numbers, and update their ERP with a single, automated system.
Carrier connectivity within Pacejet enables ERP systems to transact with shipping carriers in real time and provides agility to add, upgrade, or change carriers as the business grows. Native ERP integration also supports shipping workflows that run seamlessly with existing systems, using a RESTful API for interactive, event-driven, and asynchronous processing.
Pricing starting from:
US$6 500,00
Key benefits of Pacejet
Pacejet's is a multi-carrier solution which transacts with freight, parcel, LTL, 3PL carriers and shipping services in real time.
Pacejet's features include freight quoting, packing & load management, financial management, and advanced analytics.
The rate shopping feature searches all carrier services and prices online and in real time, finding the best value for every shipment.
Pacejet's API seamlessly integrates quoting and shipping functionalities with existing WMS, ERP, accounting software, eCommerce applications, and more.
Pacejet automatically prints bill of lading, shipping labels, packing lists, and other required paperwork with the data and in the format required by customers and carriers.
Simplify and expand export shipping by printing or electronically filing the commercial invoice, certificate of origin and other forms.
Innovative reporting services that deliver automatic scorecards on shipping activity, rate-shopping results, and carrier performance, making strategy easy.
Markets
United States, Canada
Supported Languages
English
Pricing starting from:
US$6 500,00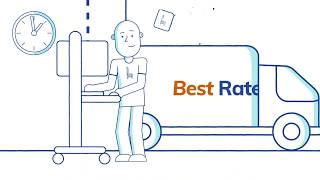 Total features of Pacejet: 36
API
Account Reconciliation
Activity Management
Activity Tracking
Ad hoc Reporting
Administrative Reporting
Automated Billing
Barcode Support
Batch Processing
Billing & Invoicing
Billing Rate Management
Cost Estimating
Customizable Reporting
Data Connectors
Data Import/Export
Data Verification
Delivery Tracking
ERP Integration
Financial Analysis
Financial Management
Label Printing
Labeling
Multi-Location
Multiple User Accounts
Package Tracking
Performance Management
Performance Reports
Quote Management
Real Time Comparisons
Real Time Data
Shipping Labels
Shipping Management
Summary Reports
Transaction History
Visual Analytics
eCommerce Integration
Waybill.work
#1 Alternative to Pacejet
Waybill.work is an automated logistics and courier management software with a customizable, multi-user, modular...
Shippo
#2 Alternative to Pacejet
Shippo is the leading multi-carrier eCommerce shipping platform that enables users to compare rates from 55+ global...
AscendTMS
#3 Alternative to Pacejet
AscendTMS is a logistics and shipping management software that helps businesses streamline operations related to...
Easyship
#4 Alternative to Pacejet
Easyship is a cloud-based, all-in-one shipping platform which allows eCommerce businesses to manage domestic &...
---
Already have Pacejet?
Software buyers need your help! Product reviews help the rest of us make great decisions.
Write a Review!
Showing 5 reviews of 14
Used

Daily

for

2+ years

Review Source
Overall rating
Value for Money

Ease of Use

Customer Support

Likelihood to recommend

8.0

/10
good app to process the cheapest shipping method by size and weight
Reviewed on 2018/05/11
Pros
the ability to default to the cheapest shipping method for the size and weight of the package, as well as showing all possible ship options
Cons
wish there was more customer functionality - meaning settings and rules can be changed by the customer rather than the engineers at pacejet
Response from Pacejet Logistics
Thank you, Josh for your feedback. We appreciate your business and look forward to rolling out new features and functionalities that will benefit Pinnacle Peak Trading Company.
Industry: Warehousing
Company size: 201-500 Employees
Used

Daily

for

2+ years

Review Source
Overall rating
Value for Money

Ease of Use

Customer Support

Likelihood to recommend

10.0

/10
Great shipping software.
Reviewed on 2018/05/14
I think i benefit most, by being able to ship with any vendor from the same shipping source. I can...
I think i benefit most, by being able to ship with any vendor from the same shipping source. I can ship UPS, FED EX, and USPS from one page. No more individual software and multiple computer updates.
Pros
User friendly software, and great customer support to assist with start up . I love how it rates the cheapest option for our company and the customer. Both parties involved can save money. Its also nice how the address is pulled from our main software right into pace jet. We do not have to manually type in shipping addresses, eliminating user error. I love the TRACE OPTION to help figure out why a shipment cannot be shipped.
Cons
International shipments seem to be difficult to process. I dont technically think this is Pace Jets fault. Its just the nature of the beast when trying to ship internationally. Commodities and HTS codes can be somewhat exhausting to enter. If your company can provide these codes to the product you ship, it should make this frustration disappear, as these codes would be pulled over to pace jet from your main software.
Response from Pacejet Logistics
Travis, thank you for this awesome review. We encourage you to check out our Beta Program under Support and Get Involved on our website. We're committed to driving continuous innovation through the platform.
Industry: Retail
Company size: 11-50 Employees
Used

Daily

for

1-5 months

Review Source
Overall rating
Value for Money

Ease of Use

Customer Support

Likelihood to recommend

0.0

/10
PaceJet is NOT what it seems! BUYER's BEWARE OF PACEJET!
Reviewed on 2020/01/20
To start off the people at PaceJet all really did seem like for the most part that they do care &...
To start off the people at PaceJet all really did seem like for the most part that they do care & they are trying to run a reputable business. However, that is where the good comments unfortunately end. Their company from the top down is very confusing. One person just points blame at the next all the way up to the [SENSITIVE CONTENT HIDDEN] pointing fingers at other companies or their counterparts.
Our project was completely messed up with PaceJet. We asked a lot of pre-sales questions which included going over what shipping carriers we use. We outlined our business goals and needs then were sold on PaceJet by their staff into a multi-year solution. Kicking off the project with kick-off coordinator was straight forward they went over our info again and then we went into the integration phase. By this point now 3-4 people from PaceJet had spoken with us regarding our project.
The issue there was months later PaceJet then confirms that about half of the things on our list of issues that came up could not be fixed and its due to the way pacejet was designed. Things that their staff should have instantly said to us prior to even purchasing pacejet! Their staff literally configured business rules for us then that would not work at all due to the way pacejet's software flow works. So we wasted months setting things up and configuring things ultimately that would not work. Also they keep pointing fingers about giving us a refund! A nightmare stay away from them
Pros
Web/Cloud-based software - issue, however, was PaceJet did NOT work & was not stable at all!
Cons
Absolutely no user flow! PaceJet expects users to click keyboard buttons or scan 3-4 barcodes just to do a simple task, there is ZERO flow, meaning that when a warehouse employee completed shipping an order, there is no flow. A Normal system would pop-up an input box for your next order to ship, well not with pacejet and this is just one of many fundamental things you will find out when you try to do business with them. You have to scan barcodes and click buttons about 7-9 times just to do a single order if you are using scan pack verification and rate quoting, they overcomplicated the process completely and have no user flow directing the user to what step is next! They have fundamental business flow/setup things not built into their software correctly and then to make matters worst half of their staff understands the way their software works than the other half and your project will be stuck in the middle!.
Software CRASHES and does not work. More than 2 times during a 3 month period multiple computers would not be able to print labels from PaceJet. The one time it took their support staff over 2.5 weeks to fix the issue and we made zero changes! Every other software we use printed labels fine, it was only pacejet that crashed multiple times and it was on different computers with different printers, so its not like they could blame the computer type/printer type.
This made us very uncomfortable using their software as it was very very buggy.
Response from Pacejet Logistics
This has been a complex implementation in which all parties have worked beyond the scope of the agreement. We understand the emotional tone of this content and have offered to work with them on remaining components in bringing them live as well as to extend their subscription at no further cost to deliver value. It is our intent to connect with this reviewer and move forward.
Used

Daily

for

2+ years

Review Source
Overall rating
Value for Money

Ease of Use

Customer Support
Very seamless integration with netsuite. Overall a very good shipping solution.
Reviewed on 2018/04/05
Pros
Pacejet is seamlessly integrated for us. The service is reliable and very user friendly. It's easy to train new employees quickly.
Cons
Reporting is not as robust as it could be. Some of the add on features are not intuitive and require support from a rep, which is not always as easily accessible as I would like.
Response from Pacejet Logistics
Hi Jonathan! Thank you for taking time to write a review. We're happy to hear that you are pleased with the integration between Pacejet and Oracle NetSuite. Also, the fact that it's easy to train new employees is great to hear.
In terms of your comments on reporting, we think there may be new features and modules that you could take advantage of or do a preview of. Also, especially since you are a case study customer for us, consider whether you or someone at Tool Nut would like to be an advisory board member. We're always happy to hear from customers who are interested in helping us improve the platform.
Thanks again for being a valued customer!
Used

Daily

for

2+ years

Review Source
Overall rating
Value for Money

Ease of Use

Customer Support

Likelihood to recommend

7.0

/10
Fast shipping!
Reviewed on 2018/04/12
Pros
The software was customized to accommodate our unique product line. The Pacejet portal is simple and automates the fulfillment process in NS.
Cons
The support capacity appears to be lacking. Development team is constantly backed up with projects which impacts their ability to address customizations in a timely manner.
Response from Pacejet Logistics
Jer, thank you for this 4-star review. We want to make sure you know that during the past year, we've changed our support management, increased our hours, and we've expanded our product, services, and support teams.
We just released new functionality in early 2018, and would be happy to talk with you about everything new at Pacejet. Please contact our Customer Success Management team for an account review and briefing. You can also talk to them about the ability to preview new products and volunteer for our advisory board.
We appreciate you taking the time to provide your feedback and hope to see your satisfaction grow higher and higher.
Pacejet FAQs
Below are some frequently asked questions for Pacejet.
Q. What type of pricing plans does Pacejet offer?
Pacejet offers the following pricing plans:
Starting from: US$6 500,00
Pricing model: Subscription
Free Trial: Not Available
Pricing is customized based on each business's unique needs. Contact Pacejet Logistics to discuss shipping strategies and business requirements.
Q. What are the main features of Pacejet?
Pacejet offers the following features:
3PL
Air Shipping
Bills of Lading
Container Shipping
Freight Shipping
Ground Shipping
Import / Export
Import / Export Management
International Forwarders
LTL Management
Local Forwarders
Multi-carrier Software
Parcel Shipping
Quotes / Estimates
RESTful
Rate Management
Real-time Rates
Regional Shipping
Shipment Tracking
Q. Who are the typical users of Pacejet?
Pacejet has the following typical customers:
Large Enterprises, Mid Size Business
Q. What languages does Pacejet support?
Pacejet supports the following languages:
English
Q. Does Pacejet support mobile devices?
We do not have any information about what devices Pacejet supports
Q. What other apps does Pacejet integrate with?
Pacejet integrates with the following applications:
Acumatica Cloud ERP, Dynamics 365, Kechie, Microsoft Dynamics GP, NetSuite, NetSuite SuiteCommerce, Oracle CRM On Demand, Plex, SAP Business One, Salesforce Marketing Cloud
Q. What level of support does Pacejet offer?
Pacejet offers the following support options:
Phone Support, Online Support, Knowledge Base, Video Tutorials
Related categories
See all software categories found for Pacejet.