iTWO costX
The faster, smarter & more accurate way to estimate
About iTWO costX
iTWO costX - formerly CostX - is a construction estimating platform that represents a complete solution for quantity surveyors, contractors, estimators and subcontractors looking to enhance their takeoff and estimating.
A variety of drawings and models are supported for 2D and BIM takeoff, including JPG, CAD, PDF, DWFx, IFC, RVT and more. Users can streamline their measuring workflows to significantly reduce takeoff time. Quantities can then be live-linked into integrated spreadsheets to minimise errors, and rates are applied to the relevant figures to create a full estimate quickly and efficiently. Plus, with auto-revisioning, if teams introduce new changes into the pipeline, the costs can be quickly updated as required.
A variety of standard and customisable reports are available to fit client requirements, including cost plans, Bills of Quantities and more. Additional features include a subcontractor comparison tool and advanced 5D BIM functionalities that support modern BIM workflows.
iTWO costX is used in over 90 countries around the world, with users under maintenance able to rely upon timely and professional support from our network of global offices.
Pricing starting from:
N/A
Free Version
Free Trial
Subscription
Top 5 alternatives to iTWO costX
Key benefits of iTWO costX
Businesses can use iTWO costX's customisable reporting to easily create Bills of Quantities (BOQ), cost plans and more, while the efficient auto-revisioning tool allows users to automatically revise and update changes across plans as required.
iTWO costX lets businesses utilise onscreen 2D measurement to takeoff lengths, areas, and other counts by directly uploading PDF, CAD, or image documents on the platform. Advanced 5D BIM functionality is also available, with BIM exports from all major 3D design packages supported. A variety of intuitive viewing tools are available, as are user-defined properties and in-built templates for importing model data.
A 'based-on' function is available, allowing administrators to create new jobs from templates of previous work and recreate workbook structure including live-links. This is useful for those looking to begin work on new projects quickly and easily, with no time wasted on project setup.
iTWO costX allows contractors to setup custom quantities for various dimension groups and calculate quantities based on user responses. A variety of bespoke workflows can be created to support individual business requirements.
Pricing starting from:
N/A
Free Version
Free Trial
Subscription
Top 5 alternatives to iTWO costX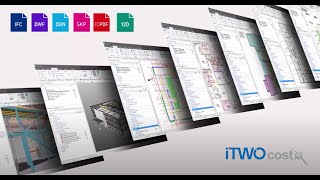 Total features of iTWO costX: 39
2D Drawing
3D Imaging
API
Assembly Takeoff
Audit Trail
BIM Modeling
Bid Management
Bills of Materials
Built-In Database
Change Management
Collaboration Tools
Conflict Tracking
Cost Database
Cost Estimating
Cost Tracking
Customizable Reports
Customizable Templates
Data Import/Export
Data Visualization
Electrical Estimating
Electronic Plans
Estimating
For AEC Industry
HVAC Estimating
Historical Database
Job Costing
Labor Cost Reporting
Multiple Projects
Plumbing Estimating
Project Estimating
Project Management
Project Templates
Projections
Proposal Generation
Quotes/Estimates
Reporting/Analytics
Subcontractor Management
Takeoff
What-if Analysis
Autodesk Construction Cloud
#1 Alternative to iTWO costX
Connects workflows, teams and data at every stage of construction to reduce risk, maximize efficiency, and increase...
InEight
#2 Alternative to iTWO costX
InEight construction software is a fully integrated platform that gives you the real-time visibility and accuracy you...
Procore
#3 Alternative to iTWO costX
Procore construction software manages your construction projects, resources and financials from planning to closeout....
QuickBooks Desktop Enterprise
#4 Alternative to iTWO costX
QuickBooks Desktop Enterprise is an accounting software for small businesses which provides users with real-time access...
---
Already have iTWO costX?
Software buyers need your help! Product reviews help the rest of us make great decisions.
Write a Review!
Showing 5 reviews of 28
Industry: Construction
Company size: 11-50 Employees
Used

Daily

for

2+ years

Review Source
Overall rating
Value for Money

Ease of Use

Customer Support

Likelihood to recommend

10.0

/10
Excellent QS tool for direct take off, estimating and producing schedules/bills of quantities.
Reviewed on 2018/01/10
We moved to digital taking off initially and a windows GUI from an old terminal window based...
We moved to digital taking off initially and a windows GUI from an old terminal window based system. The ability to view, section and walk round 3D models and have BIM extraction capabilities is most advantageous.
Pros
We moved to CostX completely as a QS practice a number of years ago and we find it a very powerful tool in producing all levels of estimates, bills/schedules of quantities and builders quants etc. It's the best software we've seen for a number of years and for the future with it's BIM capabilities also.
With customised branded report formats available allow us to provide consistently high quality presentation documents.
Staff were quick to pick up the basics of operation and quickly progress their skills in taking off and scheduling digitally.
Regular updates from user feature requests and continually developing and improving the CostX software.
Excellent customer support and follow up to ensure the best service is provided and maintained to resolve any issues found or queried.
Cons
Lack of ability to complete cut and fill exercises
The only real downside is the inability to handle drawings in batches and without having to load them individually to edit their properties. We understand that this is a registered client feature request under review for development and greatly look forward to its implementation.
Response from Exactal
Hi Phil,
Thanks so much for your great review! We are so pleased to hear that you find CostX such a powerful tool to use at Maltbys. It's great to hear that staff were able to pick up the program so quickly too!
In regards to your comments on cut and fill, CostX supports the extraction of cut and fill volumes from other systems via BIM. Whilst there is no dedicated cut and fill takeoff, CostX supports volume calculations based on areas with heights applied and using dimension group formulas, users can also perform more advanced volume calculations. Additionally, you're correct in noting that bulk updates to drawing file scales is in the development roadmap- for now, CostX supports adding multiple drawing files at the same time or multiple sheets /pages from a single file and the scale can be set for all added drawings in bulk at the time of adding. CostX also now supports scale and calibration factor columns on the Drawings list so that scale is always visible.
Thanks again!
Industry: Construction
Company size: 11-50 Employees
Used

Daily

for

6-12 months

Review Source
Overall rating
Value for Money

Ease of Use

Customer Support

Likelihood to recommend

10.0

/10
Wouldn't Look Back
Reviewed on 2018/08/12
I had been putting off getting any sort of software packages for a long time as I really liked...
I had been putting off getting any sort of software packages for a long time as I really liked doing manual take offs and using spreadsheets. Cost X was very easy to change to after doing these type of take offs. I wouldn't look back now. I have had a new graduate start with me and it is very easy to teach them (as most of it has already been set up by me), this also keeps uniformity over take offs.
One of the biggest advantages for us being a residential / light commercial building company is that we seem to have a lot of revisions over a job up until contract stage - the revision tool has been great for this and makes doing a series of changes from one plan to the next a breeze and a report can give a detailed breakdown of the changes at these revision points.
Pros
- Really easy to get started, just set out dimensions as you would manually, set out your spreadsheets and link the two up. The more you use it, the more you learn, and it just keeps getting better.
- No need to save all the time as all your work is up to date.
- Easily relates to excel spreadsheets.
- Data from spreadsheets can be exported or imported with ease.
- Importing of .dwg files directly from the drawing team makes measurements exact. Any mistakes in the drawing files can be picked up and relayed back to the drawing team before another revision.
- When working on multiple build projects, it is a lot easy to open and close jobs from the same place compared to other applications where they would all be seperate files needing to be opened.
- Being able to compare drawing files, ie; site plan over a subfloor plan to work out pile heights easily.
- The ability to do measurements, add a legend with quantities, save as a PDF and provide to subcontractors. ie; joist layout for builder, measure of a full drainage plan for the drainlayer.
Cons
The only thing that I have found hard work is the report software provided with Cost X. This is mainly because I just haven't had the time to put into it. I can see that it will be very good, but can see that this is going to take some time to get what I want from it. Other than that I still was able to make up functional reports easy enough, just not to the level I would like yet.
Response from Exactal
Hi Charlie, thanks for your great review! We're so happy to hear that you're loving CostX! It's great to see you're getting full use from the functionality, and that the revisioning tool is making your life easier! With regards to the reporting, we do offer the standard report writer which allows you to create basic reports, but the custom report writer can be a little more complex. Because of this, we do offer training for it, so if you are interested in exploring it further that may be worthwhile. Thanks again!
Industry: Building Materials
Company size: 201-500 Employees
Used

Weekly

for

2+ years

Review Source
Overall rating
Ease of Use

Likelihood to recommend

6.0

/10
Convenient for taking off and pricing
Reviewed on 2020/01/01
Pros
It helps to automate creation of Bills of Quantity or Pricing Section after taking off or measurement stage. Shorten the process by alot and increase a QS productivity.
Cons
Price slightly on the high side. If they could lower to a personal user affordability level then the retail user might increase.
Response from Exactal
Hi, thanks for taking the time to review CostX.
We're happy to hear that you're finding CostX convenient for BOQ creation and other quantity surveying workflows. We have many free webinars and blog posts available on our website that cover other time-saving tips for the QS that we've built into our software.
On the topic of affordability, we offer CostX with a range of feature levels to suit different businesses and budgets, including personal users. For example, those who don't require workbooks or reporting capability can select our CostX Takeoff option, which is cheaper than the full CostX platform. Thanks!
Industry: Civil Engineering
Company size: 5 001-10 000 Employees
Used

Daily

for

1+ year

Review Source
Overall rating
Value for Money

Ease of Use

Customer Support

Likelihood to recommend

8.0

/10
CostX has made measuring and estimating from CAD manageable. Would recommend.
Reviewed on 2017/08/04
Pros
The biggest selling point for the software for us is the link between dimensions in the workbook and drawing files. This allows clients to quickly understand the source of the data in the workbook, and builds a level of transparency and trust.
The ability to store a rate database also has advantages in terms of the ability to reference past rates and benchmark cost. The rate library allows the quick adjustment of a rate across a major project, with only one edit required to adjust the entire estimate to accommodate this change.
After care in terms of technical support for the product has been superb, which is vital when adopting such software as your mainstay for measuring or estimating. The Product Support Team have gone above and beyond on numerous occasions to ensure that any technical issue we have encountered has been resolved in a timely fashion, to ensure minimal inconvenience to our projects.
Cons
I would consider the 3D Measuring Tools fairly primitive currently. The model maps tool would be perfectly adequate if the quality of models received in the industry currently was always sufficient for automatic quantity extraction, but unfortunately that often is not the case at the moment.
Measuring manually on 3D models currently can feel clunky, and measuring wall faces on the insides of buildings can feel like a chore, as navigating the model can be difficult with the tools available.
The ability to lock the model in the centre of the screen in v6.6 was a very necessary step.
Response from Exactal
Hi Jack, Thanks so much for your review! We're so pleased to hear you love the live-links, and great to see a 5 star rating for customer support. With regards to the BIM features, we note the industry does have a little way to go before BIM can be used as it is intended. It may be helpful if you provide your architects with a copy of our Drawing File Optimisation document so they have a better idea of what they need to include in the model they are providing to Quantity Surveyors. Apart from that, we will take your comments on board! One of our Product Specialists will contact you about the navigation issue you mentioned too. Thanks again!
Industry: Construction
Company size: 2-10 Employees
Used

Daily

for

2+ years

Review Source
Overall rating
Value for Money

Ease of Use

Customer Support

Likelihood to recommend

10.0

/10
Cost X is functional, flexible and value for money. The technical support team are fantastic.
Reviewed on 2017/10/19
Cost X gives me speed, I get more work tendered and so put the company in a position to grow...
Cost X gives me speed, I get more work tendered and so put the company in a position to grow quicker and be more profitable.
Its flexible I have changed things to suit the type of work I'm pricing
Its reliable I can trust the quantities and figures and makes negotiations simpler and more informed.
Its value for money as I do believe it is worth and extra person in the office.
Its accurate and consistent I know I have everything taken off and my rates are stable.
Pros
The software allows flexibility to suit the type of work we do. We are a specialist ventilation contractor and Cost X has taken us from manual drawing take off to a quick, simple and reliable system that you can review in seconds. We are organised and know a project inside out so we can negotiate contracts know that our figures and quantities can be relied on. We are also consistent in of pricing as quantities are accurate and rates are stable. The technical support team are amazing they provide a very prompt and professional service, they go to great lengths to get you back up and running as so as possible. Cost X is also value for money, I believe that it is worth one extra person in the office to me, the volume of work that can be done is excellent.
Cons
I do believe that training would really be essential for the correct use of the system, I did not get training but have still found it brilliant but I do believe if I was using it correctly I would probably get more from it. Also on the standalone version the back up button or procedure would need to be streamlined, as loosing data in Cost X is a huge lose to a company.
Response from Exactal
Hi Darren,
Thanks for your amazing review! We really appreciate hearing your great comments, and will definitely pass your words onto the Tech team. Regarding back-up, it is always done automatically with network licences; its also possible to arrange automatic back up with standalone licences but you must set it up in Windows.
Thanks again!
iTWO costX FAQs
Below are some frequently asked questions for iTWO costX.
Q. What type of pricing plans does iTWO costX offer?
iTWO costX offers the following pricing plans:
Starting from:
Free Trial: Not Available
Contact RIB directly for pricing information.
Q. Who are the typical users of iTWO costX?
iTWO costX has the following typical customers:
Self Employed, 2-10, 11-50, 51-200, 201-500, 501-1 000, 1 001+
Q. What languages does iTWO costX support?
iTWO costX supports the following languages:
English
Q. Does iTWO costX support mobile devices?
iTWO costX supports the following devices:
Q. What other apps does iTWO costX integrate with?
iTWO costX integrates with the following applications:
Microsoft Excel
Q. What level of support does iTWO costX offer?
iTWO costX offers the following support options:
Email/Help Desk, FAQs/Forum, Knowledge Base, Phone Support, 24/7 (Live rep)
Related categories
See all software categories found for iTWO costX.