Online video platform for market research and CX interviews
About Discuss.io
Discuss.io is the leading video conferencing platform designed to help businesses engage with customers and collect live, qualitative feedback. Complete and store everything from within the browser, with one all-in-one tool. Manage market research processes, from global recruiting (in 100+ countries) and scheduling group or one-on-one sessions, through to conducting interviews with powerful features, like hidden-back room observers and chat, live translation, pre-loaded stimuli sharing and annotation, and flagging of important moments.
Turn your recorded interviews into useful insights, quickly and efficiently, using powerful features such as transcription, synchronized with video, easy clip creation, and create highlight reels.
Other features include customizable branding, permission management, single sign-on (SSO), authentication, data encryption, automated reminders and access control.
Key benefits of Discuss.io
Truly global - recruit in over 100 countries, available in over 20 languages.
Save time - The only smart video platform built from the ground up for online qualitative market research. The integrated features mean you spend more time talking to consumers and less time pulling together the project and insights.
Multiple tools in one - Discuss.io built the functionality of multiple tools into one integrated platform which means training, adoption and usage is more seamless and efficient.
Automation and efficiency - Automating essential tasks in Discuss.io means your online qualitative program can scale rapidly with fewer resources.
Save money - Combine the total price of all components of a Zoom-based solution, plus the time you'd save.
Incredibly intuitive and easy to use - Originally built to make online interviews easy, we keep a tight connection between clients, our services team and the product team to improve usability and features on a weekly basis.
Services available - Discuss.io provides a full suite of services ad hoc to help you where you need it. Recruitment, discussion guide development, moderation, project management, human translation and more. Go from DIY to full service in one request.
Scale up with ease - Central storage of documents, discussion guides and recruiting across many sessions within a single project make doing one or one hundred interviews seamless
Secure and meets compliance - GDPR, ISO 27001 and ESOMAR compliant as well as adhering to local, specific requirements like in Germany.
Markets
Andorra, United Arab Emirates, Afghanistan, Antigua & Barbuda, Anguilla, Albania, Armenia, Curaçao, Angola, Argentina, American Samoa, Austria, Australia, Aruba, Åland Islands, Azerbaijan, Bosnia & Herzegovina, Barbados, Bangladesh, Belgium, Burkina Faso, Bulgaria, Bahrain, Burundi, Benin, Bermuda, Brunei, Bolivia, Brazil, Bahamas, Bhutan, Botswana, Belarus, Belize, Canada, Congo - Kinshasa, Central African Republic, Congo - Brazzaville, Switzerland, Cook Islands, Chile, Cameroon, China, Colombia, Costa Rica, Cuba, Cape Verde, Cyprus, Czechia, Germany, Djibouti, Denmark, Dominica, Dominican Republic, Algeria, Ecuador, Estonia, Egypt, Eritrea, Spain, Ethiopia, Finland, Fiji, Falkland Islands, Micronesia, Faroe Islands, France, Gabon, United Kingdom, Grenada, Georgia, French Guiana, Guernsey, Ghana, Gibraltar, Greenland, Gambia, Guinea, Guadeloupe, Equatorial Guinea, Greece, Guatemala, Guam, Guinea-Bissau, Guyana, Hong Kong SAR China, Honduras, Croatia, Haiti, Hungary, Indonesia, Ireland, Israel, Isle of Man, India, Iraq, Iran, Iceland, Italy, Jersey, Jamaica, Jordan, Japan, Kenya, Kyrgyzstan, Cambodia, Kiribati, Comoros, St. Kitts & Nevis, South Korea, Kuwait, Cayman Islands, Kazakhstan, Laos, Lebanon, St. Lucia, Liechtenstein, Sri Lanka, Liberia, Lesotho, Lithuania, Luxembourg, Latvia, Libya, Morocco, Monaco, Moldova, Montenegro, St. Martin, Madagascar, Marshall Islands, North Macedonia, Mali, Myanmar (Burma), Mongolia, Macao SAR China, Northern Mariana Islands, Martinique, Mauritania, Montserrat, Malta, Mauritius, Maldives, Malawi, Mexico, Malaysia, Mozambique, Namibia, New Caledonia, Niger, Norfolk Island, Nigeria, Nicaragua, Netherlands, Norway, Nepal, Nauru, New Zealand, Oman, Panama, Peru, French Polynesia, Papua New Guinea, Philippines, Pakistan, Poland, St. Pierre & Miquelon, Puerto Rico, Palestinian Territories, Portugal, Palau, Paraguay, Qatar, Réunion, Romania, Serbia, Russia, Rwanda, Saudi Arabia, Solomon Islands, Seychelles, Sudan, Sweden, Singapore, St. Helena, Slovenia, Svalbard & Jan Mayen, Slovakia, Sierra Leone, San Marino, Senegal, Somalia, Suriname, São Tomé & Príncipe, El Salvador, Syria, Eswatini, Turks & Caicos Islands, Chad, Togo, Thailand, Tajikistan, Timor-Leste, Turkmenistan, Tunisia, Tonga, Turkey, Trinidad & Tobago, Tuvalu, Taiwan, Tanzania, Ukraine, Uganda, United States, Uruguay, Uzbekistan, Vatican City, St. Vincent & Grenadines, Venezuela, British Virgin Islands, US Virgin Islands, Vietnam, Vanuatu, Wallis & Futuna, Samoa, Yemen, Mayotte, South Africa, Zambia, Zimbabwe and 225 others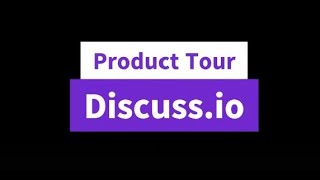 Total features of Discuss.io: 30
Access Controls/Permissions
Collaboration Tools
Communication Management
Customer Segmentation
Customizable Branding
Data Import/Export
Drag & Drop
Face-to-Face
Feedback Management
Interview Management
Interview Practice Session
Interview Scheduling
Live Video Interview
Multi-Language
Panel Interviews
Panel Management
Phone-Based
Pre-recorded Messages
Question Library
Recruitment Management
Reminders
Reporting/Analytics
Self Service Portal
Session Recording
Single Sign On
Skill Assessment & Scoring
Two-Way Audio & Video
Video Conferencing
Video Management
Video Support
Google Meet
#1 Alternative to Discuss.io
Google Meet is a video conferencing platform for teams to communicate via messaging, voice, and video. Features include...
Zoom Meetings
#2 Alternative to Discuss.io
Zoom is a scalable, cloud based video conferencing & web conferencing platform enabling online meetings, webinars, file...
Zoom Video Webinars
#3 Alternative to Discuss.io
Zoom Video Webinars is designed to help businesses host webinars, engage with audiences, and facilitate communication...
BlueJeans
#4 Alternative to Discuss.io
BlueJeans is a meeting platform for the modern workplace. The first cloud service to connect desktops, mobile devices...
---
Already have Discuss.io?
Software buyers need your help! Product reviews help the rest of us make great decisions.
Write a Review!
Showing 5 reviews of 23
Industry: Research
Company size: 2-10 Employees
Used

Monthly

for

6-12 months

Review Source
Overall rating
Value for Money

Ease of Use

Customer Support

Likelihood to recommend

7.0

/10
Great product, great team
Reviewed on 2020/07/21
I love working with this product, strongly recommend -- especially if you are on a product team and...
I love working with this product, strongly recommend -- especially if you are on a product team and doing interviews throughout the year. If you are a consultant, the pricing makes it a little more difficult, but the tool will impress clients.
Pros
We are a consulting firm, doing research for hire. Sometimes we have up to 15 members of our client team listening to interviews. Discuss.io has a feature that allows them to watch interviews and engage in the chat without the interviewee ever knowing they are around. This is a hugely innovative feature, allowing us to have a large audience without being a distraction to the participant.
Also, being able to highlight portions of an interview transcript then clicking a button to generate a video highlight is amazing. It has saved me dozens of hours in the highlight creation process. We can even allow our clients to create highlight videos.
As a consultant, using Discuss.io gives our prospective clients a better sense that we are a top-notch research firm and allows us to be more collaborative in our work
Cons
I don't have many complaints. When we last used it, much of the scheduling process was manual and error prone, especially when using a third party recruiter like UserInterviews.
The price felt high and clumsy. It feels like it is priced as a service rather than a product. I think Discuss.io offers to be involved in recruiting, project management, and admin. But if you just want to use the product without services, it feels expensive.
As a project-based consulting firm, we struggled to justify signing up for a subscription because we don't know how many interviews we will do in a given month.
Reasons for Switching to Discuss.io
We use Discuss.io when doing colalborative resaerch with clients listening into interviews or if we are tasked with creating a large amount of highlight videos. Otherwise, we stick with Zoom (using the Grain.co plugin) or Google Meet.
Response from Discuss.io
Hi Eric, thanks for your detailed review. We're really proud of what we're able to offer consulting firms like yourselves, and are glad you're loving our features. We appreciate your input into our product development process and are actively working to improve the respondent management and scheduling experience to better serve DIY users like yourself. We look forward to sharing more information about this in the coming weeks!
Industry: Market Research
Company size: 201-500 Employees
Used for

1+ year

Review Source
Overall rating
Value for Money

Ease of Use

Customer Support

Likelihood to recommend

10.0

/10
Efficient Tool for Market Research Qualitative Interviews
Reviewed on 2020/07/21
It is such a breeze to use the Discuss.io platform, and the support team is so easy to work with....
It is such a breeze to use the Discuss.io platform, and the support team is so easy to work with. They remain patient despite erratic internet connection and are vigilant in addressing our needs. The platform itself has relevant tools needed by market research professionals. We are able to conduct any and all types of studies and discussions, whether it be straightforward interviews or a concept/stimuli evaluation.
Discuss.io definitely became our staple platform we recommend not just internally, but to clients we pitch to as well.
Pros
The backroom chat definitely makes it easy to communicate with clients, bounce off questions and ideas while conducting interviews. The concept presentation tools, as well as other features are all easy to understand and if in any case there are problems, tech support is so easy to reach.
Best of all, the simultaneous translation set-up is great! We used to conduct interviews via the typical video conferencing apps and we often had to make two sets of meetings and patch the translator from one room to another. Discuss.io's translation set-up gets rid of all that, and clients can easily shift through English & local language.
It definitely feels like we have extra hands, project managers who make it easier for us to do what we do remotely.
Cons
Being one of the markets with lower quality of internet connectivity (Philippines), we definitely found the platform bandwidth-demanding. It may be difficult sometimes to keep discussions going as most of the users experience lag. Discuss.io provides a workaround for this through tech checks and dialing in via phone, which is also convenient.
Reasons for Switching to Discuss.io
We were eyeing the basic video conferencing tools for our projects but ended up with Discuss.io for 2 main reasons: 1.) Efficiency - despite the higher cost, it is definitely easier for us to conduct our interviews through this platform. Not only do we have the right tools to conduct interviews, we also have the Discuss.io support team to help us manage. 2.) Security - Recent news on security issues of some video conferencing platforms caught our attention. As a company that works under strict laws to protect the data of our consumers, it is very important for us to partner with a reliable, secure research partner. Discuss.io's portfolio of clients and security standards gave us that confidence.
Response from Discuss.io
Hi Mico,
Thank you for your wonderful review. We're thrilled that you find the platform a breeze to use, and I'll pass on your praise to the CS team. Regarding lower internet speeds, we understand how important it is to provide a fast, stable experience from anywhere in the world. In recent weeks, we released changes that make our platform and meeting room faster to load, making it easier to participate in low-bandwidth environments. And as you mentioned, our phone support allows participants struggling with bandwidth to continue to participate until the internet connection recovers and video can resume (dial-out, as well as dial-in). We are always working to improve, and these changes are just the beginning.
Industry: Market Research
Company size: 2-10 Employees
Used

Weekly

for

1+ year

Review Source
Overall rating
Value for Money

Ease of Use

Customer Support

Likelihood to recommend

9.0

/10
WE DON'T USE ZOOM
Reviewed on 2020/09/02
It is easy to use, great technical support, flexibility , many features that help you during the...
It is easy to use, great technical support, flexibility , many features that help you during the discussion, it is protected from external invasions.
Pros
the fact that I can talk to the respondents only, to the clients only, to the sim translator only or to all at the same time.
it is easy to use and we don't have to worry since the data are safe
Cons
the fact that for focus groups we cannot have more than 4 participants
Reasons for Switching to Discuss.io
because the client wanted to have everything in one room.
Response from Discuss.io
Hi there,
Thank you for your review. We're glad you love our industry-leading chat capabilities, simultaneous translation functionality, and that you value security as much as we do. We are proud to provide a comprehensive product that can take you from project planning to interviews to analysis. Being able to provide all the features on one platform means we're cheaper, easier and more efficient to use than separate tools.
Regarding participant limits, we are actively working to increase the number of users who can be recorded, while maintaining a high-quality, performant meeting room. We hope to have more to share on this soon.
Industry: Consumer Goods
Company size: 10 000+ Employees
Used for

1-5 months

Review Source
Overall rating
Ease of Use

Customer Support

Likelihood to recommend

9.0

/10
Efective
Reviewed on 2020/09/01
Efective, connection even with different languages in just one platform
Efective, connection even with different languages in just one platform
Pros
The most I like is that we were able to connect different geographic markets to be part of the session with option to listen in two different languages; the local one and a version in English (at the same time) so everyone else could understand.
Cons
One of the session had connection issues at the beginning but there was a quick comeback from the support team
Response from Discuss.io
Hi Karen, thank you for your wonderful review. We're pleased that you found our integrated simultaneous translation feature to work so well - it really is an amazing thing, and incredibly useful for expanding access to consumers across the team. And we're glad our tech support were able to quickly jump in and help when there was a connection issue.
Industry: Market Research
Company size: 11-50 Employees
Used

Daily

for

2+ years

Review Source
Overall rating
Value for Money

Ease of Use

Customer Support

Likelihood to recommend

9.0

/10
Our review
Reviewed on 2020/06/25
We have been working with Discuss.io and using their platform for more than two years now and have...
We have been working with Discuss.io and using their platform for more than two years now and have been thoroughly satisfied with the functions as well as on-time support. Discuss.io is a professional company in the market research field that has contributed a lot to our business operations.
Pros
All functions of the platform are specifically designed for market research purposes which makes the usage quite convenient for us while conducting our sessions. The tech support is playing a huge role by being there live in order to avoid any issues.
Cons
The platform would be much more effective if it would work on mobile devices as well.
Response from Discuss.io
Hi Sinan,
We're glad you found our service convenient that you're thoroughly satisfied, and we'll let the tech support team know just how much they mean to you.
Regarding mobile compatibility, thank you for the feedback. We recently launched mobile meeting rooms for some roles, and expanding mobile support is on our roadmap. We continue to announce new features to our existing customers via email, so look out for that, and you might want to follow us on social media as well.
Discuss.io FAQs
Below are some frequently asked questions for Discuss.io.
Q. What type of pricing plans does Discuss.io offer?
Discuss.io offers the following pricing plans:
Starting from: US$89,00/one-time
Free Trial: Not Available
Contact Discuss.io directly for pricing information. Start your free trial here - https://discuss-io.chargifypay.com/subscribe/ncb9wdngdpvv/free-trial
Q. Who are the typical users of Discuss.io?
Discuss.io has the following typical customers:
Self Employed, 2-10, 11-50, 51-200, 201-500, 501-1 000, 1 001-5 000
Q. What languages does Discuss.io support?
Discuss.io supports the following languages:
English
Q. Does Discuss.io support mobile devices?
Discuss.io supports the following devices:
Q. What other apps does Discuss.io integrate with?
We do not have any information about what integrations Discuss.io has
Q. What level of support does Discuss.io offer?
Discuss.io offers the following support options:
Email/Help Desk, FAQs/Forum, Knowledge Base, Phone Support, 24/7 (Live rep), Chat
Related categories
See all software categories found for Discuss.io.