Smap3D ScanToCAD
3D Laser Scanning Solution for SOLIDWORKS and Solid Edge
About Smap3D ScanToCAD
Smap3D ScanToCAD is an efficient solution to transfer existing infrastructures as well as room geometries into the 3D CAD systems Solid Edge and SOLIDWORKS.
Using 3D scans/point clouds, designers are able to depict real environments including pipelines step-by-step into a digital image.
Key benefits of Smap3D ScanToCAD
With Smap3D ScanToCAD design engineers have a proven solution at hand to efficiently get a digital image of existing infrastructures and room geometries. The highlight of Smap3D ScanToCAD is that it is not necessary to import the whole point cloud into the CAD. This dramatically reduces time and data volume. Smap3D ScanToCAD is able to read all standard formats, e.g. ASCII, Leica, Optech or Topcon. So scanning can be done also be external services providers. Each and every measurement is saved. So the designer is able to access these data at any time to tranfer it to the 3D CAD. Missing dimensions can be determinated with Smap3D ScanToCAD, too.
Supported Languages
English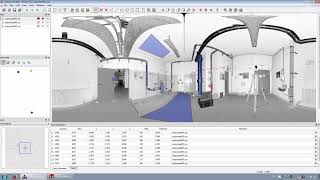 Total features of Smap3D ScanToCAD: 3
Data Capture and Transfer
For Architects
For Manufacturers
Shapr3D
#1 Alternative to Smap3D ScanToCAD
Shapr3D is a 3D CAD application, which enables engineering and architectural firms to create geometric models on...
SelfCad
#2 Alternative to Smap3D ScanToCAD
SelfCAD is a computer aided design software, which helps businesses create and render 3D drawings on a unified...
3D CAD Automation
#3 Alternative to Smap3D ScanToCAD
3D CAD Automation is a cloud-based solution which helps businesses provide staff training for designing, as well as...
AutoCAD
#4 Alternative to Smap3D ScanToCAD
AutoCAD is a 2D & 3D design & drafting platform which supports automated design tasks with 2D drafting, drawing &...
Smap3D ScanToCAD FAQs
Below are some frequently asked questions for Smap3D ScanToCAD.
Q. What are the main features of Smap3D ScanToCAD?
We do not have any information about Smap3D ScanToCAD features
Q. Who are the typical users of Smap3D ScanToCAD?
Smap3D ScanToCAD has the following typical customers:
Self Employed, 2-10, 11-50, 51-200, 201-500, 501-1 000, 1 001+
Q. What languages does Smap3D ScanToCAD support?
Smap3D ScanToCAD supports the following languages:
English
Q. Does Smap3D ScanToCAD support mobile devices?
Smap3D ScanToCAD supports the following devices:
Q. What other apps does Smap3D ScanToCAD integrate with?
Smap3D ScanToCAD integrates with the following applications:
Solid Edge, SolidWorks Premium
Q. What level of support does Smap3D ScanToCAD offer?
Smap3D ScanToCAD offers the following support options:
Email/Help Desk, Phone Support
Related categories
See all software categories found for Smap3D ScanToCAD.