About WaveMaker
WaveMaker is a rapid app development (RAD) platform which can be used to create both web and mobile applications using a drag-and-drop, low-code visual interface, while still giving users the ability to extend and customize the underlying code. Multiple device types are automatically supported, with one-click cross-platform mobile development, testing, and deployment.
WaveMaker includes a range of built-in templates for different web and mobile apps, including login pages and dashboards, and a selection of themes to give a consistent user experience across different pages and UI elements. For web apps, out-of-the-box chart widgets give users insight into data, and page transitions and animations can be added to mobile apps, with the option to link touch gestures to actionable events, allowing data and content to be explored. WaveMaker supports REST and SOAP APIs for integration and API-based development, and users can connect to mobile backend services (MBaaS) and import existing database schema from multiple platforms.
Widget properties and styles can be customized in WaveMaker without requiring any code, but users can also change the Javascript and HTML markup, and write Java services to make modifications to apps according to business logic or workflows. The code generated by WaveMaker is Maven compliant, and full projects can be exported as either ZIP or WAR files. App versions can be controlled through source code repository integrations, and multiple app versions can be deployed to different deployment targets, such as development and production environments. Apps can be previewed on multiple devices and resolutions, and users can choose to deploy apps with one click, or export apps as WAR files for manual deployment. Mobile apps can also be packaged with platform-specific installers for Microsoft, Google, and Apple app stores.
Compare with Popular Alternatives
Key benefits of WaveMaker
A range of built-in web and mobile app templates, including dashboards and login pages, and UI themes allow users to instantly begin working on the design of their application, and for mobile apps, page animations such as slide, fade, flip, and pop, can be added and touch gestures linked to actionable events.
For mobile apps, data can be stored offline on the client device, and device features including the camera, contacts, location, network, and more can be accessed and used.
Developers can modify applications according to business logic or workflows, with the ability to edit the HTML markup and Javascript, and write additional Java services.
The user interface and widget properties can be changed without requiring any code, and behavior and navigation can be setup based on events or user actions.
Application behavior can be controlled based on user roles, with role definition, assignment, and access level controls on pages, widgets, and services.
Markets
Australia, Brazil, Canada, China, Germany
and 5 others
, United Kingdom, India, Japan, Mexico, United States
Supported Languages
English
Compare with Popular Alternatives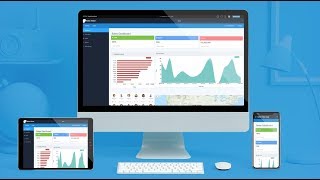 Total features of WaveMaker: 42
AI-assisted Development
API
Access Controls/Permissions
Authentication
Change Management
Code Development
Code Editing
Collaboration Tools
Collaborative Development
Compatibility Testing
Customizable Templates
Data Import/Export
Data Modeling
Data Visualization
Database Support
Debugging
Deployment Management
Drag & Drop
For Developers
Forms Creation & Design
Graphical User Interface
Integrated Development Environment
Integrations Management
Iteration Management
Mobile Access
Mobile Development
No-Code
Performance Monitoring
Pre-built Templates
Reporting/Analytics
Requirements Management
Role-Based Permissions
Software Development
Source Control
Templates
Third Party Integrations
Version Control
Visual Modeling
Web App Development
Web/Mobile App Development
Website Development
Workflow Management
OutSystems
#1 Alternative to WaveMaker
OutSystems is a modern application platform, with AI-powered automation across the entire application lifecycle to help...
Caspio
#2 Alternative to WaveMaker
Caspio is the world's leading LOW-CODE platform for building online database applications without having to write code.
Zoho Creator
#3 Alternative to WaveMaker
Zoho Creator is a web-based, low-code platform that lets everyone build custom mobile-ready business apps without any...
Quixy
#4 Alternative to WaveMaker
Quixy is a cloud-based No Code digital transformation platform that empowers business users with no coding skills to...
---
Already have WaveMaker?
Software buyers need your help! Product reviews help the rest of us make great decisions.
Write a Review!
Showing 5 reviews of 45
Industry: Computer Software
Company size: 201-500 Employees
Used

Other

for

2+ years

Review Source
Overall rating
Ease of Use

Likelihood to recommend

9.0

/10
Rapid Application Development? WaveMaker is the answer!
Reviewed on 2019/02/20
When having a project of software development for a web-based app, even if short of time or no,...
When having a project of software development for a web-based app, even if short of time or no, WaveMaker is a great choice as will allow you to spend less time on ordinary tasks and let your developers team concentrate more on the business logic and the functionality of the app.
It really speeds up the development and reduce the time which would take in average.
Pros
WaveMaker is a great studio to develop web-based applications for Java Developers. As it uses the latest technologies and frameworks your app will be up to date for a long term. It uses the MVC arquitecture, on both frontend and backend, and there's a clear separation between this last two.
Something I really like is that WaveMaker is like a combination of code generator for the tedious and cumbersome parts, while you still have full control of everything and can change it as required.
Cons
I really loved the desktop version, and I'm missing that they no longer support it. My favorite version was the 6.7.0 RELEASE, even if having some bugs, the desktop version was something great!
Response from WaveMaker
Thanks Roman!
Really appreciate your time for this review. Keep trying WaveMaker.
Regards,
#Team WaveMaker
Company size: 2-10 Employees
Used

Daily

for

6-12 months

Review Source
Overall rating
Value for Money

Ease of Use

Customer Support

Likelihood to recommend

10.0

/10
Wavemaker is the ultimate development platform, comparing to open source
Reviewed on 2016/09/20
This platform is most hidden from anywhere in Google search. When you're looking for website, or...
This platform is most hidden from anywhere in Google search. When you're looking for website, or software development, you come across a patchwork of tools which are haphazardly used to create a workflow. Anything from database schema tools, front end, back end, security all require a tremendous amount of time and effort. Our case use was creating a video sharing service. We analyuzed WordPress, Drupal, and many others which worked with AWS, CloudFront.
The primary reason for choosing Wavemaker was we did not need to install anything, or rely on the multitude of dependencies like in WordPress or Drupal plugins and modules. We wanted to create a custom application but we had little time and budget. We went through many RAD (rapid application development) environments which lacked standardization of libraries like jQuery, HTML5, or even multi platform support like iOS, Anddroind and web.
We tried everything and virtually every language including PHP. We realized we wanted to work with Java because of its vast libraries which are mature and time tested. With Wavemaker we were using Java but without being stuck in a boilerplate nightmare or manual coding.
With wavemaker, we defined our database schema. Then with a very intuitive GUI were able to construct the various screens with this data and make a very quick but fully functioning prototype with fully aesthetic control, and fully responsive.
We were able to configure security, users, role, and permissions very thoroughly right out-of-the-box with any additional Java libraries or customizations. If you're familiar with WordPress, or Drupal, then you know that coming to point of a projects require a host of third party add-ons creating the dependency and update process that is perpetual. Java and Wavremaker rarely needs so many updates if at all every few years.
While open source and its many varieties claim to be FREE in cost, and ease of development, as well as ease of usage by end users, after looking at Wavemaker, this is far from the truth. The initial cost of open source projects maybe free, but to develop anything of value and enterprise grade is very costly and filled with hurdles.
Wavemaker includes everything one could need to create robust applications for the browser, iOS and Android by automating the most routine tasks and reducing the need to code Java by more than 80%. If you must use Java, and I suggest you do, Wavemaker is it.
Pros
Ease of use. Every tool imaginable on other open source solutions requiring a plugin or module are already available. The database schema tool is far beyond other third party tools. The GUI form building, data linking, and aesthetic control are that of a desktop app. The level of sophistication is above just rapidly developing and app. Wavemaker is also a very sophisticated IDE for Java. The list of Wavemaker features and uses is beyond the scope of this Capterra entry.
Coming from the world of WordPress and Drupal, I have ditched them both in favor of Java and Wavemaker.
Cons
In the beginning the price and available features were odd. For nearly $10,000 per year you could acquire a Wavemaker license for ONE app. After some time, Wavemaker now offer unlimited app development for $99 per month. So there are no CONS at this point in my experience with Wavemaker. Customer service is awesome.
Used

Daily

for

1-5 months

Review Source
Overall rating
Value for Money

Ease of Use

Customer Support
Developed a Leave Management system within weeks for our startup
Reviewed on 2018/03/14
Pros
It is fast compared to other players in aPaaS space, feature rich and efficient. Its took only weeks to create a Leave management software.
Cons
Wave maker can get really expensive, particularly for a start up business like ours. Hope they come up with a better pricing model
Response from WaveMaker
Thanks for the review, Ayesha. Enjoy & keep trying WaveMaker. And do let us know any concerns: [email protected]
Regards,
Team #WaveMaker
Industry: Information Technology & Services
Company size: Self Employed
Used

Daily

for

6-12 months

Review Source
Overall rating
Value for Money

Ease of Use

Customer Support

Likelihood to recommend

9.0

/10
RAD Platform - hype or real?
Reviewed on 2017/04/12
I had been looking for many years for a platform/framework that would satisfy my need for...
I had been looking for many years for a platform/framework that would satisfy my need for developing web based and mobile applications. I tried the usual Deamweaver, Embarcedero, Telerik platfoms and none of them lived up to the hype of RAD. I had used Wavemaker (5, 6) many years ago when it was open source and was surprised when they changed to a subscription based pricing model last year. I decided to kick the tires with an evaluation last September... and now I'm a paying customer.
My proof-of-concept and proof-of-RAD was based on my skills:
1) I am a quick study wth programming languages & databases but don't have the depth of knowledge
2) I don't have the mastery of Javascript & CSS that is fundamental to modern UI's
3) I did not want to break the bank
4) I needed a single platform for web / mobile development (a single codebase is still a dream)
I was pleasantly surprised by the rich feature set baked into Wavemaker and even though it's not perfect - the support staff is willing to work with you on issues that are not inherently intuitive or doable - it's worth paying for. All in all I am satisfied with the product.
Pros
The platform is hosted and updated regularly. The features are complete from DB design, import schemas, query, procedures, web services, UI widgets and plain old javascript provide all the tools in a central development environment.
Cons
There is always the learning curve to deal with but this is normal for any platform. I have yet to find something that is a problem. A few browser artifacts while scrolling and switching between design and runtime mode are minor inconveniences.
Industry: Computer Software
Company size: 1 001-5 000 Employees
Used

Weekly

for

1+ year

Review Source
Overall rating
Ease of Use

Likelihood to recommend

10.0

/10
The most affordable and capable platform compared to market leaders in RAD space.
Reviewed on 2018/09/10
Pros
We were tasked with creating some internal applications for our firm, we have tried out many platforms like OutSystems and Mendix which proved to too costly and some tools like KissFlow and Zoho Creator which are no where near the capabilities offered by WaveMaker. There are a lot of other tools which claim that they are alternatives to WaveMaker but that is far from truth. WaveMaker offers a variety of functionalities and tools which will enable you to create great business class applications where as the claimed alternatives are just form builders, one observation that we had from our journey of finding a good RAD platform is that most of the tools are just form builders and they claim to be equal to WaveMaker, one interesting fact is that you can create similar applications on Microsoft Excel rather than using KissFlow or ZohoCreator. I would not want to go into details but WaveMaker is a great tool if you are interested in creating great applications. It is affordable and their customer services team is amazing.
Cons
There is very little you can think of when you are paying a very small amount. WaveMaker is easily the most affordable platform which has so many capabilities. I do not understand why the claimed market leaders OutSystems and Mendix charge so much where as WaveMaker charges only 10% of OutSystems and Mendix. WaveMaker offers great freedom to move your applications out of their platform but OutSystems and Mendix do not allow users to move application away from their platform. WaveMaker is a great tool but I fail to understand why this is not so popular.
WaveMaker FAQs
Below are some frequently asked questions for WaveMaker.
Q. What type of pricing plans does WaveMaker offer?
WaveMaker offers the following pricing plans:
Starting from:
Pricing model: Subscription
Free Trial: Available
Q. What are the main features of WaveMaker?
We do not have any information about WaveMaker features
Q. Who are the typical users of WaveMaker?
WaveMaker has the following typical customers:
51-200, 201-500, 501-1 000, 1 001+
Q. What languages does WaveMaker support?
WaveMaker supports the following languages:
English
Q. Does WaveMaker support mobile devices?
WaveMaker supports the following devices:
Android (Mobile), iPhone (Mobile), iPad (Mobile)
Q. What other apps does WaveMaker integrate with?
WaveMaker integrates with the following applications:
Bitbucket, Facebook, GitHub, Google Calendar, Google Maps, Microsoft SharePoint, Quickbase, Salesforce Sales Cloud, Yammer
Q. What level of support does WaveMaker offer?
WaveMaker offers the following support options:
Email/Help Desk, FAQs/Forum, Knowledge Base, Phone Support, 24/7 (Live rep), Chat
Related categories
See all software categories found for WaveMaker.