LiveChat
Customer service software that boosts online sales.
About LiveChat
LiveChat is an easy-to-use chat platform with many powerful features designed to provide quick and effective customer support. It offers software solutions to manage business communications, generate leads, and sell online. It's intuitive, easy to use, and fully customizable to naturally blend in with any website. A number of features inside the platform make it a powerful tool to win over customers.
LiveChat seamlessly integrates with 200+ services. Integrations with CRM systems allow for storing customer information in one place and streamlining customer service. It works with payment services, such as PayPal or Stripe, allowing customers to make payments directly from the chat window. It's compatible with Mailchimp, Autopilot, and Google Ads for easy setup of promotional campaigns. It also integrates with popular messaging platforms, such as WhatsApp, Twitter, and Facebook Messenger. It means that customers can get in touch via their preferred medium, while businesses can provide support from the LiveChat app. Brands can respond to customer inquiries quickly, efficiently, and in a way that's tailored to customers' needs. Additionally, with LiveChat's advanced analytics and reporting capabilities, you can track customer conversations across different messaging platforms to gain valuable insights into customer behavior. Seamless integrations mean that customer service is more efficient and less time-consuming, which is essential for businesses to increase their sales.
With LiveChat, customer service agents can handle multiple chat sessions simultaneously, use canned responses to frequently asked questions, and add chat tags to easily spot popular inquiries. LiveChat can also proactively offer visitors help before they reach out to the support team. It results in better customer satisfaction and closed sales.
LiveChat also offers real-time analytics for valuable insights into how the support team performs. It helps to identify areas for improvement. You can track the number of inquiries received, response times, and the average number of inquiries per team member. Additionally, you can analyze customer behavior to further understand their needs and preferences. This data can be used to optimize the customer service process, helping your team deliver better results.
LiveChat's powerful features and capabilities have made it popular among over 36,000 customers in 150 countries. With its comprehensive suite of products, businesses are sure to deliver the highest level of customer service and get the best sales result.
LiveChat offers a full suite of products, which include a ticketing system, chatbots, and a self-knowledge base. A ticketing system allows for more accessible manage customer messages and improves collaboration within teams. Repeatable inquiries can be handled easily with chatbots, which are easy to build and launch without coding. As for the self-knowledge base, brands can quickly build it for fast and effortless self-service.
Pricing starting from:
US$24,00/month
Free Version

Free Trial

Subscription
Top 5 alternatives to LiveChat
Key benefits of LiveChat
- Achieve a 5 times higher conversion rate, 50% more leads, and a 16 times higher average session value. (source)
- Connect LiveChat with your favorite tools by choosing from 200+ integrations, and create the ultimate customer-centric experience. Manage everything from the LiveChat app and connect with customers regardless of their communication channels.
- Streamline your customer service by balancing AI automation with the human touch. Let chatbots generate leads, create help tickets, and chat across messaging channels.
- Capture leads and make buying easy by showing off your products with product cards, and let customers buy inside the chat.
- Solve customer problems proactively by anticipating questions and responding faster. Create experiences customers will love and easily achieve 97% customer satisfaction.
- Keep track of your customer service and sales team performance. Manage your team with ease thanks to extended reports and supervision features. Spot improvements, boost productivity, and enjoy more sales.
Typical Customers
Freelancers

Small Businesses

(2-50)

Mid-size Companies

(51-500)

Large enterprises

(500 and more)
Markets
Afghanistan, Albania, Algeria, American Samoa, Andorra and 225 others
Supported Languages
Arabic, Chinese, Czech, Danish, Dutch and 21 others
Pricing starting from:
US$24,00/month
Free Version

Free Trial

Subscription
Top 5 alternatives to LiveChat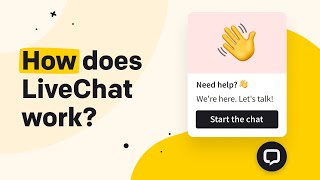 Total features of LiveChat: 68
API
Access Controls/Permissions
Activity Dashboard
Alerts/Escalation
Auto-Responders
Automated Routing
CRM
Call Center Management
Canned Responses
Cataloging/Categorization
Chat/Messaging
Collaboration Tools
Communication Management
Customer Database
Customer History
Customer Service Analytics
Customer Support
Customer Surveys
Customizable Branding
Customizable Templates
Email Management
Email Response Control
Email Templates
Event Triggered Actions
FAQ
Feedback Management
File Management
File Sharing
File Transfer
Geotargeting
IT Asset Management
Interaction Tracking
Knowledge Base Management
Knowledge Management
Live Chat
Macros/Templated Responses
Mobile Access
Multi-Channel Communication
Multi-Language
Offline Form
Performance Metrics
Proactive Chat
Queue Management
Real Time Analytics
Real Time Monitoring
Real Time Notifications
Real-Time Chat
Real-time Consumer-facing Chat
Reporting & Statistics
Reporting/Analytics
Request Escalation
Routing
Sales Reports
Screen Sharing
Search/Filter
Self Service Portal
Single Sign On
Social Media Integration
Support Ticket Management
Support Ticket Tracking
Surveys & Feedback
Tagging
Third Party Integrations
Ticket Management
Transcripts/Chat History
Transfers/Routing
Visual Analytics
Website Visitor Tracking
Zendesk Suite
#1 Alternative to LiveChat
Zendesk's fully customizable help desk solution makes things easy on your customers, sets your teams up for success,...
TextBoom
#2 Alternative to LiveChat
TextBoom is a cloud-based SMS marketing solution for small to medium businesses, which helps optimize sales and...
Comm100 Live Chat
#3 Alternative to LiveChat
Comm100 Live Chat powers real-time, personalized customer engagements when visitors need it most. Over 6,500 companies...
TeamSupport
#4 Alternative to LiveChat
TeamSupport's Support software is specifically designed to provide businesses with the context needed to effectively...
---
Already have LiveChat?
Software buyers need your help! Product reviews help the rest of us make great decisions.
Showing 5 reviews of 1 525
Used

Daily

for

1+ year

Review Source
Overall rating
Value for Money

Ease of Use

Customer Support

Likelihood to recommend

10.0

/10
LiveChat Connects Me to My Candidates Fast!
Reviewed on 2018/02/08
I get instant connection to my customers with tons of features, customizations, and robust...
I get instant connection to my customers with tons of features, customizations, and robust reporting.
Pros
What I like most about LiveChat is it's reliability. When I began researching chat applications to recommend to a client for use in their recruiting efforts, I found a lot of options. I also found a lot of issues. Many of the applications I looked at were complicated and glitchy.
Then I found LiveChat. LiveChat just worked. It was solid application whether online or on my desktop and it handled chat conversations reliable while offering all the features I was looking for in a manned chat application. When I spoke with a representative from the company, I found out why.
LiveChat set out from the beginning to be a manned chat solution and to be the best in the business. I was kind of disappointed with this at the beginning, because I was hoping for a solution to handle both manned and bot style chats. LiveChat didn't have bots, but they were so far above every other manned chat platform, that I had to choose them.
Incidentally, they have developed a bot situation since I first signed up with them and it is just as robust. It's called botengine.ai and I highly recommend it. BotEngine integrates seamlessly with LiveChat and both applications work reliably with Facebook Messenger, Web Pages, Landing Pages, and more.
LiveChat offers tons of customization, professional looking interfaces, and robust reporting. I can easily use it on my desktop computer, my notebook, my tablet, or my phone. And just like I said before, it just works.
Cons
If there was anything to dislike about LiveChat, it would be that it is resource-intensive on my iMac. This is a casualty of my business, though. I have to use a lot of memory-hog applications every day, so a lot of times I will enable LiveChat just on my mobile device or my notebook while I'm working at my desk. That way I can still respond to chats without slowing down my main machine.
Industry: Computer Software
Company size: 11–50 Employees
Used

Daily

for

1-5 months

Review Source
Overall rating
Value for Money

Ease of Use

Customer Support

Likelihood to recommend

9.0

/10
My Personal Experience with the Customer Support Software
Reviewed on 2023/02/26
The software has helped to streamline our customer support process and has allowed us to quickly...
The software has helped to streamline our customer support process and has allowed us to quickly respond to inquiries and resolve issues in a timely manner. The chat transcripts and customer information storage features have also been helpful for keeping track of previous interactions and providing more personalized support. While there are some areas for improvement, I would recommend LiveChat to other businesses looking for a reliable customer support solution.
Pros
Having used LiveChat for several months now, I can confidently say that it has been a valuable tool for managing customer support inquiries. One of the pros of LiveChat is its ease of use - it was simple to set up and integrate with our website. Additionally, the ability to customize chat widgets and greetings has helped to create a personalized experience for our customers.
Cons
One of the cons of LiveChat is its limited reporting capabilities. While we can see basic data such as chat volume and response times, more in-depth analytics would be helpful for tracking customer satisfaction and identifying areas for improvement. Additionally, the mobile app can be glitchy at times, which can be frustrating when trying to respond to inquiries on-the-go.
Industry: Accounting
Company size: 11–50 Employees
Used

Weekly

for

1-5 months

Review Source
Overall rating
Value for Money

Ease of Use

Customer Support

Likelihood to recommend

6.0

/10
LiveCaht Review
Reviewed on 2023/01/20
1. Resolve customer service issues quickly: LiveChat enables customers to get in touch with...
1. Resolve customer service issues quickly: LiveChat enables customers to get in touch with customer service agents quickly and easily, helping to resolve customer issues quickly and efficiently.2. Increase sales: LiveChat can be used to answer customer questions, help them make purchase decisions, and enable customers to make purchases quickly and easily.3. Improve customer satisfaction: By providing real-time customer service, LiveChat can help customers feel more connected to your business and increase their satisfaction with your customer service.4. Monitor customer feedback: LiveChat can be used to monitor customer feedback and collect customer feedback quickly and easily. This can help businesses identify areas for improvement and better understand customer needs.5. Improve website usability: LiveChat can be used to provide website visitors with help and support, making it easier for them to navigate the website and find what they need.
Pros
. Increased Sales: LiveChat can help close sales faster by providing an immediate response to customers' inquiries. It also allows customers to ask questions in real time, which can help increase conversion rates.2. Improved Customer Service: LiveChat allows companies to provide better customer service. It allows customers to get their questions answered quickly and in an efficient manner.3. Increased Engagement: LiveChat enables customers to interact with companies in a more direct and personal way. This can help build relationships and increase customer loyalty.4. Lower Operating Costs: LiveChat reduces the need for expensive phone support. Companies can save money by eliminating the need for phone support staff.5. Increased Visibility: LiveChat provides companies with an additional channel to reach customers. It allows companies to engage with customers in real-time and build relationships.
Cons
. Limited Support Hours: LiveChat is not available 24/7, so if customers encounter an issue outside of the support hours, they could be left without assistance.2. Limited Knowledge Base: LiveChat does not provide an extensive knowledge base for customers to search for answers to their questions.3. Lack of Automation: LiveChat does not offer automated responses, which can leave customers waiting for a longer time to get their questions answered.4. Potential Technical Issues: LiveChat operates on a web-based platform, and technical issues can arise that prevent customers from connecting with support. 5. Increased Pressure on Agents: LiveChat can put a lot of pressure on agents to provide quick responses to customers, which can lead to mistakes or a lack of understanding
Industry: Marketing & Advertising
Company size: Self Employed
Used

Daily

for

6-12 months

Review Source
Overall rating
Value for Money

Ease of Use

Customer Support

Likelihood to recommend

10.0

/10
Live chat is a feature that allows individuals to communicate with each other in real time
Reviewed on 2022/12/24
Convenience: Customers can communicate with businesses through live chat from any device with an...
Convenience: Customers can communicate with businesses through live chat from any device with an internet connection, making it a convenient option for those who may not have access to a phone or who prefer to communicate digitally.
Pros
Quick response times: Live chat allows businesses to quickly respond to customer inquiries, helping to resolve issues and improve the customer experience
Cons
There are several potential drawbacks to using live chat as a customer service or support tool: Limited hours of operation: Live chat may not be available 24/7, which means that customers may not be able to get help when they need it. Limited ability to handle complex issues: Live chat is generally best suited for handling simple, straightforward questions or issues. More complex or technical problems may be better suited for phone or email support. Limited ability to handle multiple customers at once: Live chat agents can typically only handle one conversation at a time, which means that customers may have to wait for a response if the agent is busy with another customer. Limited ability to handle non-text based communication: Live chat is a text-based communication channel, which means that it may not be suitable for customers who have difficulty reading or writing, or for handling visual or audio-based issues. Potential for misunderstandings: Live chat conversations can be more prone to misunderstandings than other forms of communication, as there is no visual or auditory context to help convey meaning. This can lead to frustration for both customers and support staff.
Industry: Health, Wellness & Fitness
Company size: Self Employed
Used

Daily

for

6-12 months

Review Source
Overall rating
Value for Money

Ease of Use

Customer Support

Likelihood to recommend

7.0

/10
Customer connections are #1 priority
Reviewed on 2023/02/05
Overall my experience had been above average and positive. Despite its faults and navigation issues...
Overall my experience had been above average and positive. Despite its faults and navigation issues connecting with clients in real time is invaluable.
Pros
The thing I like most a out the software are the customizable hashtags. I can pretty much automate an entire conversation with every customers by programming and learning preset hashtags. It is by far the quickest and most efficient way to communicate with a since of uniformity with all questions and concerns
Cons
The least favorite thing about chat is the limited features on the bottom pay tiers. The work scheduler is something I had to pay extra for even though it would be nice to have a schedule inside the app instead of having to keep another window open. I wish it was set up according to team size instead of person pricing.
LiveChat FAQs
Below are some frequently asked questions for LiveChat.
Q. What type of pricing plans does LiveChat offer?
LiveChat offers the following pricing plans:
Starting from: US$24,00/month
Pricing model: Subscription
Free Trial: Available
LiveChat is offered as SaaS - paid recurrently, price depends on number of live chat operators using the service. LiveChat is available in 4 plans: Starter - from $20 per seat/month billed annually, or $24 month-to-month Team - from $41 per seat/month billed annually, or $49 month-to-month Business - from $59 per seat/month billed annually, or $69 month-to-month Enterprise - Custom, contact us for pricing details
Q. Who are the typical users of LiveChat?
LiveChat has the following typical customers:
Self Employed, 2–10, 11–50, 51–200, 201–500, 501–1 000, 1 001–5 000
Q. What languages does LiveChat support?
LiveChat supports the following languages:
Arabic, Chinese, Czech, Danish, Dutch, English, Finnish, French, German, Hebrew, Hungarian, Indonesian, Irish, Italian, Japanese, Korean, Norwegian, Polish, Portuguese, Russian, Spanish, Swedish, Thai, Traditional Chinese, Turkish, Ukrainian
Q. Does LiveChat support mobile devices?
LiveChat supports the following devices:
Android (Mobile), iPhone (Mobile), iPad (Mobile)
Q. What other apps does LiveChat integrate with?
LiveChat integrates with the following applications:
1CRM, 1Password, 2way, ActiveCampaign, Adobe Business Catalyst, Adobe Commerce, Asana, Basecamp, Benchmark Email, BigCommerce, Campaign Monitor, Capsule, Chatbot, Clearbit, Close, Constant Contact, CoreCommerce, Desk.com, Dropbox Business, Drupal, Ecwid, Evernote Teams, Firefly, FreshBooks, Freshdesk, FullContact, GetResponse, GitHub, GoDaddy Website Builder, Gold-Vision CRM, Google Ads, Google Analytics 360, Google Contacts, Google Docs, Grasshopper, Helpmonks, Highrise, HipChat, HubSpot CRM, HubSpot Marketing Hub, IRIS CRM, Instapage, JIRA Service Management, Jimdo, Jira, Join.Me, Joomla, Keap, Kissmetrics, Kommo, Landingi, LeadSquared, LemonStand, Magentrix, Mailchimp, Mailigen, Meta for Business, Microsoft To Do, Mixpanel, Nutshell, Omnistar Affiliate, OpenCart, Ortto, Pinnacle Cart, Pipedrive, Playvox, Podio, PrestaShop, ProProfs Knowledge Base, ProProfs LMS, ProjectManager.com, Rescue, Salesforce Sales Cloud, Segment, Shift4Shop, Shopify, Shoplo, Slack, SparkPay, Squarespace, Stripe, SugarCRM, Talkdesk, TeamViewer, Todoist, Toggl Track, Trello, Triggerbee, Twilio, Twitter, Unbounce, Volusion, WHMCS, Webflow, Weebly, WhatConverts, WhatsApp, Wishpond, Wix, WooCommerce, Woopra, WordPress, X-Cart, Zapier, Zen Cart, Zendesk Sell, Zendesk Suite, Zoho CRM, Zoom Meetings, ekmPowershop, elevio, iContact
Q. What level of support does LiveChat offer?
LiveChat offers the following support options:
Email/Help Desk, FAQs/Forum, Knowledge Base, Phone Support, 24/7 (Live rep), Chat
Related categories
See all software categories found for LiveChat.