About Milestone Planner
A powerfully simple way to agree and track who does what, by when. Create milestones, assign owners and track your progress - all via your web browser. It's project management without the hassle.
Invite your team and collaborate in real-time, adding notes, updates and recording each milestone as you reach it. Milestone Planner keeps track of changes and generates reports so you always know exactly what's happening. Produce snapshots to create professional quality presentations and documents any time. It's like having a dedicated, friendly project manager on your team, working 24x7 to keep everyone up-to-date and everything on track.
Pricing starting from:
US$3,21/month
Free Trial
Free Version
Subscription
Open Source
Key benefits of Milestone Planner
Milestone Planner
Milestone Planner gives distributed teams a no-nonsense way to deal with even the fastest-paced projects. No complicated software to set up and no system upgrades. Simply sign up and start building a plan, in under 30 seconds. Milestone Planner puts the focus on achieving more, rather than just working more. It's not just a project management solution, it's the scaffolding you need to run your organisation more effectively.
Key Benefits
Update projects from anywhere, at any time. No need to email or download files.
Quickly and easily invite additional users and team members as required.
At any moment, see exactly what is due, overdue and upcoming across all projects.
Collaborative project management, no more chasing team members for updates.
Rapid set up and deployment. Set up projects and users in seconds rather than days. Intuitive web interface removes the need for complex training and installation.
Milestones
Milestones are the basic planning unit of Milestone Planner. A Milestone represents a specific point in a project, with a date and usually an owner. Milestones enable you to clearly track a project's progress and agree how it will be measured. They also make it easy to seen if it is being delivered on time.
Workstreams
To keep even the largest of plans easy to understand and manage, Milestones can be grouped into Workstreams. These provide a quick way to logically organize a project,. A Workstream might represent a team, an area of work or simply be a helpful way to gather a group of milestones together.
Dependencies
Workstreams provide a simple way to support serial dependencies. With dependencies enabled in in a workstream, when a milestone is moved, all of the active milestones after that date will move as well. This makes it quick and easy to replan projects if a milestone is met earlier, or later, than expected.
Projects
A project consists of a project team and a set of milestones, organised into one or more workstreams. For project members not yet on milestone planner, a place holder is used to track their milestones.
Invite users
A project team can be any number of people, from one person to as many as are required, and users can be in as many projects as they need to be. People can be added to projects via a simple, customizable email invitation, and our 30 second sign up process. If they are already a Milestone Planner user, the project is simply added to their list of projects.
Mobile support
Milestone Planner's mobile-friendly web interface allows you to check milestones and project status on the go. Milestone Planner Mobile works on any smart phone with a web browser and has been tested on Blackberry, iPhone, Android, Symbian and a number of other handsets including Nokia, Motorola and Samsung.
Advanced Features
Calendar Support
Milestone Planner provides dynamic calendars using the iCalendar standard (RFC 5545), supported by major desktop calendar applications including Microsoft Outlook, Apple's iCal, IBM Lotus Notes and Mozilla's Sunbird. This means that users of these applications can subscribe to Project Milestones, enabling them to be dynamically added to their desktop calendar. When a project is updated, the Milestones in the desktop calendar are automatically updated too.
Activity Screen
Milestone Planner tracks every change made over the lifetime of a project, enabling you to track progress, and understand who changed what, when. The history of each Milestone is visible within a project, and the history of the whole project can be accessed via an RSS Feed.
Reports and Snapshots
At any point, Milestone planner can email a snapshot of your projects, to include in presentations and documents. Milestone Planner acts as your project manager, and can generate a weekly PDF report, s
Markets
Australia, Canada, China, Germany, United Kingdom
and 3 others
, India, Japan, United States
Supported Languages
English
Pricing starting from:
US$3,21/month
Free Trial
Free Version
Subscription
Open Source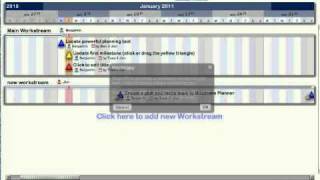 Total features of Milestone Planner: 8
Due Date Tracking
Milestone Tracking
Progress Tracking
Projections
Resource Management
Task Management
Visualization
XML / RSS
Trello
#1 Alternative to Milestone Planner
From sales and marketing to HR and operations, teams can design and customize Trello to fit their unique needs and work...
Visual Planning
#2 Alternative to Milestone Planner
Visual Planning is a resource planning and scheduling software that empowers users to create, manage and update their...
Jira
#3 Alternative to Milestone Planner
JIRA is the tracker for teams planning & building great products. Millions choose JIRA to capture & organize issues,...
Asana
#4 Alternative to Milestone Planner
Asana is a work and project management solution for teams. You can organize everything—from company objectives to...
Milestone Planner FAQs
Below are some frequently asked questions for Milestone Planner.
Q. What type of pricing plans does Milestone Planner offer?
Milestone Planner offers the following pricing plans:
Starting from: US$3,21/month
Pricing model: Free, Subscription, Open Source
Free Trial: Available
Monthly, Quarterly or Annual subscription, with basic account free, and free trial.
Q. What are the main features of Milestone Planner?
We do not have any information about Milestone Planner features
Q. Who are the typical users of Milestone Planner?
Milestone Planner has the following typical customers:
Self Employed, 2-10, 11-50, 51-200, 201-500, 501-1 000, 1 001+
Q. What languages does Milestone Planner support?
Milestone Planner supports the following languages:
English
Q. Does Milestone Planner support mobile devices?
Milestone Planner supports the following devices:
Android (Mobile), iPhone (Mobile), iPad (Mobile)
Q. What other apps does Milestone Planner integrate with?
We do not have any information about what integrations Milestone Planner has
Q. What level of support does Milestone Planner offer?
We do not have any information about what support options Milestone Planner has
Related categories
See all software categories found for Milestone Planner.